Driver uses truck to save bus from cliff fall
A truck driver from Lam Dong Province has been awarded for his bravery after using his own truck to stop a bus from plunging over a cliff after it suffered brake failure.
Driver Phan Van Bac has been called "hero" by local many local people for his bravery.

Deputy Prime Minister Truong Hoa Binh, also chairman of National Traffic Safety Committee, has decided to award the Golden Wheel Cup to driver Phan Van Bac. State President Tran Dai Quang and Minister of Transport Truong Quang Nghia have sent congratulatory letters to Bac.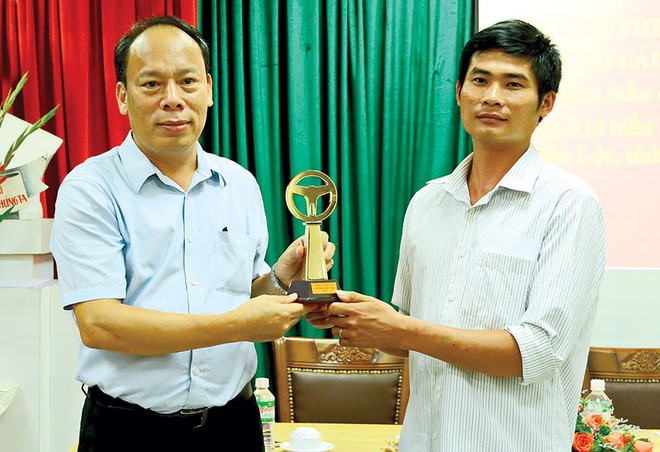 Phan Van Bac (right) was awarded the Golden Wheel Cup by chief of office at the National Traffic Safety Committee, Nguyen Trong Thai, on September 8.
The National Traffic Safety Committee and the Ministry of Transport are proposing the prime minister to grant certification of merit for Bac's bravery. Traffic police in Lam Dong Province also said they were proposing to the provincial authorities to make an award to Bac.
On September 6, a bus suddenly experienced brake failure while travelling down the Bao Loc Mountain Pass in the central highlands province of Lam Dong. Dozens of passengers on the bus panicked. Many people screamed and waved out the windows, seeking help.
Bac was driving a truck filled with agricultural produce at that time. He decided to take action. He quickly sped up and overtook the bus and signalled the bus driver to hit the tail of his truck to decrease the speed.
"Usually, the vehicles are really slow while going down the mountain pass so when I saw the bus speeding, I thought it must had problems. The passengers were screaming too so I signalled the bus driver," Bac said.
Bac had to drive the truck for 400 metres along the steep cliff before the bus could slow down. Luckily, both the Bac's truck and the bus came down the mountain pass safely. Both of the vehicles were badly damaged. One passenger was injured from the impact and admitted to hospital.

Both vehicles were damaged after the ordeal
The passenger bus
and the truck. Photo by CAND
"At that time, my only thought was how could stop the bus from heading off the cliff. I wasn't sure I could, I only hoped that I could. I took a breath of relief when everyone safely got off the bus," he said.
Toan, the bus driver, expressed his appreciation. He said, "I was struggling to not veer off the cliff when Bac came to the rescue. I don't know what would happen if Bac weren't there. I'm really grateful and admire his action."