From crazy runner to winner of Vietnam Mountain Marathon
Nguyễn Tiến Hùng, 34, is considered the best amateur runner in the country. He beat more than 200 rivals from across the world to win the men's 100km event at the Vietnam Mountain Marathon (VMM) 2018, the country's biggest ever mountain race in September. At the Long Biên Marathon 2018 in late October, he also defended his title in the men's 42km category.

Nguyễn Tiến Hùng seen at the Vietnam Mountain Marathon 2018 . — Photo courtesy of Nguyễn Tiến Hùng
Reporter: You are the second Vietnamese runner to win the 100km event at the VMM, after Trần Duy Quang who won last year's event. Were you happy with your achievement?
Tien Hung: Last year, I also took part in the 100km category and I was thirsty to carry the national flag across the finish line but I failed. This year, I had the chance to do it again and I succeeded. I was very happy.
Reporter: What do you remember most about VMM 2018?
Tien Hung: Running under the moonlight was a wonderful experience. I began the race at 10pm. At that time, the moon was very bright. Everything around me was beautiful. I was very impressed with the terraced rice fields, waterfalls and friendly people.
I had a lamp on my head but I turned it off to run with just the moonlight. It was very romantic.
Another unforgettable moment was at Sa Pa Church. All the runners gathered here to prepare for the race at 8.30pm. The buses brought them to the starting line. All runners exchanged greetings, encouraging each other like we were preparing for a fight.


As you know, the 100km race was very long. Participants had to run on different kinds of terrain – over the mountain, fording springs, running on cobblestones, thick mud and rice fields. No one knew what dangers we would meet so we were very attached to each other.
Reporter: How did you prepare for VMM 2018?
Tien Hung: I registered for the race quite late in August, so I did not have much time for training. I only trained for road running, not trails like other runners. Luckily I got on the podium.
I didn't intend to compete this year. I thought I would only support my friends in the race. After that, a nutrition brand sponsored me to take part so I signed up.
In June, I also ran from my hometown in Phú Thọ Province to Hanoi, a distance of around 100km. I remember that it was the hottest day this summer at around 40-41 decrees Celcius. I started at 3am and finished at 2pm at West Lake. It was my first trial run.

Reporter: When did you discover your passion for running?

Tien Hung: I have played football for 20 years, but I injured my right ankle in 2015. After recovering from injury, my weight rose to 76kg. I had to lose weight by running and I succeeded. Then I fell in love with running.


In 2016, I took part in the Long Biên Marathon and finished third in the 21km. Since then, I made friends with many amateur runners throughout the country to gain more experience and skills and also took part in more events.
Reporter: As well as the above results, what else have you achieved?

Tien Hung: In 2017, I came fifth in the Đà Nẵng International Marathon and sixth place in the VMM's 100km. I won the Long Biên Marathon's 42km category and finished third in the Hạ Long Bay Heritage Marathon.

This year, I was runner-up in the men's category aged 30-39 at the Tiền Phong Newspaper Marathon held in Đắk Lắk Province in March.

Reporter: Among these events, which is your favourite?

It has to be the Long Biên Marathon which I took part in for the first time. The first is always impressive. It is a beautiful route through high class residences and scenic rice paddies.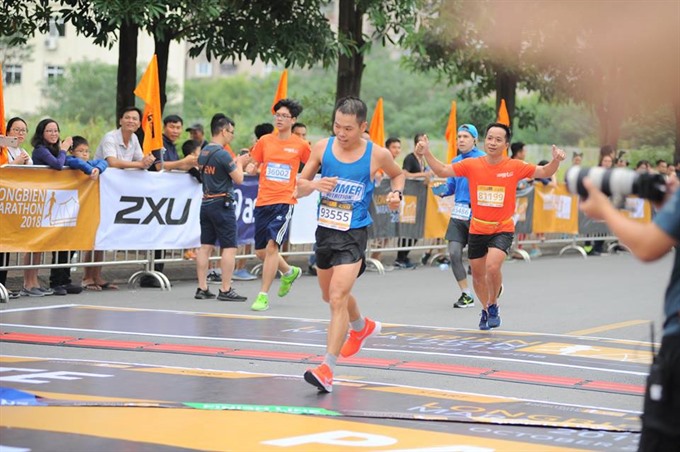 Nguyễn Tiến Hùng seen at the Long Biên Marathon 2018. — Photo courtesy of Nguyễn Tiến Hùng
Reporter: What is your day job? Does it help you train better?
I work for a company in Phú Thọ Province, producing fireworks. It relates to chemical substance so my work is rather harmful.
I am lucky enough to play sport regularly so it helps me get rid of the toxins from my body.
I work from 6am to 1pm so I have time for my hobby.
After finishing work, we often go to drink beer. But after falling in love with running, I have stopped drinking to have a better life.

Reporter: Some people say that you are crazy about running. Is this true?

Last year, my mother was ill and treated at a provincial hospital. It was 25km from my house. During that time, I ran about 50km from my house to the hospital and back to see her. Some people were amazed and called me "mad".

When Vietnam beat Iraq in the quarter-finals of the Asian Football Confederation U23 Championship in China in January. I arrived in Hanoi and ran three laps, around 45km, at West Lake at 3am to celebrate Vietnam's win in my own special way.

Reporter: What are your future plans?

I will compete in an international marathon event in China on November 17, the Hạ Long Bay Heritage Marathon on November 25, and the Techcombank HCM City International Marathon 2018 on December 2.

I will also take part in a marathon held in Sóc Sơn District, on the outskirts of Hanoi in December.

Reporter: Can you tell me a little bit about your family?

My wife is the same age as me, 34. We work together in the same factory. We have two children – one girl and one boy.

We also own a drugstore near our house so our income isn't bad.

My wife supports my running as she notices that thanks to the exercise, I am stronger and healthier.

My 10-year-old son also likes sport. He often runs with me during my training sessions.
Reporter: What is your dream?
Running is my passion. I hope to be able to compete in all events in Vietnam. And one day, I will qualify for the Boston Marathon in the US which is the world's oldest annual marathon and one of the world's best-known road racing events.