What's on January 2013 (Daily updated)
EXHIBITIONS
Hue– Painting Exhibition "Happy New Year"
Opening: Jan 26, 4.30 pm until Feb 16, New Space Arts Foundation, 2nd Floor, 15 Le Loi Street.
Featuring 13 young artists living in Hue: Tran Ngoc Bay, Nguyen Van Duy, Lai Thanh Dung, Nguyen Thi Lan, Truong The Linh, Ton That Minh Nhat, Vu Duy Tam, Tran Chi Thanh, Nguyen Pham Dinh Tuan, Nguyen Thanh Trung, Nguyen Dinh Hoang Viet, Nguyen Hoang Viet, and Nguyen Dinh Viet.

Hanoi- Exhibition Workshop "Art under the Roof" – The Unpublished Works
Opening: Jan 31, 6 pm until Feb 18, Viet Art Centre, 42 Yet Kieu Street
The exhibition introduces previously unseen artworks for the occasion of Vietnamese traditional New Year (Tet Holiday) and to showcase artists who have learned at the workshop "Art under the Roof" at the Muong's Cultural Museum in Hoa Binh Province.
For more information, contact Viet Art Centre at email: vietartcentre@gmail.com, or visit their site at: www.vietartcentre.vn
Hanoi-"Made in Hanoi"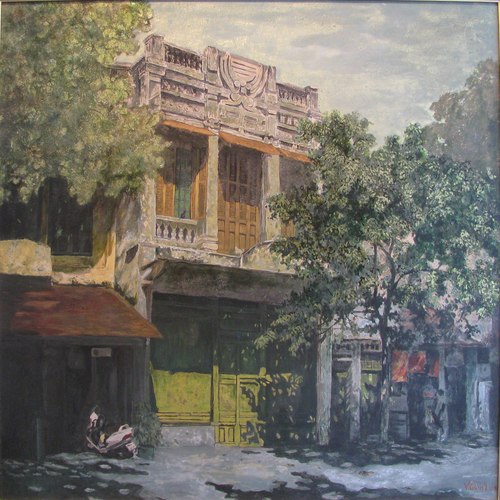 Until Feb13, Art Talk Cafe, 12 Quan Su Street
A multidimensional Hanoi is portrayed by 13 artists including Trieu Long, Nguyen Van Ho, Pham Tuan Tu, in a variety of styles and materials.

HCM City – Art Talk "PØST – A Subversive Project"
Jan 19, 5.30 pm, Galerie Quynh, 65 De Tham Street, D 1
A talk by artist/ curator Habib Kheradyar Zamani: 'PØST – a subversive project'. In this lecture HK Zamani will discuss why he considers PØST a subversive project; its history and development will be combined with visuals to explain his intended use of the word 'subversive.
The talk will be conducted in English with a Vietnamese translation.
Hanoi- The Portrait of Life – No.3 : The Primitive Eyes
6pm Jan 16-Feb 15, L'Espace, 24 Trang Tien Street
An installation exhibition by Tran Duc Quy on our greater attempt to control the environment but our increasingly inability to cope with climate change.
Free
Hanoi - The Lonely Langur Book launch
6 pm, Jan 18-Feb 6, Manzi Art Space, 14 Phan Huy Ich Street
The book by author and artist Suzi Garner in collaboration with the Cat Ba Langur Conservation Project features 3D dioramas constructed. The pieces in the book will be exhibited at Manzi and are for sale.

HCM City – One Planet exhibition

6 – 8 pm Jan 17-Feb 28, Galerie Quynh, 65 De Tham Street, D1
Solo exhibition featuring new work by Nguyen Manh Hung. The 37-year-old artist, widely known for his paintings depicting military fighter jet aircraft, will present new sculptural installations in this major exhibition that expands on his previous two dimensional works.
Gallery hours: Tuesday - Saturday, 10am-6pm, closed Sundays and Mondays.
HCM City –Mysteries in Matter exhibition
Jan 13-30, Tu Do Gallery, 53 Ho Tung Mau Street, D1
Oil paintings by hermit-artist Nguyen Thuyen. He expresses his devotion to the arts through the deep undercurrent of his Zen spiritual development.
Hanoi- Ulrike Ottinger – Retrospective exhibition,

Jan 11-31, Goethe-Institut Hanoi, 56-58 Nguyen Thai Hoc Street
A collection of portraits, everyday life scenes, architecture and travel photographs by photographer-artist by one of Germany's most well known filmmakers. Influences include surreal theatrical and stylized artificiality through ethnological portrayals; from the fictional to the documentary.
Free
Hanoi - Made in Hanoi exhibition
Jan 13-Feb 13, Art Talk Café, 12 Quan Su Street

Group exhibition featuirng 13 artists including Chu Viet Cuong, Le Chi Hieu, and Trinh Ngoc Lien. Each artist features two recent pieces. Works include oil and lacquer paintings. Thematically the pieces share a love for Hanoi.
MOVIES
Hanoi-4 films by Geoff Levitus & Kristine McCarroll
Jan 24, 7.30 pm,Tadioto: art, bar, events, 12 Truong Han Sieu Street
As painters and filmmakers, Geoff Levitus and Kristine McCaroll both look at varied themes, from colonial appropriation of cultures, to empty homes, and the search for self. These four short films, two on relationships, two on water, are presented as they leave Hanoi where they have been working and living over the past years.
Free screening

Hanoi-Screening of "A Sunday in Hell"
Jan 23, 8 pm, The Hanoi Bicycle Collective, 44, lane 31 Xuan Dieu Street
The film follows the French Paris-Roubaix spring classic, notorious for the hellish terrain and cobbled roads of the north, "which are no longer used for 'civilised traffic' but only for transporting cattle – and for cycle races".
Free entry

Hanoi, HCM City- Les Miserables
VinCom Center Hanoi, 191 Ba Trieu Street; CT Plaza, 60A Truong Son Street, Tan Binh District

Big budget adaptation of British musical, tipped for Oscar awards.
Hanoi- The Sound We See: A Hanoi City Symphony
7pm January 19, Goethe Institute, 56-58 Nguyen Thai Hoc Street
A Hanoi City Symphony is a cinematic exploration of Vietnam's capital. The film was made in partnership with Hanoi DocLab and the Echo Park Film Center (EPFC) and will be accompanied by a live score composed specifically for the film by local musicians Luong Hue Trinh, Tri Minh and friends.
Free
Hanoi-Echo Park Film Center Rambling Road Show
Jan 18, 8 pm. The Hanoi Bicycle Collective, 44, lane 31 Xuan Dieu Street
A night of cinema, music, bingo, prizes and hopefully a little bit of magic! Join Lisa Marr (Canada) and Paolo Davanzo (Italy) as they present a night of language neutral short films and play their unique brand of "hobo rock" to silent Super 8 films that they have shot while traveling the world over the past 10 years together.
Free entry. Limited seats available.
MUSIC AND PERFORMANCES
Hanoi- Spring concert
Jan 26, 8 pm, L'Espace, 24 Trang Tien Street
The concert performed by Song Hong Group with works by Schubert and Schostakovich.
Tickets are available at L'Espace at VND 120,000
Hanoi-Michelle Stewart 's last performance in Vietnam
Jan 26 Jan, 8 pm, The Hanoi Social Club, 6 Hoi Vu, Hoan Kiem Street
Folk-Americana raconteur and Vietnam troubadour Michelle Stewart has just finished making her album "Sands of Time". This album was written in the mountains of Thailand and opens a window to Asian-inspired moods and vistas overlayed onto contemporary folk and roots.
Her parting gift to the people of Hanoi will be to unlock her heart and release this album to the world.
For more information, visit her website: http://www.michellestewartmusic.com.
Tickets: VND100,000 at the door
Hanoi-World Music
Jan 27, 12 pm, The Hanoi Bicycle Collective, 44, lane 31 Xuan Dieu Street
World music with the performance of Stephanie (ukulele and vocals), Christophe (ukulele and vocals), Thu (vocals), Dana (ukulele and vocals), Evan (guitar and vocals).
Ticket price: VND100,000
Hanoi-Bass Streets: The Bristol Connection
Jan 25 Jan, 9 pm, Hanoi Rock City, 27/52 To Ngoc Van Street
Freear (Slamboree, UK), DJ Jounce (Room Trip, LA), Blip Blop (S.M.P), Gigimix, Dirty Fingrz, Lethal Lizzle + live visuals ZiLO.
Free entry.
Hanoi- Slamboree's Mike Freear and Isan Dancehall
Jan 25, 8.30 pm, ATK, 73a Mai Hac De Street
A night of music with DJ, producer and founder of the Slamboree collective, Mike Freear on Friday and on Saturday DJ Maft Sai.
Tickets:
Slamboree's Mike Freear: Free entry
Isan Dancehall: free before 8pm, VND100,000 after
For more information, visit: http://www.cama-atk.com/
HCMC – Sound Concert "Soundscape"
Jan 26, 6 – 9.30 pm, Zerostation, The quarter 288, Nam Ky Khoi Nghia Street, D3
"Soundscape", a concert by three artists Blu Simon Wasem (Brazil), Sheba (France), and Unii (Japan)
HCMC- RockStorm
Jan 26, 6pm, Military Zone 7 Stadium, Phu Nhuan District
The concert will feature a number of popular rock bands such as Ngu Cung, Microwave, Buc Tuong, UnlimiteD, KOP, Black Infinity, OringChains and 18+ Band.
Tickets priced at VND30,000 with a portion of the proceeds going to a fund for poor students under the Central Youth Union and Operation Smile.
Hanoi- Electronic music night with Hien Violino
Jan 24, 9 pm, ATK, 73 a Mai Hac De Street
Experimental music night with fresh Vietnamese sounds and new Hanoian artists.
Trinh Minh Hien, also known as Hien Violino, will be joining Vu Nhat Tan with an arsenal of electronic sounds at his disposal.
Tickets: VND 50,000 (Free before 8pm; all door money is for the artists)

Hanoi-Spring Shorts Auditions
Jan 24, 7 – 10 pm, Chez Xuan, No 41 /76 lane, An Duong Street
Open auditions for HITS's spring show – Spring Shorts! Join a cast to put on a series of one acts, all to be performed in one night in April.
No preparation necessary. For more information, contact: hits.hanoi@gmail.com.
Hanoi - Kangding Ray
7 pm Sun 20 Jan, Hanoi Rock City, 27/52 To Ngoc Van Street
Kangding Ray debut Vietnam gig presented by the Onion Cellar. Event promises ground-breaking contemporary danceable electronic sounds.
Tickets priced at VND150,000, email: onioncellarproject@gmail.com for advance tickets.
For detailed information, visit: http://hanoirockcity.com/portfolio-item/kangding-ray-live-in-hanoi-20-01-13.

HCM City - Dep Fashion Show 11
Jan 24-25, Nguyen Du Sports House, D1
Most anticipated Vietnamese fashion show of the year.The two-day event will feature famous Vietnamese designers Cong Tri, Giao Linh Ly Qui Khanh Truong Thanh Long and Adrian Anh Tuan.

Hanoi, Piano Recital
Jan 23, 8 pm, Youth Theatre, 11 Ngo Thi Nham Street
Polish pianist Dr. Anna Kijanowska will perform works by Jan Ignacy Paderewski, Karol Szymanowski, Frederic Chopin and Grazyna Bacewicz.
Free entry, tickets available from Jan 17 Polish Embassy, 3 Chua Mot Cot Street., tel: 04-3845202
Hanoi-Music Night with Mali and DJ Edge
Jan 19, 9 pm, Hanoi Rock City, 27/52 To Ngoc Van Street
A night of infectious West African grooves fused with traditional Vietnamese music, floor shaking dance set from pioneering Filipino DJ Edge.
Tickets: VND100, 000 at door.
For detailed information, visit: http://hanoirockcity.com/portfolio-item/musbaba

Hanoi- Experiential music night
Jan 24, 9-11.30pm , CAMA ATK, 73A Mai Hac De Street
The first experimental music night at CAMA ATK, aiming to give a voice to emerging Hanoian musical artists, will feature Trinh Minh Hien, also known as Hien Violino.
Entrance is free before 8pm, after which tickets cost VND50,000.

HCM City- Electronic music, visual arts show
January 23, 9 pm, Yoko Bar, 22A Nguyen Thi Dieu Street D 1
A show featuring Tokyo-based sound artist and singer unii. It will be supported with live art and video performances by Un escargot vide (An empty snail) with artist Sebastian Szczyrk of France.
Antiprism and Micmac from France will present electronic and techno music, coupled with visuals.
Entrance is free.
HCM City- Brazilian food, samba dancers
January 19,Au Lac do Brazil restaurant, 238 Pasteur Street D1
A full-day Brazilian food festival Festa Do Brazil with culinary delights, music and dancing. The festival will offer lunch and dinner buffets with Brazilian-style churrasco. The night will feature performances of samba dancers from the Luna Negra Band and Hot Chicks Band. A lucky draw will also be included.
The event will take place in Hanoi on January 26.
Tickets are VND800,000 per person for lunch and VND1,200,000 per person for dinner, all-inclusive. Part of the ticket proceeds will be donated to Operation Smile Vietnam.
Hanoi-She Bangs The Drums
Feb 1, Hanoi Rock City, 27/52 To Ngoc Van Street
Celebrating and continuing the female music revolution which has seen acts like Dai Lam Linh, Go Lim, Zippy, Debbie Clare, Good Graeff, Michelle Stewart and Lethal Lizzle come to the fore in recent years, She Bangs The Drums shines the spotlight on Hanoi's boldest and talented women.
For detailed information, visit: http://hanoirockcity.com/portfolio-item/she-bangs-the-drums

Hanoi-Special Concert "All Beethoven's Piano Concerto"
Jan 15 and 18 , 8 pm, Hanoi Opera House, 1 Trang Tien Street
A special concert with conductor Honna Tetsuji, piano soloist People's Artist Dang Thai Son and the Vietnam National Symphony Orchestra.
Ticket prices: 500.000, 700.000, 900.000, 1.200.000, 1.500.000 VND. All Tickets available at Hanoi Opera House or can book over ticketvn@gmail.comFor free delivery call: 0913489858, 0983067996, 35651806, 66617859.
FESTIVALS
Hanoi- Australia Day feat
Jan 26, 8pm, 20A Thuy Khue Street
Free party featuring Vietnam's number one 70s rock tribute band AC/DC - AC/EC - take to the stage for some live Aussie action. BBQ and beer deals, beach themed decor, Triple J's hottest 100, sports, campfire and free marshmallows.
For more information, visit: http://hanoirockcity.com
Hanoi-Brazilian Food Festival
Jan 26, Au Lac Do Brazil, 6A Cao Ba Quat Street
Lunch from 11.30am to 2.30pm, dinner from 6.30pm to 10pm. After dinner party from 10pm till midnight
Lunch ticket price: VND 800,000, dinner at VND1,200,000
For ticket sale and reservation hotline: 0909 478 698, email: pr@aulacdobrazil.com
A percentage of their income will be donated to Operation Smile, which provides surgery for children with cleft lip, palate and other facial deformities.
Hanoi-Tet Festival
Jan 27, Bookworm, 44 Chau Long Street
Calligraphy, making traditional chung cake, making to he (traditional sticky rice toys) with artisans, Vietnamese music trio playing traditional string instruments, 15% discount on all Bookworm Books, and much more.
Open every day 9am – 7pm. For more information visit: www.bookwormhanoi.com; or contact: Email: bookworm@fpt.vn, tel: 04 37153711.
HCM City- Phu My Hung's Spring Flower Fair
Feb 3, Crescent Quarter in D7's Phu My Hung area
Covering seven hectares, this year's fair, with the theme of "Flowers of the Countryside", will include sections entitled Duong Xuan (Spring Roads), Ben Xuan (Spring Wharf), Vuon Xuan (Spring Garden) and Gop Xuan (Spring Contributions). Food areas, Tet specialties and ornaments will also be offered.
Participants will also be able to release flower garlands and coloured lanterns into the river to pray for luck.
Hoi An- Lantern festival
February 9-16
Annual Tet Lantern Festival February 9-16. The best lanterns will light up the Lunar New Year's eve on February 9. Lanterns will decorate the stretch from An Hoi Bridge to the Hoai River Square during seven days of the festival. Other events include boat racing on the Hoai River, bonsai trees, calligraphy and folk performances.
HCM City- Pro Street festival
January 26, 9am, HCM City Youth Cultural House, 4 Pham Ngoc Thach Street, D1
An outdoor activity for the city's youth, featuring skating, graffiti, basketball, break dancing, games and a flea market. Rock singer Pham Anh Khoa, along with bands Winfield and Parasite, will perform in the evening.
Tickets are VND50,000 ($2.5).
(to be updated)
To have your events included in our listings, email: lansunday1@gmail.com.