What's on December 2013 (Daily updated)
MUSIC AND PERFORMANCES
Hanoi- Start 2014 with ZONE 9
Dec 31, 5 – 11 pm, American Club, 19–21 Hai Ba Trung Street
An event to show thanks to American Club's friends and clients who love the Zone 9.
Featuring the Theatre And Dance Ensemble, musicians Vu Nhat Tan and Tri Minh, performers/singers Hoai Anh, Khanh Linh, Cuong Seven, DJ JangLoa, the Barbetta DJ group, The Hi-end Band, Dinh Manh Ninh, Idance Studio, the Hotboys & Hotgirl and instructors and Glee Club, (we are updating the list of participating artists in support of Zone 9).

With entertainment and art activities for children, and a classical music performance, followed by the artists's performances.
Free
Hanoi-Rock City New Year Eve Countdown Party
Dec 31, 9 pm, Hanoi Rock City, 27/52 To Ngoc Van

Featuring the hottest giddy musical get up, popping 2014 into its slot in style.
Tickets: VND50,000 (free entry before 10PM)
Hanoi- Music gala to usher in 2014
Dec 31, 8pm, Hanoi Opera House, 1 Trang Tien Street
A music performance gathering several new artists, including DJ Tenishia – a Maltese DJ duo comprised of Joven Grech and Cyprian Cassar, who were ranked in the 50 best DJs in the world according to British publication DJ Mag – and the Dutch DJ and music producer Ruben de Ronde.
Leading Vietnamese underground artists, including JustaTee, Big Daddy and Mr A will also hit the stage during the night.
The Hanoi-based Rhapsody Philharmonic featuring young music students will be there to add diversity to the show.
Hanoi-Keep Your Passion: R-Evolution
Dec 29, 7.30 pm, Polygon Muzik, 36 Cat Linh Street
An event to reminisce about all the activities of RockPassion in 8 years, with the presence of: Thủy Triều Đỏ (Red Tide), Nu Voltage, Megacombo, Off The Skyline, The Fate.
Coupon: VND70,000 (Going with 1 free drink)
Tickets are on sale at RockPassion Headquarter, 66, Lane 40, Ta Quang Buu Street, Polygon Muzik, 36 Cat Linh Street.
For more information, contact: 097.337.8605 – Ms. Trang.
HCM-New Year celebration at Hard Rock Cafe
Dec 31, 8.30pm, 39 Le Duan Avenue

The Return of Rubylux show, originally scheduled from Dec 27-29 at Hard Rock Cafe, has been postponed. New dates for the show will be unveiled soon.
The American restaurant's celebration will go on with a live concert, free entry and offers on food and beverages on Dec 27.
It will also hold a New Year's party with a disco concert by the UK's Radio City and a special guest band.
Da Nang-Guitar Concert to celebrate New Year
Dec 20, Nguyen Hien Dinh Theatre, 155 Phan Chau Trinh Street
Japanese guitarist Kozo Tate and Australian-Vietnamese Le Hoang Minh will perform along with local artists.
The performance will include duos, quartets and quintets.
The event will be hosted annually during near Christmas.
HCMC – Music Night with UK Band Rubylux
Dec 27 – 29, 9.30 pm, Hard Rock Cafe, Kumho Asiana Plaza, 39 Le Duan Street, D1
Rubylux has gained an international audience, with two album releases and their latest single named 'I don't want paradise', now listed on Radio 2 in the UK.
Tickets: VND250,000/person
Hanoi-Le Petite Noel with Le Cat Trong Ly
Dec 23 and 24, 9 pm, Manzi Art Space, 14 Phan Huy Ich Street
Known for her endearing lyrics and captivating voice, Le Cat Trong Ly will perform some of her latest works as well as Christmas songs of all ages.
Ticket: Seats limited – Buy ticket at manzihanoi@gmail.com
HCMC- Performance by Grammy winner
Dec 19, 9pm, Lush bar, 2 Ly Tu Trong Street, D.1
Performance by DJ Jazzy Jeff, who has two Grammys under his belt from his act with Will Smith, who made up DJ Jazzy Jeff & The French Prince.
HCMC-Baroque music for Christmas
Dec 13, 8pm, HCM City Conservatory of Music, 112 Nguyen Du Street, D1.
Artists will perform baroque and classical compositions, including Bach's Concerto for Two Violins in D minor, Carl Stamitz's Concerto for Clarinet & Bassoon in B Flat Major, and Arcangelo Corelli's Concerto Grosso in G minor, Op. 6 No. 8, also known as the Christmas Concerto.
Hanoi- Jazz performance by Mandy Gaines
Tuesday to Sunday (8.45 pm onwards)
Le Club, Metropole Hanoi Hotel, 15 Ngo Quyen Street
With velvety-smooth vocals and bold, vibrant musical tones, vocalist and composer, Many's alluring mystique can be savoured every week from Tuesday to Sunday.

HCMC – Light and Music Performance Dec 13 and 14, 7 pm – 10:30 pm, Reunification Palace
A light performance in honor of HCMC Reunification Palace's architecture. Using graphic innovations on Reunification Palace, associated with musical synchronisation, the artists will change the appearance of the Reunification Palace's front for two nights.
Live music acts from French musician/composer Orel, and Vietnamese singer Le Cat Trong Ly.
Free entrance.
Hanoi-Christmas Music at Bookworm
Dec 14 and 15, 2 – 4 pm, 44 Chau Long Street
Dec 14: Easy listening jazz
Dec 15: Classical Trio
Free Mulled Wine and Gingerbread biscuits.
Discount on: HCC Christmas Treats and All books @ both Bookworms
15% off all Children books
10% off all new books except commission stock
30% off all used books
10% off take away
Pudding, Mice Pies, Panfort.
For more information, visit:www.bookwormhanoi.com; or email:bookworm@fpt.vn
Hanoi-Japanese orchestra performance
Dec 12, 8pm, Japan Foundation Centre for Cultural Exchange, Youth Theatre, 11 Ngo Thi Nham Street.
Japan's former cultural envoy, the AUN J Classic Orchestra, which consists of eight young traditional Japanese musicians, will give a concert.
The concert will also feature two traditional Vietnamese musicians, Ngo Tra My and Nguyen Thanh Thuy, who have shared the stage with AUN in 2011.
Hanoi - International DJ performance
Dec 5, 6.30-11pm, American Club, 19 Hai Ba Trung Street
Performances from the US-based duo DJs KimKat; World's Best Live Performing DJ, Steve Aoki; and other local DJs, including Tung Do, Viet EKS-LIFT, and SlimV-LIFT.
For more information and tickets, please call 0935093388.

Hanoi- Special Concert "Beethoven No.9″

Dec 26 and 27, 8 pm
Hanoi Opera House, 1 Trang Tien Street
A special Concert "Beethoven No.9″ with conductor HONNA Tetsuji and singers from Japan, China, Taiwan, North Korea and South Korea.
Ticket prices range from VND 200, 000- 500, 000, tickets available at Hanoi Opera House or can be booked at ticketvn@gmail.com

For free delivery Call: 0913489858, 0983067996.

HCMC- Californian rockers Black Rebel Motorcycle Club
Dec 6, Q4, 7 Nguyen Tat Thanh, D.4
Saigon-based promoters Loud Minority, only weeks after the visit by the UK indie heroes The Cribs, have pulled off another huge coup by luring the American rock and roll outfit Black Rebel Motorcycle Club to town for what promises to be an exciting night at Q4.
Tickets are VND350,000 in advance or VND200,000 for students, available online at www.ticketbox.com or in person from Asian Kitchen, 185/22 Pham Ngu Lao, District 1, or McSorleys, 4 Thao Dien, District 2.

Hanoi New Music Festival 2013 – Introduction of Go to Hell and Hanoi Ensemble
Go to Hell: Dec 6, 7 pm, Nha san Collective, 3rd Floor, Block A, 9 Tran Thanh Tong Street
Hanoi Ensemble: Dec 7, 7.30 pm, L'Espace, 24 Trang Tien Street
Hanoi New Music Festival 2013 introduces 2 programs: an installation and performance work called "Go to Hell" and a music performance by one of the most renowned classical chamber ensembles in Vietnam, the Hanoi Ensemble.
Registration fee:
- Yellow Pass: 200.000 VND
- Green Pass: 30.000 VND
For more information, visit: www.hanoinewmusicfestival.vn.
HCMC- International Piano Festival 2013
Decr 2 to 7, The HCMC Conservatory of Music, 112 Nguyen Du Street, D1.
Featuring multiple concerts, master classes, workshops, lectures, recitals and presentations by artists, with talented guests from the U.S., Canada, the U.K., Russia, Singapore and Vietnam.
RockStorm 2013
Haiphong, Nov 30
Hue, Dec 7
Danang, Dec 14
Bien Hoa, Dec 21
HCM City, Dec 28
Can Tho, Jan 4
Hanoi, Jan 10
Rock concert featuring numerous infamous Vietnamese rock musicians, including Buc Tuong (The Wall), Microwave, Ngu Cung (Pentatonic) and KOP. Also, including the lineup areOringchains and 18+Band.
The show will also feature a special appearance by the progressive metal band Andromera from Sweden.
Christmas Concert

Dec 6, 7 pm, Goethe Institut, 56-58 Nguyen Thai Hoc Street, Hanoi
Dec 7, 8 pm, Opera House Haiphong, 27 Tran Hung Dao Street, Haiphong City
With compositions of Bach, Praetorius and other well-known Christmas songs put on by the International Choir and young musicians from Hanoi.
Free tickets available at Opera house Haiphong and Goethe-Institute Hanoi.
Hanoi- Piano Recital with OLIVIER CHAUZU
Dec 11, 8 pm, L'Espace, 24 Trang Tien Street
A piano recital featuring Oliver Chauzu, whose studies at the Conservatoire Supérieur de Musique in Paris were crowned with the First Prize for Piano, followed by First Prize in Chamber Music. He travels all around the world playing as a soloist and in chamber music with prestigious orchestras.

A special chance for music and piano lovers to enjoy famous works of Chopin, Ravel, Debussy and Samazeuilh.
Ticket available at L'Espace, price: VND120, 000. Special price for members of L'Espace and students: VND60,000.
Hanoi- A Night of Russian Melodies
Dec 12, 8 pm, Hanoi Opera House, 1 Trang Tien Street
With the participation of the Strings of Vietnam National Academy of Music, Dancers of Vietnam National College of Ballet.
Ticket prices range from VND 250, 000- VND 500, 000, available at Hanoi Opera House or can be booked over ticketvn@gmail.com

For free delivery Call: 0913489858, 0983067996.
Hanoi-Luala Concert Fall-Winter 2013
Saturdays and Sundays, Dec 1 to 22, Ly Thai To Street
A series of free shows performed on the city's streets with the participation of singer Pham Thu Ha, Quang Dung, Tung Duong and several Korean artists.
____________________________________________________________________________________________________________________________________

EXHIBITIONS
Dak Nong Province- Photos and paintings exhibition "Legend of Highland M'nong"
Dec 27 – Jan 3
A display of over 130 photos and paintings by 40 artists in and outside the Central Highlands province of Dak Nong, introducing its achievements over the last 10 years with unique cultural traits, beautiful natural landscapes, social security and hospitable residents.
They are entries of a photo contest launched in the province since early year.
Hanoi-Photo exhibition helps poor children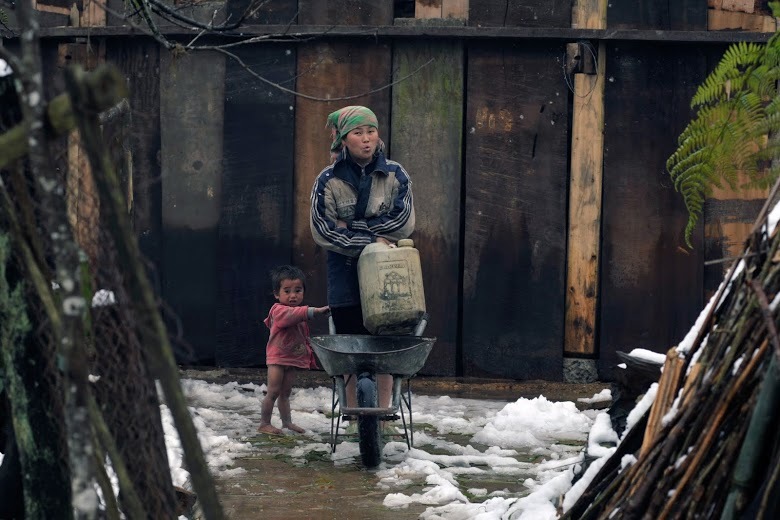 Until January 1, M Gallery Hotel de L'Opera Ha Noi, 29 Trang Tien Street
A charity photo exhibition. Depicting the beauty of Sa Pa, each photo is available to anyone who donates from VND1 million for poor children living in the northern mountainous provinces Lao Cai and Yen Bai. The lives of those children, together with their families, have been disrupted due to unusually heavy snowfall.
The money collected at the exhibition will be used to purchase books, notebooks and study materials before the upcoming Lunar New Year next month.

Dalat City-Photos of central highland's Lang Biang Peak displayed
Until Jan 3, Dalat City
Introducing 120 photos, in a collection entitled "Lang Biang" by central highland noted photographer MPK Nguyen Van Phuoc.
The photos feature Lang Biang Peak, as seen from the photographer's house at different times of the day and throughout different seasons.
Another photo exhibition by MPK, entitled Lang Biang Seen from Different Places and Different Places Seen from Lang Biang Peak, is on display at Cu Lan Tourism Village in Lac Duong District of Lam Dong Province.
The collection brings together 30 photos of Lang Biang that the photographer captured during his 30-year career.
Hanoi-Visual Art Exhibition "Running"

Opening: Dec 18, 4 pm, No 527, Lane 405, Ngoc Thuy Street
Two artists, Le Anh Hoai and Le Nguyen Manh, try to show that "running is a non-stop process". "Running" is an exhibition of visual art and a meeting of the art circle, scheduled to take place at the end of the year.
HCMC – Exhibition "Red River Wind"
Hanoi's Craft Streets by Pham Thi Nghia
Opening: Dec 20, 10 am
Exhibition: Dec 20 – Jan 5 2014
HCMC Fine Arts Museum, 97A Pho Duc Chinh, D1
An art exhibition entitled "Red River Wind" has the participation of 8 artists from Hanoi: Le Thi Hoan, Pham Thi Nghia, Hoang Nam Thai, Ngo Thanh Nhan, Pham Quang Viet, Nguyen Van Tuan, Phi Manh Tan, Nguyen Xuan Luc. They belong to various generations, the eldest born in 1945, the youngest in 1983.
The exhibition will feature approximately 90 works, most of which are made from traditional lacquer, depicting several subjects such as: landscape, portrait, daily life and festivals.
HCMC – Exhibition "BOITE 2″ by Jérémie Setton
The Observatory, corner of Le Lai and Ton That Tung Street, D.1
Opening: Dec 12, 7 pm
Exhibition: Dec 12, 2013 – Jan 12, 2014
Has their mission statement to a new medium of visual artists: a box two metres wide intended to welcome a contemporary work of art. One can duplicate the box and integrate it in any place.

HCMC - Audio-visual exhibit opens at French Institute
Dec 1-15, French Institute, 31 Thai Van Lung Street, D 1
An audio-visual exhibition of Vietnamese artist Phan Tuan Minh (Liar Ben) and French artist Sebastien Szczyrk (Sautel Cago).
Showcasing sketches, photos, stop-motion movies and videos. The two artists created all of the works during their two-month trip across the country.
The artists will conduct an art performance on Dec 6 and a painting workshop with students of the Institute of Cultural Exchange with France on Dec 7.
HCMC-Street children's paintings on display
Dec 7-12, VinGallery, 95 Pasteur Street, D 1
Dozens of paintings created by street children will be displayed at an exhibition titled Kaleidoscope.
The works were done by students in the Christina Noble Children art class, which was established in 2000 to offer disadvantaged children an opportunity to explore, create, and develop their artistic potential.
All proceeds raised from the exhibition will be used to provide art supplies for the upcoming school year.
Hanoi- Photography Exhibition "Made in Vietnam"
Opening: Dec7, 6 pm
Exhibition: Dec7 – 14
9A4 M Studio, 4th Floor, Block A, 9 Tran Thanh Tong Street
Being passionate about food and driven by the idea of preservation of cultural traditions, Astrid would like to celebrate the diversity and richness of Vietnamese cooking through photography and print.
With this project Astrid aims to explore the unknown and to stimulate the viewer's senses. In this exhibition, taste, smell, touch and sight are closely linked. After visiting this exhibition, perhaps you will look at food differently.

Hanoi- Exhibition Đình Cultural Space in the Northern Delta of Vietnam
Opening: Dec 6, 5 pm
Seminar: Dec 10, 08:30
Exhibition: Dec 6 – 19, 08:30 am – 5 pm
Vietnam University of Fine Arts, 42 Yet Kieu Street
A photo exhibition of the sculpture, architectural models and carvings of Đình; documentary film about festival held in Đình, carved dragons on Đình, sculptural and architectural art of Đình in the Northern Delta. In addition, the audience will have chance to enjoy the performance at Đình including: drum, bỏ bộ dance, ca tru and more.
CINEMAS
Hanoi- HITS Winter Show "Enemies"
Dec 5, 8 pm;
Dec 6, 8 pm;
Dec 8, 3 pm and 8 pm
Chuong Vang Theatre, 72 Hang Bac Street
HITS are performing their winter show 'ENEMIES!': A comedy about the constant threat of death.
____________________________________________________________________________________________________________________________________

CUISINE HIGHLIGHTS
Hanoi-Christmas and New Year Celebrations at Sofitel Plaza
Dec 24 – 31 Sofitel Plaza Hanoi, 1 Thanh Nien Street
CHRISTMAS EVE GALA DINNER BUFFET
Dec 24, 7pm- 10.30pm
Traditional Christmas dinner buffet, featuring an exceptional festive feast and great entertainment at the hotel's Plaza Ballroom. Seafood delicacies and traditional Christmas dishes from both Asia and Europe. In particular, guests will have a chance to receive many attractive gifts from Santa Claus.
Price from VND2,100,000/adult & VND1,600,000/child.
NEW YEAR'S EVE GALA DINNER BUFFET
Dec 31, 7.30pm-12.30am
Featuring a myriad of culinary treasures. Special desserts and free flow of wine while waiting for the New Year's Eve. In particular, ticket holders can enjoy their chance to win Hanoi – Bangkok round trip ticket for two with 02 night accommodations in Bangkok and other lucky draw prizes.
Price: VND2,100,000/adult & VND1,600,000/child. Buy 10, get 01 Free (before December 26).
For more information and booking, please contact: Phone: 84 (0)4 3823 8888 or Mr. Nghia 090 430 9578; Mr. Khai 093 3606 5866; Ms. Nhi 091 300 6618. Email: h3553-fb1@sofitel.com

Hanoi-Christmas Eve Dinner at Silk Path Hotel

Dec 24, 6.30pm-10pm
Silk Path Hotel, 195-199 Hang Bong Street
Set menu, live music and interactive show
Price: VND820,000/adult; VND410,000/child
Buy 10 get 01 ticket free
For more information, contact 043 266 5555 ext 1305; or Ms. Trang: 094 8585 333; or info@silkpathhotel.com

Hanoi-Christmas Eve and New Year's Gala Buffet Dinner at Hotel de l'Opera
Cafe Lautrec, 29 Trang Tien street
Christmas Eve Gala Buffet Dinner
Dec 24, 6pm-11pm
Price: VND 1,400,000/adult; VND700,000/child below age 12
Christmas Day brunch
Dec 25, 11:30am- 2:30pm
Price: VND 800,000/adult; VND400,000/child below age 12
New Year's Eve Gala Buffet Dinner
Dec 31, 6pm-11pm, Cafe Lautrec
With live jazz entertainment

Price: VND 1,900,000/adult; VND850,000/child below age 12
For more information, call: 046 282 5555 ext 6421 or email h7832-fb@accor.com
Hanoi-Christmas and New Year's at Mövenpick Hotel
83A Ly Thuong Kiet Street
Christmas Buffet
The buffets include a sumptuous display featuring traditional Christmas delights, complimented with Christmas music and special entertainment. Santa Claus will have a special appearance on Christmas day to give gifts to your children.
Christmas Eve Dinner Buffet : Dec 24, 6:30pm – 10:30pm; price at VND 920,000/ person
Christmas Day Brunch: Dec 25, 11:30am – 2:30pm, price at VND920,000/ person.
This includes free flow of sparkling wine, soft drinks, beer and house wine. Priced at VND 500,000/ child between 6 and 12 years.
New Year's Eve dinner: Dec 31, 7:00 pm – Midnight, price at VND 1,300,000/ person including free flow of soft drinks, beer and house wine. Glass of Champagne at midnight to celebrate the New Year.
New Year's Day's set menu
New Year's Day Lunch: Jan 1, 11:30am – 3:30pm, priced at VND 735,000.
New Year's Day Dinner: 6:00pm – 10:00pm, priced at VND 735,000

Hanoi-Christmas Dinner Buffet and New Year Brunch at Pullman Hanoi Hotel

La Cheminée restaurant, 40 Cat Linh Street
Tel: 04-3733 0688 ext 42313 | e: h7579-fb2@pullman-hanoi.com
Christmas Buffet Dinner
Featuring Christmas favourites including roast turkey, fresh prawns, oysters, lobster and crab. Free flow of white & red wines, beer and soft drinks.
Entertainment to be provided by Top Vietnam Idol singers, a magician and s special visit from Santa Clause with gifts for kids. Kids' Corner with many games and activities.
Price: VND 1,590,000 / adult; VND 750,000/ child; Children under 1 can eat for free

New Year's Brunch
With select international and local dishes
Live contemporary Vietnamese music from young talents. Kids'corner with supervisor.
Price: VND 1,060,000 / adult; VND 530,000/ child; Children under 1 eat for free
Hanoi-Le Club's festive offerings
Dec 22- 31, Hanoi Metropole Hotel, 15 Ngo Quyen Street
• Christmas Eve Dinner Buffet on the 24th of December:
First dining session from 6:00 pm to 8:45 pm, at VND2,500,000/person
Second dining session from 9:00 pm until midnight, at VND 3,000,000/person
• Christmas Day lunch/dinner served from à la carte menu, at VND 1,500,000/person
• New Year's Eve Buffet:
First dining session from 6:00 pm to 8:45 pm, at VND 2,500,000/person
Second dining session from 9:00 pm until midnight at VND 3,350,000/person
_______________________________________________________________________________________________________________________________________

CINEMAS
Hanoi-Screening of "Once" and "A Very Long Engagement"
Dec 27, 7.30pm, screening of Once
Dec 28, 2pm, screening of A Very Long Engagement
Centre for Assistance and Development of Movie Talents, 51 Tran Hung Dao Str (4th floor)
Once is a musical film set in Dublin, the capital of Ireland. It tells the story of an Irishman, played by Glen Hansard, who plays the guitar on a popular shopping street in Dublin, and a young Czech flower-seller, played by Marketa Irglova. The Irishman and Czech girl start talking and discover their mutual interest in music. Together, they sing and play music and the story follows them as they record a demo CD together. This is also a tale of unrequited romance.
A Very Long Engagement is a 2004 French romantic war film. It is a fictional tale about a young woman's desperate search for her fiancé who might have been killed in theBattle of the Somme, during World War I. It was based on a novel of the same name, written by Sebastien Japrisot, first published in 1991.
______________________________________________________________________________________________________________________________
OTHER EVENTS
HCMC - Fundraising event
Dec 8, 9am to 4pm, Sai Gon Zoo, No.2 Nguyen Binh Khiem Street, D1
Annual fundraising event called Kermesse by Poussieres de Vie (PDV), a non-governmental organisation ensuring lasting change for children in need.
Featuring live music, dance, magic shows, games for all ages, a climbing wall, an art exhibition and food.
All profits will go to helping disadvantaged children through PDV's project in HCM City and Kon Tum Province.
Hanoi - Weekend Hanoi tours
Dec 7, 9am and 1pm
Two English-speaking tours offered by the Friends of Vietnam Heritage (FVH) aim to bring participants education about the French Concession and discover the Hoan Kiem Lake area.
The morning tour will start at 9am at the School of Pharmacy before heading to the original French Concession of 1798 and other examples of French architecture in Hanoi. During the walking tour, attendees will learn about the French expansion in the city and its influence on architecture.
The afternoon tour, starting at 1pm, will take tourists into the centre of Hanoi to learn about the founding of the city, the period of French colonisation, as well as the history and legends of the lake.
To join any walking tour, contact Roman at FVH.CityWalks.English@gmail.com.