What's on May 2016 (Daily updated)
MUSIC AND PERFORMANCES
HCMC-Opera "The Magic Flute"
May 7 and 8, 8pm

Ho Chi Minh City Opera House, 7 Lam Son Square, District 1

The Magic Flute, which premiered in Vienna in 1791, is one of the world's best known operas. The Magic Flute will be performed in full length and in original language in Ho-Chi-Minh-City as a German-Vietnamese co-operation directed by David Hermann and conducted by Tran Nhat Minh.
Hanoi-Hip hop and Contemporary Dance "Autarcie (.…)"
May 6, 8pm

Youth Theatre,11 Ngo Thi Nham Street,

"Autarcie (….)",choreographed by Anne Nguyen – Compagnie Par Terre, is a strategy game between frontal dance and free digressions, which confronts two specialties of hip-hop dance: break and popping. The center stage is the rallying point where four dancers unite to build a war dance. The empty space beyond the area of understanding draws them and propels them in search of territory, alliances and hierarchy.

Ticket: VND170,000 – VND100,000 – VND80,000
Hanoi-Subscription Concert Vol. 91
8pm on May 7

Hanoi Opera House

1 Trang Tien Street, Hoan Kiem District

The concert features the participation of conductor Honna Tetsuji, viola soloist Imai Nobuko and the Vietnam National Symphony Orchestra.

Ticket: VND500,000 – VND350,000 – VND200,000
__________________________________________________________________________
EXHIBITIONS
HCMC-Non Cubism – Portrait 2016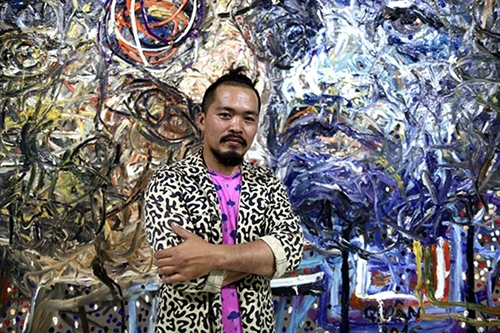 Until May 5

12 Nguyen Hue Street, District 1
Featuring works by painter Nguyen Quoc Dan, who spent his childhood living on the street and later in an orphanage.
11 of his large-sized (from 2m by 2m to 2m by 5m) oil-on-canvas paintings will be unveiled in his fourth solo exhibition, entitled Non Cubism – Portrait 2016, which depicted in the silence, sadness, delusion and passion of different human characters.
HCMC-Photo exhibition: "Vietnam-The country and people"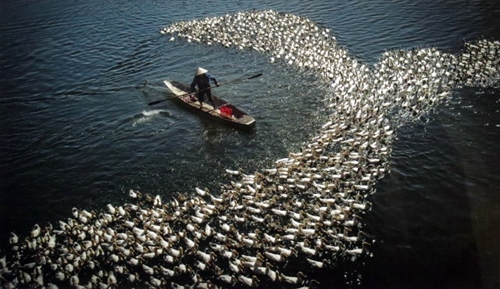 For charity: A photo taken by Kim Sơn, which is displayed at the exhibition Vietnam - The Country and People
Until May 9
HCM City Book Pedestrian Street on Nguyen Van Binh Street in District 1
A photo exhibition to celebrate the 41st anniversary of Reunification Day.
Featuring 60 black-and-white and colour photos selected from collections by six photographers of the Vietnam News Agency.
The works are the result of their hard work over years, with each picture representing a report on culture and lifestyle.
Half of the money raised from sales of the photos will go to the Vietnam News Agency's Fund for Victims of Agent Orange/Dioxin.
Hanoi-Exhibition "Story of Vietnamese Traditional Lacquer"
Hanoi Old Quarter Culture Exchange Centre, 50 Dao Duy Tu Street

The exhibition presents an overview of traditional Vietnamese lacquer art (with photos, tools artifacts, techniques) and contemporary Vietnamese lacquer Art (with the participation of 8 painters and representatives from the art's villages).
The event aims to promote and celebrate the traditional craft of Vietnam, within the framework of the Old Quarter craft year 2016 in Hanoi.
Hanoi-Exhibition "The Street Dreams"

Toong Co-working Space, 3rd floor, 08 Trang Thi Street
The capital city of Hanoi is the main theme of the exhibition, with works by Hanoi-based artist Nguyen The Duy.
The 15 paintings on display focus on the subject of Hanoi with old streets and ancient temples.
Duy's works revive in our mind the image of an old industrious, serene and peaceful Hanoi.
Hanoi-Exhibition "Dialogues – An Artistic Exchange"
Goethe Institute, 56-58 Nguyen Thai Hoc Street

The exhibition offers an artistic dialogue between different imageries from lacquer paintings through to oil paintings.
The exhibition will be opened in the presence of the participating artists: Armen Gevorgyan, Le Thi Minh Tam, Nguyen Dinh Duy Quyen, Nguyen Dinh Vu, Nguyen Van Duy, Tran Gia Tung, Tran Hoang Hai Yen, Dinh Quan, Trinh Minh Tien.
HCMC-"PSYCHE" – Solo Show by Tuyp Tran
Dia Projects, 2nd Floor, 103 Dong Khoi Street, District 1
The show features over 16 selected works by 1988-born artist Tuyp Tran, who uses amix of intricate pen and color marker illustrations on elephant hide paper, and wood, to create labyrinthine illustrations.

Vung Tau City-Private weapons museum reopens
From 8am to 6pm daily.
The Worldwide Arms Museum, 98 Tran Hung Dao Street

Owned by British national Robert Taylor.
Featuring 2,500 ancient weapons collected from around the globe

Items ranging from guns and swords to army uniforms of the 17th to 20th centuries, besides hundreds of 15th and 16th century military uniforms from Europe, as well as Japanese samurai costumes.
__________________________________________________________________
OTHER EVENTS
Hanoi- Ethnic mountain market
Apr 30-May 3
Vietnam National Village for Ethnic Culture and Tourism, Son Tay Town

A special mountain market by ethnic groups in the northern province of Điện Biên

Folk singing, games and the cuisines of the Mông, Dao, Thái, Mường and Khơ Mú ethnic groups will be showcased at the market.

Some 40 stalls displaying agricultural products, such as wine, fresh vegetables, fruits and roots, as well as handmade embroidered cloth and jewellery made by the people of Điện Biên, Hà Giang, Lào Cai and Bắc Kạn, as well as Hòa Bình and Nghệ An, will be the highlights of the event.

Traditional customs, such as the new house celebration ceremony of the Khơ Mú group, the epic narration of the Mông group and their handicrafts will also be presented.