What's on July 2016 (Daily updated)
MUSIC AND PERFORMANCES
HCMC-Opera Gala Night
July 29, 8 pm

HCMC Opera House, No. 7 Lam Son Square, District 1
The concert will feature excerpts and arias from Mozart's "Cosi fan tutte" and "Le Nozze di Figaro", Rossini's "William Tell", Bizet's "Carmen", Verdi's "La Traviata" and Mascagni "Cavalleria Rusticana"
Performers are Ho Chi Minh City's top opera artists: Pham Khanh Ngoc, Pham Duyen Huyen, Pham Trang, Tran Duy Linh, Mer. A Tran Hong Vy, Vo Thuy Ngoc Tuyen, Nguyen Thi Thanh Nga and Dao Mac, Nguyễn Võ Thành Tâm, Lý Hoàng Kim, Nguyễn Thu Hường, and many more along with the HBSO Symphony Orchestra and Choir. The concert will be led by Maestro Mer. A. Tran Vuong Thach.
Tickets are priced from VND 200,000
HCMC-Contemporary Dance with Vietnamese Traditional and Ethnic Music
July 26 and 27, 8 pm,

IDECAF, 28 Le Thanh Ton Street, District 1
Come to enjoy performances of contemporary dance with Vietnamese traditional and ethnic music entitled "Non" (Conical Hats) by a group of independent artists, including choreographer – dancer Vu Ngoc Khai, music composer Ngo Hong Quang, program producer Van Quy Ngoc Ai.
The show will feature contemporary dance and melodic flows performed acoustically: String Gong, a 3-string instrument from Tay ethnic minority, monochord and singing.
Ticket prices: VND 400,000 – VND 500,000
Hanoi-Subscription Concert Vol. 93
August 25, 8 pm
Hanoi Opera House, 1 Trang Tien Street
Subscription concert Vol. 93 with:
Conductor: Le Phi Phi
Piano Soloist: Nguyen Viet Trung
And the Vietnam National Symphony Orchestra (VNSO)
Programme:
SCHUBERT – Rosamunde Overture, D. 797
CHOPIN – Piano Concerto No. 2 in F- minor
DVORAK – Symphony No. 9 "From the new world"
Ticket prices: VND 200,000 – VND 350,000 – VND 500,000.
Hanoi-JF Garage Concert 10: Concert Feat. Fantasia Wind Quintet
July 30, 8 – 9 pm

Japan Foundation Center for Cultural Exchange in Vietnam, 27 Quang Trung Street
JF Garage Concert is a series of concerts held in the garage and courtyard of the Japan Foundation in hope to provide musical diversity to Hanoi through the introduction of Japanese music played by distinguished musicians.
In this tenth garage concert, Fantasia Wind Quintet will play masterpieces of well-known Japanese and Western composers.
The event is free and no registration is required (first come, first served).
Hanoi-A Night of Concert and Ballet
July 29 and 30, 8 pm,

Hanoi Opera House, 1 Trang Tien Street

Programme:
Part I:
Passacaglia by G.F. Handel
Stabat Mater for Soprano and Alto by Giovanni Battista Pergolesi
Conductor: Le Phi Phi
Soprano: Lê Thị Vành Khuyên & Trần Thị Trang
Alto: Nguyễn Thu Quỳnh & Nguyễn Phương Đông
and the String Orchestra of Vietnam National Opera and Ballet
Interval
Part II: Ballet "Những người đãng trí"
Music: Roderick Vanderstraen
Choreographer: Pham Minh
and Dancers of Vietnam National Opera & Ballet
Ticket prices: VND 200,000 – VND 350,000 – VND 500,000.
HCMC-Performance of French Opera "Carmen"
July 1, 2, 8pm
Ho Chi Minh City Opera House, No. 7 Lam Son Square, District 1,
French opera is well-known as one of the most played operas in the world. A steadfast and fiery woman, Carmen uses her charm to seduce Don José, a soldier garrisoned in Seville (Spain) and already engaged to Micaëla. When accused of provoking a fight in the tobacco factory where she works, Carmen is to be arrested by Don José himself. But the soldier, who has already fallen in love, will let the beauty flee and bitterly regret it.
Hanoi-Subscription Concert Vol. 92
July 3 and 4, 8 pm
Hanoi Opera House, 1 Trang Tien Street
Conductor: Tran Vuong Thach
Piano Soloist: Celimene Daudet
and the Vietnam National Symphony Orchestra
Ticket prices: 200,000 – 350,000 – 500,000 VND. All tickets available at Hanoi Opera House or can book online at vnso.org.vn.

For free delivery call: 0913489858, 0983067996.

_________________________________________________________________________________
EXHIBITION
Hanoi-Affordable Art 2016: 7+
Dong Phong Art Gallery
03 Ly Dao Thanh Street, Hoan Kiem District,
The exhibition features a series of small and nice art works by a new group of well-known artists in Vietnam.
The Affordable Art 2016 "7+" is not only showing works by seven artists and one sculptor, but also presenting the rich and diversified materials and subjects they use in their works.
Hanoi-Exhibition "Who Am I" by Nguyen Minh Chau
Toong Co-working Space
8 Trang Thi, Hoan Kiem, Hanoi
"Who Am I" is the first solo exhibition of artist Nguyen Minh Chau, and is also an important milestone marking the artists blossoming career. This exhibition includes 19 works depicting different themes.
Hanoi- Exhibition featuring innovative bamboo paper art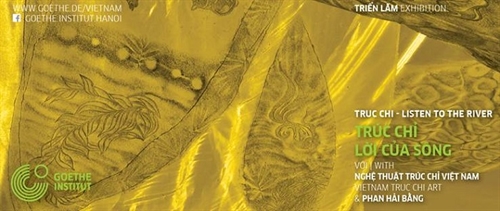 July 1-15
Goethe Institute, 56-58 Nguyễn Thái Học Street

Exhibition "The Trúc Chỉ – Listen To The River exhibition" introducing artworks made of bamboo paper by artist Phan Hải Bằng
The production of paper made from bamboo has a long tradition in some Asian countries, but the process is usually completed with the moulding of the paper.
But this is just the beginning for trúc chỉ – a new form of art in which artists interact with the wet structure of the paper in the frame and use water pressure and other techniques to change the surface. Unique images are created this way. Some artists process the resulting images further, using brush or collage techniques.
Two workshops on the techniques and process of making trúc chỉ will be held on July 2 at 10 am and 2pm. Artist Bằng will also present a public talk at 7pm that day.
Hanoi-Exhibition – Installation "Through" by Artist Bao
Until July 7
L'Espace, 24 Trang Tien Street
Bao's work is influenced by an exile – the time during which he lived outside of his home country – and his yearning for an identity then. He began his visual art research in France during his study at the Beaux Arts. In his artistic practice, Bao combines cultural and religious symbols of Vietnam and diverts them: lanterns, altars, old photographs. In this exhibition, he played particularly on the transparency of certain materials – plexiglass, glass, plastic films, spring roll wrappers – to make visible the distant, vague memories.
Free entry.

Hanoi-Exhibition "Breath of Life" by Trinh Thang
Until July 9
Exhibition House, 16 Ngo Quyen Street

Feature 45 among more than 200 paintings of Trinh Thang whose artworks are initially quite self-absorbed and innocent.

Trinh Thang obviously stands between two extremes: one side is the innocence and the other is the responsibility of those who understand life. He seems to have been able to describe this state of living in each painting.

HCMC – Solo Exhibition "Dislocate" by Bui Cong Khanh
Until August 23
The Factory Contemporary Art Centre, 15 Nguyen U Di, Thao Dien District 2
A solo exhibition by Vietnamese artist, Bùi Công Khánh, it is his largest and most ambitious art installation to date.
Walk into the world of 'Dislocate' and the wood of the jackfruit tree springs to life referencing a myriad of social and cultural histories concerning Vietnam in style and subject. A stunningly carved fortress sits center-stage; its beams, decorative panels and windows recalling the magnificent architectural traditions of Hue (the ancient capital of Vietnam). Surrounding this fortress stand four spiritual 'guards' – miniature pagoda ensconced within 'penjing' representing the cycle of the seasons. Working with a team of senior expert wood carvers and carpenters from Hoi An over a two year period, 'Dislocate' embraces a complex interwoven set of narratives that pivots around this ancient city on the central coast of Vietnam – a city at the heart of Bui Cong Khanh's practice and family history.

HCMC – Exhibition "Happy Never After" by Khoa Le

Until July 17
Craig Thomas Gallery, 165 Calmette, Nguyen Thai Binh Ward, Dist 1
A solo exhibition by Khoa Le, a young visual artist who also works as an illustrator and an author of short stories and picture books for children. Her diverse skill set is on full display in the fantastical creations of the Happy Never After series