What's on June 19-25 (Daily updated)
MUSIC & PERFORMANCES

Hanoi-Fête de la Musique

Jun 24, 4.30 pm

L'Espace, 24 Trang Tien Street

Introducing three talented independent groups from Hanoi – "HUB", "Xanh 8+1" and "B52" – who will perform original pop-rock compositions in Vietnamese.

Puzzle, a well-known Franco-Vietnamese band from Hanoi, will also perform songs from the French-language repertoire.

The party will continue to the rhythm of the Caribbean with the exceptional performance of the Haitian group "L'impossible". Finally, "DJ Quan" will create a grand finale with electronic music to close the night!

Free entry

Hanoi-Hidden Beat: "Night of Jazz"

Jun 23, 8 pm

Heritage Space, 1st Floor, Dolphin Plaza, 6 Nguyen Hoang (for car) | 28 Tran Binh (for bike), My Dinh 2

Heritage Space "Hidden Beat" Vol 1 with Hanoing Jazz Band – a multinational band that consists of 18 talented musicians.

With the "Hidden beat – inspire your heart" series created with the belief in the interminable inspiration of music within our daily life, Heritage Space always aims to maximize our potential to support independent music artists/groups/bands, and become an important chain to connect audience and music artists.

Tickets

Surcharge: 100,000 / 120,000 VND (inc 01 free drink).
Drinks available (cold beer, juices, tea, water).

Contact for booking:
Email: giang.heritagespace@gmail.com
Hotline: 096 292 9188 (Ms. Giang)

Danang City-South Korean musical to be staged in Danang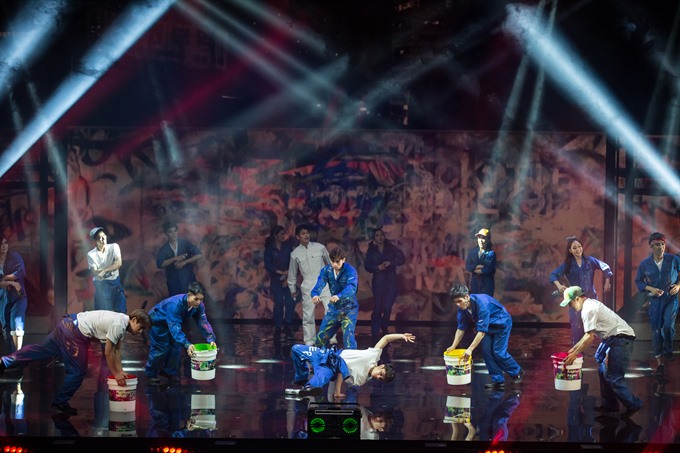 Jun 22-24

Trung Vuong Theatre

Two Loving Stars, a musical that combines K-Pop and Opera, will be staged for the first time in Danang.

Featuring several pop idols from South Korea, including Lee Ji Suk, Han Yungyeon, Louis Choi, Yoo Myunghun, Beom Sang Gil and Kim Minkyu, perform live in the city.

Two Loving Stars will also feature vocalist Louis Choi and actors Lee Ji Suk, Han Jungyeon and Kim Minkyu.

The South Korean artists will present both contemporary and traditional dancing skills, martial arts and magic on a 3-D stage.

_______________________________________________________________________________

EXHIBITION

Hanoi- Exhibition "Fantitastisch!" – Art and Design not just for kids

Until Jun 30, 9 am – 7 pm

Goethe Institut, 56-58 Nguyen Thai Hoc Street

Hanoi-Lacquer Painting Exhibition "Nature – Nostalgia"


Until July 23,

Institut Français de Hanoi – L'Espace, 24 Trang Tien Street

Dang Thu Huong, Ly Truc Son, and Nguyen Thi Que, artists of the first generation of the Vietnamese School of Fine Arts, explored the oriental art of sanded lacquer in the 1990s. The destructive war brings them closer to nature and inspires them with simple subjects: flowers, people, the countryside… The charm of their works resides in the sparkling of the lacquer and its red, black, silver and gold palette.

Free entry

Hanoi-"Sparkling" – Exhibition of Gold-painted Wood Furniture


Ju 20 – Nov 30

1st floor, Vietnam National Museum of History, 1 Trang Tien Street

Featuring pieces of traditional gold-painted wood furniture.

Wood carving is a traditional craft from Dong Son period in Viet Khe, Chau Can, Duong Du, Xuan La, Minh Duc, Chau Son to feudal dynasties. The development of religions, beliefs make gold-painted lacquer become more and more prosperous. In addition to agriculture, many regions in our country have secondary occupations as carpentry for the construction of houses, pagodas, furniture, bed cabinets, statues or ornaments.

The art of wood carving and gold-painted wood furniture is a valuable cultural heritage and needs to be preserved.