What's on February 19-25 (Daily updated)
MUSIC & PERFORMANCES
HCMC-First international circus gala

Until Mar 18,
Gia Dinh Park, Go Vap District

Featuring more than 50 circus performers from Vietnam, Russia, the US, Ukraine and Mongolia.

There are also animal circus shows.

The circus gala will run until March 18 in HCM City, then come to the central city of Da Nang and the northeastern province of Quang Ninh till April 15.
Hanoi- Lunar New Year at Hanoi Old Quarter



Folk music performances: Feb 17 – 20, 8 pm – 10 pm
Exhibition: Feb 2-Mar 4, 8 am – 12 pm and 2 – 5 pm
(Fri, Sat, Sun: 8 am – 12 pm, 2 – 5 pm and 7 – 10 pm)
A series of cultural events organized by the management board of the Old Quarter in Hanoi.
Program:
• Kim Ngan Temple, 42-44 Hang Bac
– Introducing the space dedicated to ancestor worship within houses in urban areas and in the northern delta region of Vietnam (more details can be read at Exhibition "Ancestor Altar during Tết")
– Introduction and performance of Vietnamese calligraphy art
– Introduction of the art of planting trees in Vietnam and its role as a hobby of Hanoians during the lunar new year holiday.
– Introduction of Dong Ho, Kim Hoang folk paintings
• Heritage House, 87 Ma May
– The decoration of a Vietnamese home during Lunar new year holiday
– Introduction of Vietnamese tea culture
– Introduction of old Tết photographs by Vietnam Institute of Social Sciences Information.
• Hanoi Old Quarter Culture Exchange Center, 50 Dao Duy Tu: Introduction of paintings and stone dog sculptures created by the 60+ artist group with the theme "Dogs in the life of Vietnamese people".
In addition, there will be traditional music performances at historical relics in Hanoi Old Quarter:
Time: Feb 17 – 20, 8 pm – 10 pm
Location:
• 17 Feb: Dong Lac Temple, 38 Hang Dao
• 18 Feb: Kim Ngan Temple, 42-44 Hang Bac
• 19 Feb: Hanoi Old Quarter Heritage Information Center – Quan De Temple, 28 Hang Buom
• 20 Feb: Hoi quan Phuc Kien, 40 Lan Ong
Hanoi- Cultural Program "Spring Colors Across Vietnam"

Program: Until Feb 28, 8.30 am – 4.30 pm
Spring festival: Feb 24 and 25, 8.30 am – 4.30 pm
Vietnam National Village for Ethnic Culture and Tourism
Dong Mo, Son Tay Town

An annual event held to celebrate the cultural heritage of all ethnic groups in Vietnam.
Featuring interesting festivities, art performances, and distinctive folk games and traditional dishes of the ethnic groups.

The festival has the participation of 80 ethnic people of 11 Vietnamese ethnic groups (Tày, Dao, Mông, Thái, Mường, Khơ Mú, Tà Ôi, Cơ Tu, RagLai, Ê Đê, Khmer) in collaboration with artists from the Vietnam National Academy of Music.
Tickets

Adults: 30,000 VNĐ
Students: 10,000 VNĐ
Kids: 5,000 VNĐ

Free entry from Feb 16 to 20

____________________________________________________________________________
EXHIBITION
Hanoi-Exhibition "Colors of Love"


Until Mar 3, 8.30 am – 11 pm

Lotte Observation Deck, Lotte Centre, 54 Lieu Giai Street

A display of beautiful works of Art from International Painters and Photographers.

Featured Artists: Josh Roxas (Philippines), Maida Gayle (Canada), Claire Allured (England), Cat O'Brien (England), Ho Nguyen (Vietnam), Claudia Garcia (Peru), Lois Davis (Canada), Vu Quang Hung (Vietnam), … and more !

Tickets:

General:
– Adults (Over 12 years old): 230,000 VND
– Children (3 – 12 years old): 170,000 VND
– Free for children under 3 years old

Standard discounts:
– From 8:30 to 10:30: Discount 50%
– From 22:00 to 23:00: Discount 50%
– Family package (Min 2 adults & Max 5 kids): Discount 50% for kids

Discounts for Vietnamese citizens:
– Adults (Over 12 years old): 180,000 VND
– Children (3 – 12 years old): 120,000 VND

Hanoi-Exhibition "The Ancestor Altar during Tet"

Until Mar 3
Kim Ngan Temple, 42 Hang Bac Street, Hoan Kiem District.

Featuring the tradition of ancestor worship in Vietnam during the Lunar New Year (Tet).

The arrangement of offerings on the altars of Vietnamese families during Tet not only shows their gratitude and respect towards their ancestors and gods, but also expresses their hope for prosperity and peace in the new year.
Hanoi-GO GO 2018 Exhibition


Until Feb 25 (Tue – Sun), 9 am – 12 pm and 1 – 5 pm

VICAS ART STUDIO, 32 Hao Nam Street

A fun playground of 36 Vietnamese painters and sculptors to celebrate New Year 2018 and our Lunar New Year Mau Tuat (Year of the Dog). Opening will have a special video art, music and performances of Tri Minh, Do Thanh Son, Le Quoc Hung and Vu Nhat Tan.

Featuring 80 paintings diversified in style (realism, expressionism, abstract, neo-expressionism), materials (pastel, ink on Dó paper, acrylic, oil, lacquer, mix-materials, wooden sculptures) and theme (still-life, landscape, social issues, artists' emotion and meditation,…).

Artworks' prices ranging from US$220- US$700.





Hanoi-Exhibition "Spring Blossoms of Hanoi"


Until Mar 3, 8 am – 5 pm (open until 11 pm on Sat – Sun, closed on Friday)

Ho Guom Cultural Information Centre, 2 Le Thai To Street, Hoan Kiem District,

Introducing 80 oil and watercolor paintings of flowers in springtime by 13 Hanoian artists.


The spring season is not considered as the most beautiful time of the year in Vietnam, it also represents a new beginning. In the excitement of welcoming Tết (Lunar New Year), we are once again immerse in the air of spring with hopes and dreams for a new year – a season of blossoming flowers and sprouting greens.

HCMC-Group Exhibition "Alluvium"

Until Mar 24,
Galerie Quynh, 118 Nguyen Van Thu Street, Dakao, District 1.


Featuring works by 11 Vietnam based artists: Nadege David, Do Thanh Lang, Ha Manh Thang, Hoang Duong Cam, Hoang Nam Viet, Le Hoang Bich Phuong, Sandrine Llouquet, Nguyen Huy An, Nguyen Manh Hung, Nguyen Quang Huy, and Trong Gia Nguyen.

The geological term 'alluvium' – embodying in itself a sense of movement – refers to the sedimentary matter washed onshore by flowing bodies of water.

_________________________________________________________________
FESTIVALS
Hanoi- Vietnamese New Year Festival

Until Feb 24, 8 am – 5 pm
Imperial Citadel of Thăng Long, 19C Hoang Dieu, Ba Dinh
Featuring archives of the French museum Albert Kahn, and wood carvings by Henri Oger that depict traditional Tết rituals and ceremonies. There are also traditional games and performances, and traditional paintings of different genres such as Đông Hồ, Hàng Trống, Kim Hoàng. Several other rituals, ceremonies and cultural performances will also take place.
Hanoi- Calligraphy Exhibition "Stroke of Spring – Art of Nôm"

Until Mar 2
Vietnam Fine Arts Museum, 66 Nguyen Thai Hoc Street
An exhibition of 50 calligraphy works by authors and researchers of calligraphy and Nôm – a logographic writing system formerly used to write the Vietnamese language – inspired by poems about the New Year and Spring by the late President Ho Chi Minh and famous figures such as Tran Nhan Tong, Nguyen Trai, Nguyen Huy Luong, Nguyen Du,… There will be calligraphy demonstrations and a calligraphy workshop for pupil at the opening of the exhibition.
Hanoi- Calligraphy Fair 2018


Feb 9 – 25, 8am – 10 pm
Literature Lake (Hồ Văn), Temple of Literature
An annual event taking place at Literature Lake (part of the Temple of Literature) which offers live calligraphy demonstration, hands-on experience of Vietnam's traditional crafts, folk games and other cultural activities.
– Live calligraphy demonstration
– Hands-on experience of Vietnam's traditional crafts
– Folk games and cultural activities
Free entry
Hanoi-Book festival to welcome Lunar New Year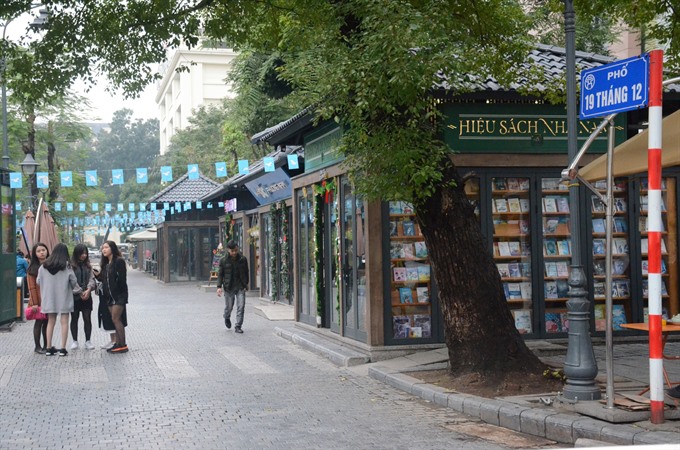 Feb 18-25, 8am-10pm
19 Tháng 12 Street, Hoàn Kiếm District

Featuring 16 booths from different book companies and distributors, offering literature, children's books, science, fiction, foreign books, electronic books and digital reading devices.

The event provides interesting books with easy access for people with disabilities, children and the elderly. The area includes a small square where people can talk about books, as well as free WiFi and water, a reading space, a coffee area, flowers and souvenir stalls.

Press agencies will display special publications released for Tết, with the editions focusing on some of the most significant issues of the year.

In addition, other cultural activities will be conducted such as book exchanges, book introductions, calligraphy presentations and copyright transactions.