What's on August 20-26 (Daily updated)
MUSIC & PERFORMANCES
Hanoi-Subscription Concert Vol. 112
August 24, 8pm
Hanoi Opera House, No.1 Trang Tien Street,
A performance by Conductor Le Phi Phi, Piano Soloist Nguyen Viet Trung and the Vietnam National Symphony Orchestra
Ticket prices: VND 200,000 – VND 350,000 – VND 500,000.
Hanoi-Classical Concert with Quatuor Arod & Nguyen Viet Trung

Aug 25, 8 pm,
L'Espace, 24 Trang Tien Street
A classical concert by Quatuor Arod & pianist Nguyen Viet Trung.
The Quatuor Arod string quartet comprises four young men who have already made a name for themselves in Europe's classical music scene.
Tickets
A-class VND 300,000
B-class VND 200,000
C-class VND 100,000 (for students & members)
Hanoi- Chamber Concert "Sommerabend"
Aug 25, 8 pm,
Manzi Art Space, 14 Phan Huy Ich Street
"Sommerabend", a chamber concert featuring the best cellists of Hanoi and their friends from Japan: Đào Tuyết Trinh, Phạm Mai Hoa, Nguyễn Chánh, Nguyễn Diệu Hương (cello), Atsuko Yamamoto (oboe), Ryoko Bohmuki (soprano), Romel Saulog Lacson (tenor), Chie Hanazato, (piano).
The concert will present works by world famous composers including Bach, Bach, Strauss, Rachmaninoff, Puccini, Verdi…
HCMC-Performance of Big Band: Brass Music from Bavaria
Aug 21, 6.30 pm,

Deutsches Haus, 2nd Floor, 33 Le Duan Blvd., District 1, Ho Chi Minh City

Reißner Big Band plays the type of music that makes you happy. Bavarian folk music made famous worldwide through folk festivals such as the Oktoberfest in Munich, is also played at weddings in the country and the city. The musicians of Reißner Big Band have packed their bags and will come to Ho Chi Minh City. With them they carry their wind instruments: tuba, trombone, trumpet, saxophone, clarinet, a good mood and their professionalism in musical performances. It is their desire to come to Vietnam and contribute to the international friendship between Germany and Vietnam.

Free admission
______________________________________________________________________________________________
EXHIBITION


Hanoi-Opening Reception of "Art as Insight"

Aug 25, 6.30 – 9 pm
Heritage Space, Fl.01 Dolphin Plaza, 6 Nguyen Hoang st., My Dinh 2, Nam Tu Liem District

From Heritage Space:
Displaying art-tech works of 09 artists from the US. You will be led throughout the exhibition with explanations about artwork's concepts, mechanism and how to interact/entertain them from curator Katherine Huong Nguyen and some US artists presenting in Hanoi at that moment. A special short multimedia live performance will also be presented as an unique opportunity for all audiences to gain a deep understanding and appreciation of this new art form.

SPECIAL: The program's suitable for kids from 8 year old. What's a great educational opportunity of future art form for children.

PROGRAM:
– 6:30 – 7:15 | Welcome guest, serving food and drinks.
– 7:15 – 8:00 | Exhibition tour guided by curator Katherina Nguyen and artists. A live performance by artist interacting with audiences (details are kept secret until the performance)
– 8:00 – 9:00 | Enjoying the exhibition on your own and exchange with the artists and curator

Free entry


Hanoi-Photo Exhibition "The Eye of Istanbul" by Ara Güler
Leica Boutique Hanoi, 14 Ngo Quyen Street
A photo exhibition by Turkish photographer Ara Güler.
Ara Güler's work has been featured in many international titles – Time, Life, Stern and Paris Match, to name a few. Despite years of being on the road and photographing famous luminaries, Güler's heart remains rooted in Istanbul. He bears witness to its many changes and continues to find inspiration for photography in the city with his Leica camera.
Hanoi- Exhibition "Summer"
Lotte Center Hanoi, 54 Lieu Giai Street, Ba Dinh District
You are invited to the exhibition "Mua Ha" (Summer) by Bui Trong Du – the artist behind many impressive oil-on-canvas works of delicate simplicity with a strong identity of Vietnamese folk art.
With the theme of "Summer", the exhibition will shape a unique experience for each visitor through the artist's passion for lotus flowers.
Free entry

Hanoi-Exhibition "Fragments" by Hiraki Sawa
Vincom Center for Contemporary Art (VCCA)
B1 – R3, Vincom Mega Mall Royal City
72A Nguyen Trai, Thanh Xuan District,
The Vincom Center for Contemporary Arts (VCCA) proudly presents "Fragments", an exhibition showcasing surreal art pieces by one of Japan's top artists, Hikari Sawa. Through this exhibition, the VCCA hopes to bring video art closer to the public.
HCMC-Exhibition "Gang of Five Chancing Modern"
The Factory Contemporary Arts Centre, 15 Nguyen U Di, Thao Dien, District 2
Curated by Le Thuan Uyen, the exhibition is a survey of three decades of artistic practices by five of the most important figures in the art scene of North Vietnam; Hong Viet Dung, Ha Tri Hieu, Dang Xuan Hoa, Tran Luong and Pham Quang Vinh.
Featuring nearly forty paintings and numerous original historical materials (including reviews and interviews, archival images, exhibition guest books, two short film documentaries, and a timeline tracking the conception, development, and reunion of the Gang of Five, this is one of the few retrospective exhibitions staged in Vietnam that thoroughly documents the lives and preoccupations of local artists (and/or artist groups) of the 20th century.
Tickets:
For adults: VND 35,000
For students: VND 25,000 (with appropriate student ID)
For children under 16: free (with appropriate ID)
HCMC- Exhibition "Tâm Linh" (Spiritus)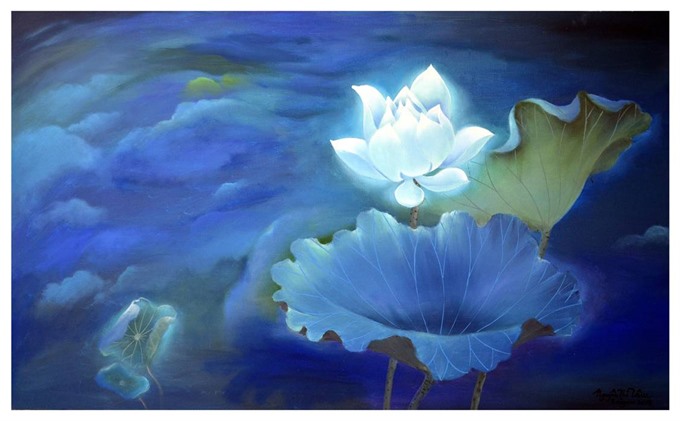 Aug 18-27
HCM City Exhibition Centre, 92 Le Thanh Ton Street, D1
Displaying 30 oil, acrylic and watercolour paintings on canvas, silk, alloy or papyrus by artists Nguyễn Thị Tâm, Trần Thùy Linh and Nguyễn Huy Khuê.

The lotus has special significance to the Vietnamese and Vietnamese culture.