What's on September 17-23 (Daily updated)
MUSIC & PERFORMANCES

Hanoi-'Lang Toi' (My Village) by Lune Production

September 21 and 22, 6pm

Vietnam Tuong Theatre, 51A Duong Thanh street, Hoan Kiem district

A delicate merge of tradition and innovation, where the poetic beauty of Northern Vietnam's village life is presented through a new cirque approach.

Farming, the building activities, traditional games, and lifestyle of the Northern villagers are recreated by ancestral bamboo props, breath-taking cirque and acrobatics performances, and rhythmic dance, to distinct folk music from more than 20 musical instruments.

Ticket prices: VND 630,000- VND 1,050,000


HCMC-Play: "Saigon" by Caroline Guiela Nguyen

6:30 pm, September 21

3:30 pm, September 22

Ben Thanh Theatre, 6 Mac Dinh Chi Street, District 1
Featuring a story spanning 40 years of these French and Vietnamese people whose destinies were tossed about by history.

French and Vietnamese actors, and French actors of Vietnamese origin play 11 characters of "Saigon". On stage, their voices and fates intertwine with emotions as the narrative unfolds between the two pivotal years of 1956 and 1996.


Ticket prices:VND1,300,000 – VND 900,000 – VND 500,000 – VND 300,000 - VND150,000 for students

HCMC- Classical ballet Giselle


Sep 21 and 22,
The Opera House

The two-act Giselle was written by French dramatist and novelist Theophile Gautier and playwright Jules-Henri Vernoy de Saint-Georges, to music by composer Adolphe Adam.

The ballet tells the story of a young peasant girl, Giselle, who dies of a broken heart after discovering her lover, Albrecht, has promised to marry someone else.

HCMC-A O Show by Lune Production

6:00 pm, everyday except Sunday

Ho Chi Minh City Opera House, 7 Cong Truong Lam Son, Ben Nghe Ward, District 1

Introducing optical illusions and impressive acrobatics, paired with traditional music performances by a troupe of talented local artists.

Known as the Cirque du Soleil of Vietnam (minus the flashy outfits), this live show depicts the transition of rural Vietnam into today's modern landscape, using props such as giant woven baskets, scaffolding, bamboo canes, and ropes.

Price range: VND630,000 - VND1,470,000

_________________________________________________________________________

EXHIBITION


Hanoi-Exhibition "Infinity of Mirror"


Institut Français de Hanoi – L'Espace, 24 Trang Tien street, Hoan Kiem district

The exhibition is expected to be a unique experience, giving audiences a chance to enjoy calligraphic artworks by Christian Hadengue and paintings by Le Thua Tien, with music composed by Mark Lockett played in the background and accompanied by Hubert Haddad's poems.

The exhibition is a meeting between artists who have adopted a language naturally 'out of step' with their cultural backgrounds (Western and Asian).

Hue City- Exhibition featuring royal items carved with dragons, phoenixes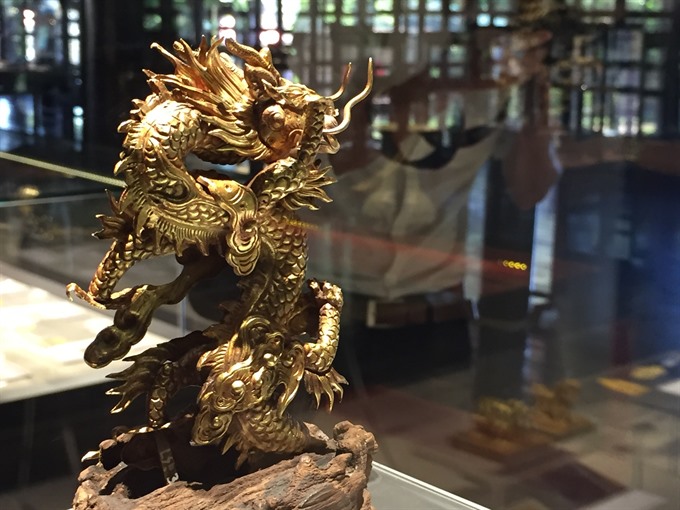 Until Dec 5,


The Royal Antiquities Museum, 3 Le Truc Street
Introducing than 80 precious items carved with dragons and phoenixes are on display in the former imperial capital city of Hue.

The exhibition is taking place at starting on Friday and ending on December 5. Tickets can be purchased in the city.

Hanoi-Exhibition "Surreality / Reality"

VICAS Art Studio, 32 Hao Nam Street, Dong Da District
An exhibition by Le Nguyen Manh, Pham Huy Thong, Nguyen Doan Ninh, Vu Muoi, Nguyen Vinh Trung and Phuong Vu Manh whose art practices follow the surrealistic style.

Hanoi- Exhibition "Colours of Life"

Vietnamese Women's Museum, 36 Ly Thuong Kiet Street

The Exhibition "Colours of Life" by Photographer Le Bich will be organized at the Vietnamese Women's Museum in cooperation with the Photography Club of Hanoi.

40 photos on display show how some Vietnamese women have used their craftsmanship to preserve the cultural heritage of their villages.

Free entry

HCMC-Exhibition by Hoang Duong Cam
Galerie Quynh, 118 Nguyen Van Thu Street, district 1

The sixth solo exhibition of Hoang Duong Cam, showcasing his new sculptures and some of the artist's most ambitious paintings to date.

The works on display reflect a fixation on an often irreconcilable distance, whether it's the gap between ambition and resignation, between the heroic and the condemned in a nation's history, or between calculated composition and inexplicable effect.