What's on October 15-21 (Daily updated)
MUSIC & PERFORMANCES

Hanoi-Nối Music Fair
Oct 21, 1pm
Rec Room, 49 Lang Yen Phu Street

A full day of Live Original Music & Workshops

Rec Room plans to hold quarterly events showcasing musicians, artists and service providers from the Hanoi scene. We'd like to present recorded works and merchandise of musicians to help create new revenue streams, and to promote increased awareness of the activity taking place across the city.

With the purchase of every ticket you also purchase a compilation of bands involved in the fair. This will be delivered as an exclusive code to download a high quality file with the art work included.

Nối means 'Connection' in Vietnamese and we want to grow together in this music scene.

Tickets: 50,000 VND

Hanoi- A Night of Ballet "Bolero & Suite en Blanc"
October 17 and 18, 8pm

Hanoi Opera House, 1 Trang Tien street, Hoan Kiem district

A Night of Ballet "Bolero & Suite en Blanc", featuring artistic director - Meritorious Artist, Tran Ly Ly, and dancers from Vietnam National Opera and Ballet.

"Bolero" is a play that shows simplicity but power from beginning to end. You will see the power of the artists through their simple but inspirational ballet moves.

Meanwhile, the romantic ballet "Suite en Blanc' shows the beauty, perfection and elegance of the classical ballet language through strong and powerful body language of the male and female artists, providing audiences an unforgettable evening.

Ticket: VND 200,000 – VND 300,000 – VND 500,000 – VND600,000


Hanoi-Classical Music Concert "Autumn Bamboo 3″
October 19 and 20, 8pm

L'Espace, 24 Trang Tien street, Hoan Kiem district

Featuring the international choir Hanoi Voices bringing you classic music pieces of France and Vietnam.

Under the baton of talented conductor, Dong Quang Vinh, you will get to enjoy familiar Vietnamese music pieces and excerpts from the famous "Carmen" musical by French composer Georges Bizet. "Autumn Bamboo 3" promises to be a special concert night for both adults and children.


Ticket price: VND 300,000 – VND 250,000 for L'Espace members and students
HCMC-A O Show by Lune Production

6:00 pm, everyday except Monday and Friday

Ho Chi Minh City Opera House, 7 Cong Truong Lam Son, Ben Nghe Ward, District 1

The A O Show features optical illusions and impressive acrobatics, paired with traditional music performances by a troupe of talented local artists.

Known as the Cirque du Soleil of Vietnam (minus the flashy outfits), this live show depicts the transition of rural Vietnam into today's modern landscape, using props such as giant woven baskets, scaffolding, bamboo canes, and ropes.

Price range: VND630,000 - VND1,470,000
___________________________________________________________
EXHIBITION

Hanoi-Exhibition "Silent Whisperings" by Le Thua Tien
10 am – 5 pm (open on appointment), Monday to Friday

Art Vietnam Salon Gallery, No. 2, Alley 66, Yen Lac Street, Hoan Kiem district

The exhibition engages the viewer into a deep contemplation of one's silent interior world.

Words scribbled in charcoal, washed away by vanishing pigment, sand and ink, submerged in earth, echo whisperings longing to be heard.

Hanoi-Exhibition "From Villages to Streets" by Vu Dinh Luong

Fine Arts Exhibition House

16 Ngo Quyen street, Hoan Kiem district

Through the exhibits, Vu Dinh Luong uses lacquer as an appropriate medium for rural scenery, as a means to convey stories through paintings.

His art evokes feelings rather than descriptions. Impressionism is visible not only in the lacquer but also in soft, watercolour paintings illustrating nature, while oil and acrylic paintings give out a stronger, more impressive feel.

Hanoi-Exhibition "Infinity of Mirror"

Institut Français de Hanoi – L'Espace

24 Trang Tien street, Hoan Kiem district

The exhibition is expected to be a unique experience, giving audiences a chance to enjoy calligraphic artworks by Christian Hadengue and paintings by Le Thua Tien, with music composed by Mark Lockett played in the background and accompanied by Hubert Haddad's poems.

The exhibition is a meeting between artists who have adopted a language naturally 'out of step' with their cultural backgrounds (Western and Asian).

HCMC-Solo Exhibition "lamina | ink" by Kenny Ng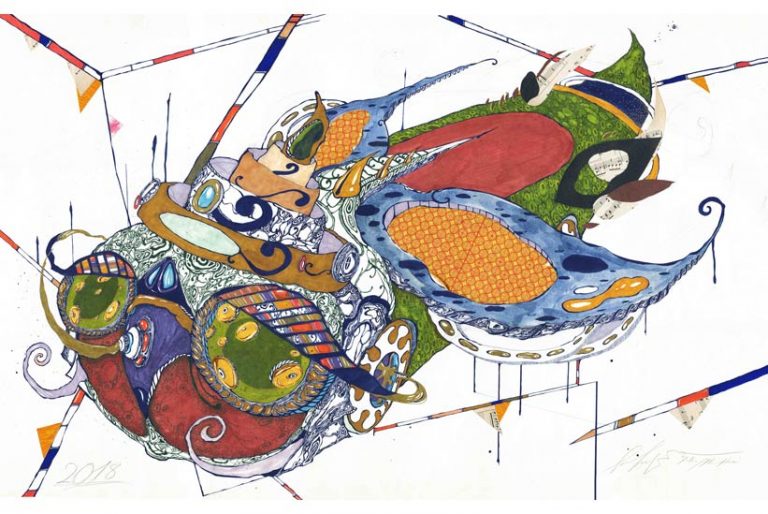 The Factory Contemporary Arts Centre

15 Nguyen U Di Street, Thao Dien ward, District 2

Kenny Ng's first solo exhibition, titled 'lamina|ink', will showcase a series of abstract characters, inspired by the diverse shapes and forms of mysterious deep sea organisms, combined with the colonial and old temple architecture of Ho Chi Minh City.

The architectural lines of these drawings tell a story of history and culture, both familiar and strange to Kenny, a young artist who returned to Vietnam in 2015, after 7 years of studying and living abroad.

Tickets:

For adults: VND35,000

For students: VND 25,000 (with appropriate student ID)

For children under 16: free (with appropriate ID)

HCMC-Photo Media Exhibition "FoMO – Fear of Missing Out"

Toong Minh Khai, 126 Nguyen Thi Minh Khai street, District 3

In his series 'Fear of Missing Out', Australian photomedia artist Darren Tynan documents video compression errors using broadcasts from free-to-air Australian television channels.

By intercepting broadcast signals, Tynan explores transmission glitches as a serendipitous phenomenon and as a creative tool in the photographic process.

A project spanning two years, FoMO is a world punctuated by randomness, disintegration and transmutation.

Free entrance.

HCMC-Duo Exhibition 'site / shine / sight'

The Factory Contemporary Arts Centre

15 Nguyen U Di Street, Thao Dien ward, District 2

A duo exhibition featuring a collaboration between visual artist/filmmaker, Truong Que Chi and architectural studio, vn-a.

The artists will transform the space of The Factory Contemporary Arts Centre into a dim maze, where all of the light emits from the various sculptures, installations and photographs within the recesses of particularly placed, structurally specific louvers.

Tickets:

For adults: VND35,000

For students: VND 25,000 (with appropriate student ID)

For children under 16: free (with appropriate ID)