What's on October 29-November 4 (Daily updated)
MUSIC & PERFORMANCES

Hanoi-A Sonata Evening with Composer Nguyen Van Quy

5:45 – 8pm on October 30,

UNIS Hanoi, Centre for the Arts,G9, Ciputra, Tay Ho District,

A concert aims to honour the life and work of an amazing Vietnamese composer who is nicknamed the Beethoven of Vietnam.


Ticket: VND200,000 (adults) – VND100,000 (children)
HCMC-A O Show by Lune Production

6:00 pm, everyday except Monday and Friday

Ho Chi Minh City Opera House, 7 Cong Truong Lam Son, Ben Nghe Ward, District 1

The A O Show features optical illusions and impressive acrobatics, paired with traditional music performances by a troupe of talented local artists.

Known as the Cirque du Soleil of Vietnam (minus the flashy outfits), this live show depicts the transition of rural Vietnam into today's modern landscape, using props such as giant woven baskets, scaffolding, bamboo canes, and ropes.

Price range: VND630,000 - VND1,470,000
______________________________________________________________________
EXHIBITION

Hanoi- Exhibition "Light – Dark" by Barbara Klemm
Goethe Institut

56-58 Nguyen Thai Hoc, Ba Dinh, Hanoi

The exhibition "Hell-Dunkel" (light – dark) is a reference to Barbara Klemm's work in the former FRG and GDR. She photographed in both western and eastern Germany, thus documenting the path to the reunification of Germany.

Free entrance

Hanoi-Exhibition: "The Big Book Larousse of Space"

L'Espace's Mezzanine, 24 Trang Tien

Exhibition of images from the book "Le très grand livre de l'espace" (The big book Larousse of Space) – a great book to discover all the wonders of the universe, with six major thematic sections divided into sub-themes (satellites, galaxies, Ariane 5…), and ending with a large, beautiful double-page. The book also contains a great diversity of information, which is serious, anecdotal, unusual, humorous… but always extraordinary, helping children to approach the mysteries of space from different angles.


Hue- Exhibition gives voice to Agent Orange victims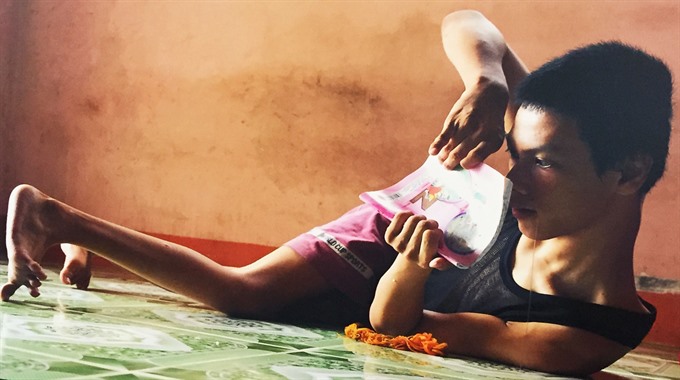 Until Nov 25,
Museum of History in Hue City
Showcasing 200 photographs of Agent Orange (AO) victims and planning related activities following the lawsuit against producers of AO.

HCMC-Duo Exhibition 'site / shine / sight'
The Factory Contemporary Arts Centre, 15 Nguyen U Di Street, Thao Dien ward, District 2

A duo exhibition featuring a collaboration between visual artist/filmmaker, Truong Que Chi and architectural studio

The artists will transform the space of The Factory Contemporary Arts Centre into a dim maze, where all of the light emits from the various sculptures, installations and photographs within the recesses of particularly placed, structurally specific louvers.

Tickets:

For adults: VND35,000

For students: VND 25,000 (with appropriate student ID)

For children under 16: free (with appropriate ID)

HCMC-Solo Exhibition "lamina | ink" by Kenny Ng


The Factory Contemporary Arts Centre, 15 Nguyen U Di Street, Thao Dien ward, District 2

Kenny Ng's first solo exhibition, titled 'lamina|ink', will showcase a series of abstract characters, inspired by the diverse shapes and forms of mysterious deep sea organisms, combined with the colonial and old temple architecture of Ho Chi Minh City.

The architectural lines of these drawings tell a story of history and culture, both familiar and strange to Kenny, a young artist who returned to Vietnam in 2015, after 7 years of studying and living abroad.

Tickets:

For adults: VND35,000

For students: VND 25,000 (with appropriate student ID)

For children under 16: free (with appropriate ID)