What's on November 12-18 (Daily updated)
MUSIC & PERFORMANCES

Hanoi-Live Performance "The Gossip"
7pm, November 16

Phu Sa Lab, 21/52 To Ngoc Van road, Quang An ward, Tay Ho district

Featuring jazzman Quyen Thien Dac, Jew's harp artist Nguyen Duc Minh and the Do Band.

The musical creations were written by Quyen Thien Dac and Nguyen Duc Minh for indigenous instruments of Southeast Asia in the Northwest, The Central Highlands, Cham and the Western saxes

Entry Fee: VND700,000/pax with 1 complimentary light meal and drink.

Hanoi- Opera Performance "Maria de Buenos Aires"

8 pm, November 15

Hanoi Opera House, 1 Trang Tien street, Hoan Kiem district

Directed by Tran Ly Ly, the concert stars soloists Phan Duc, Huong Diep, Diem Quynh, Manh Dung, and artists from the Vietnam National Opera and Ballet.

"Maria de Buenos Aires" is considered as a declaration of "New Tango", written by composer Astor Piazzolla, who uses Tango as a musical material to make the Opera. The accompanying ensemble – including strings, guitar, piano and copious percussion instruments – is based on the traditional tango orchestra.


Ticket prices: VND200,000 - VND 300,000 - VND 400,000 - VND 500,000- VND 600,000.
HCMC-Piano Concert by Robert Lehrbaumer


8pm, November 15

HCMC Conservatory of Music, 112 Nguyen Du street, District 1

Featuring Austrian Conductor, Pianist and Organist Robert Lehrbaumer.


HCMC-The Mist by Lune Production
6:00 pm, November 12-15

Ho Chi Minh City Opera House, 7 Cong Truong Lam Son, Ben Nghe Ward, District 1

Introducing the story of Southern Vietnamese farming life, expressed through neo-classic and contemporary dance performed by skilled artists.

Using rice cultivation as a metaphor to appreciate the farmers' dedication, from the misty dawn in the fields and the hardship and will power to rise up from the humble muddy soil and brace storms, until the moment they arrive joyously like shining pearls at harvest.

The Mist is an hour of emotions, with a myriad of ups and downs, painted by sensational live music, splendid visuals, and colorful lighting effects.

Ticket prices: VND630,000 – VND1,050,000- VND1,470,000
Hanoi-Live Performance "Bamboo Talk" from Nov to Dec
Nov 18, 25, 6 pm
Dec 02, 09, 16, 23, 30, 6 pm
Phu Sa Lab, 21/52 To Ngoc Van road, Quang An ward, Tay Ho district,

Bamboo tree is a significant symbol in both Vietnamese culture and daily life. THE BAMBOO TALK is an eclectic combination of traditional and contemporary art by the independent artist community of Phu Sa Lab. The creativity of new bamboo instruments and Big Jar Drum with folk instruments and saxophone sets a new level of performance standard in Vietnam that is full of passion and enthusiasm. It contains a strong message on nature, religion and society.

THE BAMBOO TALK is a journey imagined by: Nguyễn Đức Minh, Đinh Anh Tuấn, Trần Kim Ngọc, Nguyễn Quang Sự, Nguyễn Đức Phương, Quyền Thiện Đắc, Đỗ Nguyễn Mai Khôi, and Bùi Công Sơn.

Entry fee: 700,000VND/pax with 1 complimentary light meal and drink

Book tickets via:
Tel +84 96 151 8822
Email jolie@phusalab.com

Note:
– Book your tickets 24 hours prior to the show
– The show is not for children under 8 years old
________________________________________________________________________
EXHIBITION

Hanoi- Exhibition "Land of Lost Wanderers" by Nguyen The Hung
Hanoi Studio Gallery, 13 Trang Tien Street, Hoan Kiem district

Small details like pairs of hands, longing eyes and vivid lips, play hide and seek in Hung's 24 arts works, leaving people to wonder whether what they see is true or not.

Nguyen The Hung went out of his artistic vision's comfort zone to play around with materials such as gold, silver, Son paint, water colour and Do paper (both Do paper and Son paint are unique traditional Vietnamese material).

Hanoi- Exhibition "Visible & Invisible"

Heritage Space, 1st Floor, Dolphin Plaza

6 Nguyen Hoang street (for car) | 28 Tran Binh street (for bike), Nam Tu Liem district

Introducing artworks of 14 artists from Germany, Finland, Switzerland, South Korea, Japan and Vietnam.

All works are the results of 6 exchange and working weeks of the Contemporary Art exchange project 'Month of Arts Practice' – MAP 2018. Disciplines are varied from painting, sculpture, photo and videography, multimedia and performance, installation and site-specific art.

HCMC- Exhibition "Hope – Full" by Pham Huy Thong

Craig Thomas Gallery

27i Tran Nhat Duat Street, Tan Dinh Ward, District 1

Introducing latest works of one of Vietnam's most articulate and talented young artists.

HCMC-Solo Exhibition "lamina | ink" by Kenny Ng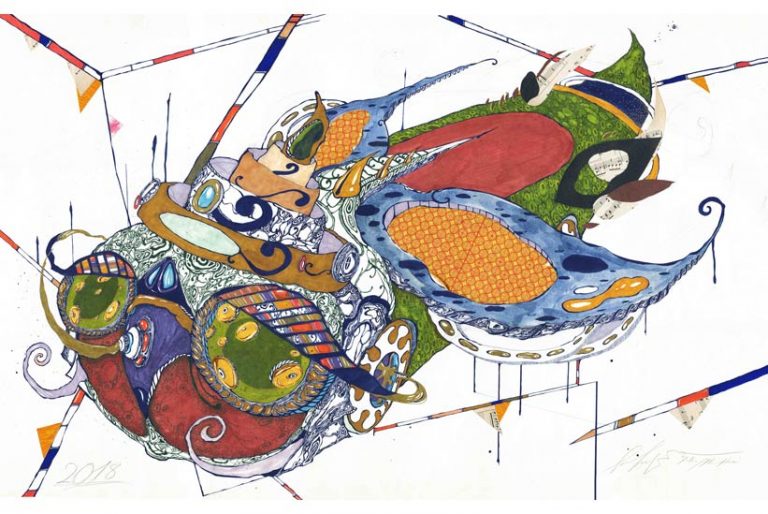 The Factory Contemporary Arts Centre, 15 Nguyen U Di Street, Thao Dien ward, District 2

Kenny Ng's first solo exhibition showcasing a series of abstract characters, inspired by the diverse shapes and forms of mysterious deep sea organisms, combined with the colonial and old temple architecture of Ho Chi Minh City.

The architectural lines of these drawings tell a story of history and culture, both familiar and strange to Kenny, a young artist who returned to Vietnam in 2015, after 7 years of studying and living abroad.

Tickets: For adults: VND35,000; For students: VND 25,000 (with appropriate student ID); For children under 16: free (with appropriate ID)

HCMC-Duo Exhibition 'site / shine / sight'

The Factory Contemporary Arts Centre, 15 Nguyen U Di Street, Thao Dien ward, District 2
A duo exhibition featuring a collaboration between visual artist/filmmaker, Truong Que Chi and architectural studio, vn-a.

The artists will transform the space of The Factory Contemporary Arts Centre into a dim maze, where all of the light emits from the various sculptures, installations and photographs within the recesses of particularly placed, structurally specific louvers.

Tickets:

For adults: VND35,000

For students: VND 25,000 (with appropriate student ID)


For children under 16: free (with appropriate ID)
_________________________________________________________________________
CINEMA

Hanoi-Cinema Space: Southeast Asian movie month

Every Friday night from 09 Nov 2018, 7 or 7.30 pm
TPD, 51 Tran Hung Dao Str,

From TPD: In the next one month, Cinema Space will introduce to you some of the most famous movies from Southeast Asian countries.

Film list:

. Fri 16 Nov 2018, 7.30 pm: "Uncle Boonmee Who Can Recall His Past Lives" (Thailand, 2010)
. Fri 23 Nov 2018, 7.30 pm: "On the Job" (Philippines, 2013)
(to be updated)

Language: Original languages with Vietnamese and English subtitles
HN and HCMC – Czech-Slovak film festival 2018

06 – 10 Nov 2018, National Cinema Center, 87 Lang Ha, Ba Dinh, Hanoi
—
12 – 14 Nov 2018, 6 pm and 8.15 pm
CineStar Hai Ba Trung, 135 Hai Ba Trung, D1, HCMC
—
15 Nov 2018, 7 pm, Embassy of the Czech Republic, 13 Chu Van An, Ba Dinh, Hanoi

From the organizers:

10 Czech and Slovak films will be screened in the first Czech-Slovak film festival in Vietnam to celebrate the 100-year anniversary of the founding of Czechoslovakia, as well as 25th anniversary of independent Slovak and Czech Republic.

Language: original languages with Vietnamese and English subtitles

Free tickets now available at addresses below:

Hanoi

. National Cinema Center, 87 Lang Ha, Ba Dinh
Hotline: 024 3514 1791
. Embassy of the Czech Republic, 13 Chu Van An, Ba Dinh
Hotline: 024 3845 4131, 024 3845 4132
. Embassy of the Slovak Republic, 12 Ba Huyen Thanh Quan, Ba Dinh
Hotline: 024 3734 7601, 024 3734 7602

HCMC
CineStar Hai Ba Trung, 135 Hai Ba Trung, D1
Hotline: 028 7300 7279