What's on June 17-23 (Daily updated)
MUSIC & PERFORMANCES

Hanoi-The Quintessence of Tonkin
7pm on June 11, 13, 15

Baara Land Entertainment Complex, Da Phuc hamlet, Sai Son commune, Quoc Oai district

Drawing inspiration from the spiritual history of the nearby Thay Pagoda, the 60-minute live spectacle also tells the story of the pagoda's founding by the venerable monk Tu Dao Hanh and the history of the ancient Thang Long royal palace.

Arranged on an interactive stage with the support of state-of-the-art technology and a stunning setting, the show features an array of traditional art forms and ritual practices from the northern delta, including Ca Tru (ceremonial singing), folklore melodies, Quan Ho (love duet singing), Hau Dong (mediumship ritual), and water puppetry.


Ticket prices: VND 800,000- VND 900,000 – VND1,200,000
HCMC-Dance performance based on The Tale of Kieu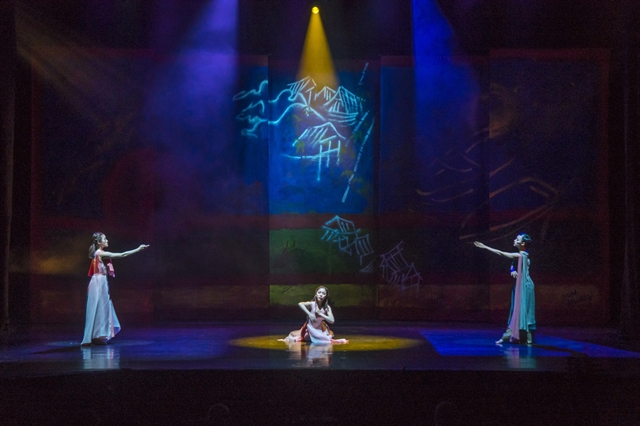 June 22,
HCM City Opera House, 7 Lam Son Square, District 1
A contemporary dance based on The Tale of Kieu, the masterpiece by the great poet Nguyen Du

The dance is directed by Jung Sun-Goo and choreographed by Chun Yoo-Oh of South Korea. It premiered in HCM City in March last year.


HCMC-A O Show by Lune Production
6:00 pm, every day from Monday to Friday

Ho Chi Minh City Opera House, 7 Cong Truong Lam Son, Ben Nghe Ward, District 1
Featuring optical illusions and impressive acrobatics, paired with traditional music performances by a troupe of talented local artists.

Known as the Cirque du Soleil of Vietnam (minus the flashy outfits), this live show depicts the transition of rural Vietnam into today's modern landscape, using props such as giant woven baskets, scaffolding, bamboo canes, and ropes.

Price range: VND630,000 - VND1,470,000
_______________________________________________________________________________________
EXHIBITION


Hanoi-Charity Photography Exhibition
Opening: Jun 18, 4 pm
Exhibition: Jun 18 – 23, 9 am – 8 pm
Exhibition House, 45 Trang Tien Street


Featuring work of photographers from all over the country, sized 50x75cm (frame included), suitable for various interior spaces. Especially, the photographs are printed on canvas, which is not only durable but also elegant and luxurious.


All of the works are available for sale at 1.8 million VND per piece during the exhibition. All profits and donation collected (after covering the exhibition's cost) will be given as scholarships and used for buying books and stationery for disadvantaged children.


Hotline: 0913547755, 0975140762, 0912275403

Hanoi-Installation Exhibition "Deo cay giua duong" by Yen Nang

VICAS Art Studio, 32 Hao Nam Street, Dong Da District,


An installation work using pebbles by artist Yen Nang who is always interested in works of art of a "fleeting" nature, considering the process of creating the work more important than the result (with many newly-finished works removed right after).
________________________________________________________________________________________
CINEMA
Hanoi, HCMC, Hue & Danang – German Film Festival "Schlingel 2019″
Hanoi: 21 – 30 Jun 2019
National Cinema, 87 Lang Hạ Street
Hue: 25 – 29 Jun 2019
Dong Ba Cinema, 203 Tran Hung Dao Street
Da Nang: 26 – 30 Jun 2019
The General science library, 44 Bach Dang, Hai Chau
Ho Chi Minh City: 19 – 24 Jun 2019
Cinestar Hai Ba Trung, 135 Hai Ba Trung, Ben Nghe, Ward 1

From Goethe Institut:

The well-known German Film Festival for Children and Youth SCHLINGEL takes place again in Vietnam.

The program consists of six awarded films. They focus on children with strong characters, who are adventurous and full of imagination.
TICKET

In Hanoi:
Ticket price: 20,000 VND
Tickets are on sale from 17 Jun 2019 at the cinema.
In HCMC:
Ticket price: 20,000 VND
Tickets are on sale from 12 Jun 2019 at the cinema.

In Hue: Free tickets are distributed from 19 Jun 2019 at the cinema.
In Danang: Free tickets are distributed from 20 Jun 2019 at the cinema.