What's on September 16-22 (Daily updated)
MUSC & PERFORMANCES

Hanoi-The Quintessence of Tonkin
September 17, 19, 21, 7pm

Baara Land Culture and Entertainment Complex, Sai Son Commune, Quoc Oai District,

Drawing inspiration from the spiritual history of the nearby Thay Pagoda, the 60-minute live spectacle tells the story of the pagoda founded by the venerable monk Tu Dao Hanh and the history of the ancient Thang Long royal palace.

Arranged on an interactive stage with the support of state-of-the-art technology and a stunning setting, the show features an array of traditional art forms and ritual practices from the northern delta, including Ca Tru (ceremonial singing), folklore melodies, Quan Ho (love duet singing), Hau Dong (mediumship ritual), and water puppetry.

Ticket prices: VND800,000- VND900,000 – VND1,200,000

Hanoi-Music show with Quyen Van Minh

8pm every night

Binh Minh Jazz Club, 1 Trang Tien Street (behind the Hanoi Opera House)


Performances are held nightly by Binh Minh Jazz Club with the participation of renowned saxophonist Quyen Van Minh.


HCMC-Teh Dar: Vietnamese Tribal Culture
6pm on September 16, 17, 19, 20 and 21, 6pm

Ho Chi Minh City Opera House, 7 Cong Truong Lam Son, Ben Nghe Ward, District 1

Featuring a vibrant display of circus arts, aerial acrobatics, and tribal music within an hour-long performance.

The show highlights the lives of tribal families from the southwest highlands of Vietnam, using UNESCO-listed percussion instruments, such as Vietnamese gongs and buffalo horns, as well as vibrant costumes, and a stunning bamboo cirque depicting various landscapes and creatures from tribal folklores.

Price range: VND630,000 - VND1,470,000
_________________________________________________________________________________________________
EXHIBITION

Hanoi-Photo Exhibition "Days in the Sun"

Until Oct 7 Oct, 9 am – 9 pm

Matca Space for Photography, 48 Ngoc Ha Street
A documentary photo exhibition on the remarkable life of Nguyen Van Chanh, the owner of the famous Luminor Photo photography stores in the North of Vietnam during the French colonial period. Photos are selected from three albums of Nguyen Van Chanh and his eldest daughter Bach Diep – Vietnam's first female film director. This is the first time their works are published after almost one century stored away.

The exhibition is an extension of "Makét 01: There Was Once a Photography Craft Village" on Lai Xa village on the outskirts of Hanoi. This is the first publication of Matca, representing the immense effort in discovering the journey of photography in Vietnam, and will be published on 01 Sep 2019.

In 1926, after two years of learning the craft from a relative, the 15-year-old Nguyen Van Chanh, born in Lai Xa, requested a bank loan all by himself to open his own photography store and named it Luminor Photo. During the French colonization, the store already had 4 branches in big commercial centers in the North at the time including Hai Phong, Hanoi, Sapa and Lang Son. It was said that a portrait taken at Luminor Photo was ten times the average price at that moment, nevertheless the business thrived, the majority of its customers were wealthy people willing to pay for an exceptional quality and service.

The success of Luminor Photo had given Nguyen Van Chanh a rare freedom in photography and in life. If the portraits show a respectable, if serious, business-owner Nguyen Van Chanh, then photos from his daily life show more intimate, spontaneous moments of a young man. He stood out wearing a suit with slicked back hair, at the center of group photos or on the background of picturesque landscape with his eyes on the horizon.

A witness of time, the diary in photos depicts the life and career of a photographer – businessman in Vietnam who dared to think and dared to act, in the time when the country was transforming through the war and the exchange in cultures. An opportunity to not only reenact history through a personal lens, but to continue and redefine.

Free entry

Hanoi-Exhibitions "In the City" and "Long Lasting Dreams"

Vincom Center for Contemporary Art (VCCA)

B1 - R3, Vincom Mega Mall Royal City

72A Nguyen Trai Street, Thanh Xuan District,

"Long Lasting dreams" consists of 9 paintings on canvas – the latest works of Bui Quoc Khanh, created in 2019. The themes include social criticism, cultural, environmental, educational issues, and a visual language influenced by pop-art and graphic design, Bui Quoc Khanh's paintings depict a vibrant space overflowed popular metaphorical images of from ancient times to the modern age, from the West to the East.

"In the City" is Doan Xuan Tung's first solo exhibition, showcasing 12 works using acrylic and newspaper as a medium on canvas. The exhibition focuses on two main storylines: on the one hand, the daily life of city migrant workers, on the other hand, the lives of the emerging middle class – enjoying the utility of new residence areas.


Hanoi-Exhibition "The Stories about Geological Work"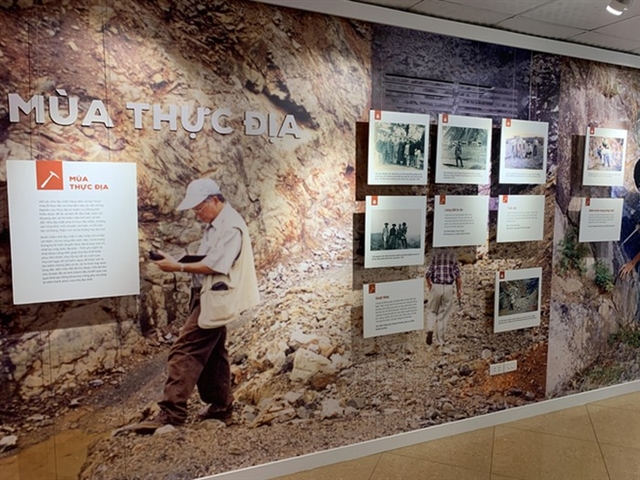 Until March, 2020. Monday to Saturday
The Vietnam Centre for Heritage of Sciences and Scholars, 561 Lac Long Quan Street

Introducing the job of the geologists who have to constantly battle against tough working conditions in the deep forests or in oceans to draw maps, conduct research and discover natural resources for the country.

Memorabilia and memories from 22 scientists will be on display.
Free entry


Hanoi-Exhibition "Turning into Butterflies"
Korean Cultural Center (KCC)

49 Nguyen Du street, Hai Ba Trung district

"Turning into Butterflies" is made up of installation works created with approximately 1,300 paper butterflies made by nearly 1,300 children and young people including those with disabilities around the world – from the Republic of Korea (RoK), the US, to Africa, Indonesia, Europe; about 100 artworks of disabled and autistic students from Vietnam's Binh Minh Special School; and nearly 20 artworks by Ahn Yun Mo and 5 RoK artists with disabilities.

The exhibition is part of the project "Turning into Butterflies" initiated worldwide since 2013 by RoK artist Ahn Yun Mo with disabled children and young people.

HCMC-Exhibition "Dancing with Cherry Blossoms"

Craig Thomas Gallery, 27i Tran Nhat Duat Street, Tan Dinh Ward, District 1,

You are invited to the exhibition "Dancing with Cherry Blossoms", a solo exhibition of paintings by Saigon-based artist Lieu Nguyen Huong Duong.