What's on October 14-20 (Daily updated)
MUSIC & PERFORMANCES
Hanoi- Performance by French pianist Jean-Yves Thibaudet
Oct 23,

The Hanoi Opera House, 1 Trang Tien Street

French pianist Jean-Yves Thibaudet will perform in a show with the Sun Symphony Orchestra, which is under the baton of French conductor Olivier Ochaninne.

The Sun Symphony Orchestra will also make an appearance, under the baton of French conductor Olivier Ochaninne.

The French style performance is considered to be an opening for the Sun Symphony Orchestra's 2019 to 2020 gala concert season.
Future shows will feature well-known local artists such as pianist Dang Thai Son.
Hanoi- International circus festival
Oct 15-20,
Hanoi Central Circus, 67-69 Le Dai Hanh Street.

Circus performances from eight foreign countries including Australia, Cambodia, China, Cuba, Egypt, Hungary, Laos and Singapore. Five teams from host Vietnam will also participate in the show.

Their performances, which are required to last between 7 and 12 minutes each, include magic shows, juggling, balancing and clown acts.
Dien Bien Province- Festival to highlight Thai ethnic culture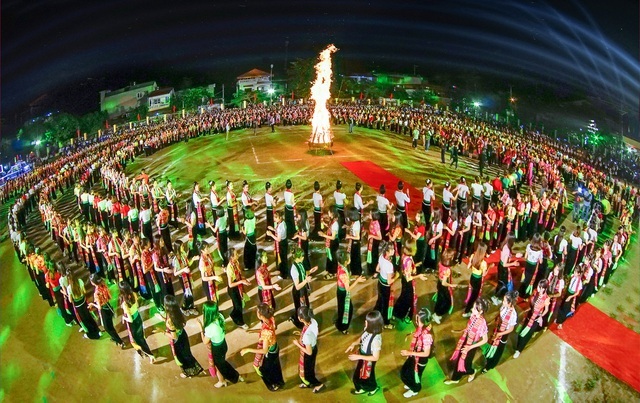 Oct 18-20
The second Thai cultural festival will be held with the participation of 600 artisans and artists from Thai groups of some northern provinces. A troupe from Luang Namtha Province, Laos, will also perform at the festival.

HCMC – Ballet Performance "Giselle"
Oct 19 and 20, 8 pm
HCMC Opera House, No. 7 Lam Son Square, D.1,

From the organizer:

The work tells a story of a young peasant girl, Giselle, who falls in love with a young noble man, Albrecht (or Albert), who is in reality has promised to marry someone else. It contains some supernatural characters called the Wilis. They are the souls of dead girls who died unmarried, and they have the power to control and destroy unfaithful men (such as Albert), because they all died of broken hearts. However, at the end, Giselle defends Albert with the power of her great love.
HCMC – Theater: "The Girl Kieu"

Oct 19, 8 pm
Tran Huu Trang Theater, 136 Tran Huu Trang, Dist 1,

From Goethe Institut:

"Truyện Kiều" (The Story of Kieu) is considered to be the single most important work of Vietnamese literature. The beauty of its language and the vast array of extreme life situations and hopes in this narrative, the miraculous rescue of Kieu and restoration of her life in dignity form an integral part of Vietnam's intellectual cultural heritage.

The epic was first time published in German in 1964 (by Irene and Franz Faber). Translations help to lift "Truyện Kiều" into the rank of world literature. Nguyen Du belongs to the world literary canon like Cervantes, Chekhov, Shakespeare and Goethe. It even appeals to those who don't know much about Vietnam – it's the girl's story that moves readers. It has thus become a medium of cultural understanding and rapprochement with Vietnam.

In appreciation of the translation and in veneration of the original and the poet Nguyen Du, the Goethe-Institut has invited four directors to unfold their original and fresh approaches to this subject matter.
Language: the performances will be in Vietnamese without interpretation

Ticket prices: from 150,000VND
Buy tickets online at Ticketbox.vn
_______________________________________________________________________________________

EXHIBITION

Hanoi-Exhibition gathers 12 Southeast Asian photographers
Oct 11-Nov 4,
Matca Space for Photography

A contemporary photography exhibition by 12 emerging Southeast Asian photographers.
These works were created over the span of 12 months through a photography masterclass facilitated by two German photographers Jörg Brüggemann and Tobias Kruse at the OBSCURA Festival of Photography between 2016 and 2017.

Some of the photographers joining the exhibition are Alvin Lau of Malaysia, Amrita Chandradas of Singapore, Muhammad Fadli of Indonesia, Kanel Khiev of Cambodia, Watsamon Tri-yasakda of Thailand and Linh Pham of Vietnam.
Hanoi-Exhibition "Manequin World" by Nguyen Khac Chinh


Opening: Oct 17, 5 pm
Exhibition: Oct 17 – 24, 8.30 am – 5 pm
Art talk: Oct 21, 2.15 pm
Vietnam Fine Arts Museum, 66 Nguyen Thai Hoc St., Ba Dinh Dist.

From the organizer:

An exhibition by Nguyen Khac Chinh.

"Chinh Nguyen Khac captures the attention of the world of artists with his outstanding works which depict the disturbance, the confusion of conflicts of individual versus society and contemporary issues. He's a phenomenon that possesses an instinct for existentialism, always delves into the world of psychoanalysis searching for its true ego. This creates layers of complexity in his paintings, sometimes a bit too much.

Yet, in his journey of an artist, Chinh found his way through by leaping into the realm of pure beauty. This change of direction opens an opportunity for him to achieve his artistic vision. There is no limit, no boundary to what constitutes beauty. It is ever-changing yet never spirals away from its radical principals.


Chinh Nguyen Khac has chosen the right path and created works that are high standard. His brush is tight and precise but never archetypal or exaggerated. Colours change from harmonic and melancholic to vivid in such a natural shift. Graphics skillfully structured yet not photographic. But what makes Chinh different is his ability to put his subjects into a stasis that transcends time and space. Reality becomes virtual, slippery and hazy.
HCMC-Exhibition celebrates Vietnam-Mexico friendship
Until Oct 20
Second floor of Deutsches Haus in District 1

The "Mexico - Vietnam: At the Crossroads of Vietnam" exhibition featuring works by Vietnamese and Mexican photographers such as Sergio Camalich, Eunice Chao, Juan Carlos Duran, Hoang Hai Thinh, Luu Viet Hung, and Nguyen Viet Thanh.

The exhibition helps visitors explore the cultures of Vietnam and Mexico through their similarities as well as differences. On display are color or black and white photos of the people, heritage, cultural identities and landscapes of both countries.