What's on February 3-8 (Daily updated)
MUSIC & PERFORMANCES
Hanoi-'Lang Toi' (My Village) by Lune Production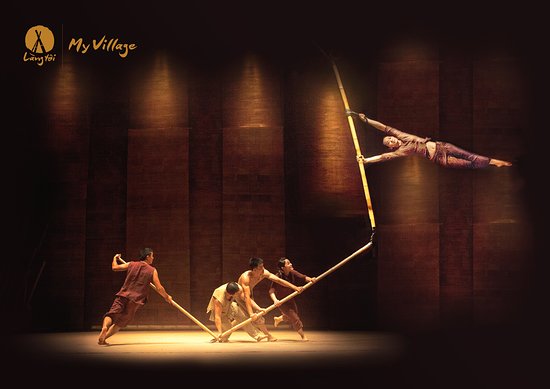 Feb 3,4,5,6,7, 6pm

Hanoi Opera House, 1 Trang Tien Street, Hoan Kiem District,

Feb 8, 6pm

Vietnam 'Tuong' (Classical Drama) Theatre, 51A Duong Thanh Street, Hoan Kiem District,

A delicate merge of tradition and innovation, where the poetic beauty of Northern Vietnam's village life is presented through a new cirque approach.

Farming, building activities, traditional games, and the lifestyle of the Northern villagers are recreated through ancestral bamboo props, breath-taking cirque and acrobatics performances, as well as rhythmic dancing, performed with distinct folk music from more than 20 musical instruments.

Ticket prices: VND 700,000- VND 1,050,000
HCMC-Teh Dar: Vietnamese Tribal Culture
Feb 6,7,8, 6pm

Ho Chi Minh City Opera House, 7 Cong Truong Lam Son, Ben Nghe Ward, District 1

'Teh Dar: Vietnamese Tribal Culture' features a vibrant display of circus arts, aerial acrobatics, and tribal music within an hour-long performance.

The show highlights the lives of tribal families from the southwest highlands of Vietnam, using UNESCO-listed percussion instruments, such as Vietnamese gongs and buffalo horns, as well as vibrant costumes, and a stunning bamboo cirque depicting various landscapes and creatures from tribal folklores.

Price range: VND700,000 - VND1,150,000
EXHIBITION
Hanoi-Spring 2020 Collection


Until Feb 16
Hanoi Studio Gallery, 13 Trang Tien Street

From the organizer:

We are delighted to announce Spring 2020 Collection by 13 painters and sculptors: Vu Dinh Tuan, Mai Xuan Oanh, Lieu Nguyen Huong Duong, Pham Thai Binh, Nguyen Tran Cuong, Nguyen Dinh Vu, Tran Van An, Nguyen The Hung, Do Hiep, Nguyen Quoc Trung, Vu Binh Minh, Doan Van Toi, and Nguyen Tuan Dung.

Hanoi-Exhibition "The Foliage 3"

Until Feb 23 (Tue – Sun), 10 am – 8 pm
Vincom Center for Contemporary Art (VCCA)
B1 – R3, Vincom Mega Mall Royal City
72A Nguyen Trai, Thanh Xuan District

From VCCA:

On 20 Dec 2019, "The Foliage 3" will return to the audience with a brand new look at Vincom Center for Contemporary Art (VCCA). The exhibition follows the original idea of "Foliage" – a gathering of large-scale quality contemporary works held annually by VCCA with the mission of supporting, connecting and spreading art to the grand public.

Hanoi-"Untitled Fictions in the Age After Divinity"

Until mid Feb, 10 am – 7 pm
Manzi Art Space,2 Hang Bun alley,

From Manzi:

2020 is approaching fast and to celebrate the new year, we are pleased to bring you a special display 'Untitled Fictions in the Age After Divinity' featuring works by Bàng Nhất Linh, Lê Quý Tông, Nguyễn Mạnh Hùng, Nguyễn Trần Nam –the four important contemporary artists of Vietnam today.

Hanoi-Exhibition: "Green river, blue mountain"

Jan 10 – Feb 29
L'Espace, 24 Trang Tien Street

From L'Espace:

L'Espace is pleased to present the exhibition – installation "Nước xanh non biec" (Green river, blue mountain) of visual artist Le Giang, the winner of the resident artist program "Tuong ho" Villa Saigon 2019

Following her works during a three-month stay at the Cité Internationale des Arts (Paris), based on the archives of an international colonial exhibition chain that took place from 1906 to 1931 in France, Le Giang extracted images of Vietnam colonial period created in French popular culture. In the process of examining these historical documents, she turned her query gaze into the shared past between the two countries. The "Green river, blue mountain" exhibition is an attempt by Le Giang to identify painful obstacles in dealing with a region of conflicting memories, as well as the need to face the myths about Indochina in the current Vietnam context.