What's on July 6-12 (Daily updated)
EXHIBITION

Hanoi-Exhibition "Life Cycle"

Until Jul 14
1st floor, Mind Building – Olympia High School, Trung Van New Urban Area, To Huu Street, Nam Tu Liem District,

From the organizer:

The installation exhibition "Life cycle" is inspired by the life cycle of a caterpillar, growing from an egg to a caterpillar and then flourishing into a beautiful butterfly. Not only about visual art, but the exhibition also uses recycled materials like old newspapers, cardboard, plastic bags … to send messages about environmental protection through creating an additional new life cycle for materials that are considered waste. Through this exhibition, we want to give the audience an open and humane perspective on the life cycle of all things, about the continuity, and about the enterprise in transferring and regenerating values.
Hanoi- Light Art Installation: XEM ĐÊM – CÀNG ĐÊM

Chapter 1. Xem đêm: Jul 5 – 19, 3 pm – 9 pm
Chapter 2. Càng đêm: Jul 23 – 31, 3 pm – 9 pm
Manzi Exhibition Space, No. 2 Ngo Hang Bun, Ba Dinh District

From Manzi:

"…In the distance the stars
Nearby, fireflies…" – Phung Cung

Manzi is pleased to present 'Xem đêm- Càng đêm' – a light art installation by visual artist Nguyen Duc Phuong (aka Phuong Gio) and architect Nguyen Ha.


Divided into 2 different sections over a 4 week period, like 2 chapters of a novel, the light installation Chapter 1 – 'Xem đêm' and Chapter 2 – 'Càng đêm' is an intriguing combination of architecture and visual art, reflecting the similarities between the artist and the architect in the process of recreating space and form.
Hanoi-Exhibition: Musical Painting
Until August 31

L'Espace, 24 Trang Tien Street

From the organiser:

"Some people choose the straight path, others follow the unknown turns." I belong to the second group. At the age of 16, I started working as a shift worker in a factory … and also started painting. At the age of 17, I was adventuring here and there. At the age of 20, I did my first solo exhibition. After a few years, I retired from painting because I was too hungry to explore other art forms such as theater, music and cinema. More or less, all of them have brought me happiness … During that time, I had the opportunity to meet famous artists and learn a lot.

In the end, I'm back with painting, in a serious way. And because music is my passion, so I've always pain with music. And now, I'm painting music.

Free entrance

Hanoi-Exhibition shows artworks inspired by music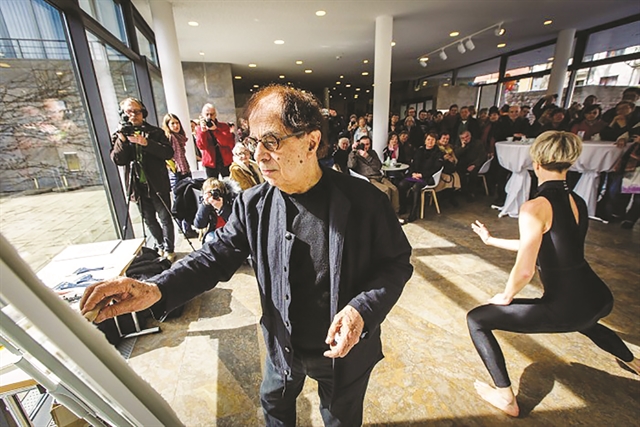 Until August 31,

French Cultural Centre L'Espace, 24 Trang Tien Street

With a smartphone, visitors can scan the QR code on the painting by Jacob Reymond at an exhibition which has opened in Hanoi, then listen to the song that inspired him to create the painting.