What's on September 14-20 (Daily updated)
MUSIC & PERFORMANCES

Hanoi-Culture Lab: B.A.R.E – Nguyễn Triều Dương

Sep 14, 8 pm,
Goethe Institut Hanoi
56-58-60 Nguyen Thai Hoc Street

From Goethe Institut:

An autobiographical performance by LGBTQ+ artist Nguyen Trieu Duong

A mobile phone and himself…discovering the gay world…

B.A.R.E is an autobiographical performance by Nguyen Trieu Duong about the loneliness and isolation of LGBTQ+ person in his own community.


After six years living in the UK, he has new experiences about life in the LGBTQ community, where identity is judged based on factors such as race, muscularity and luxury in their personal environment. This is what motivates the artist to create his first autobiographical performance B.A.R.E.
Hanoi-Talk – Hanoi's Charm
Sep 20, 2 pm –4 pm,
AGOhub, 12 Hoa Ma Street

From the organizer:

Art researcher Trần Hậu Yên Thế created the book "The old ironworks" which won the 7th Bui Xuan Phai – for the love of Hanoi award. Join us for this presentation as Thế talks about his research over the past 15 years into buildings from times past that brought an everlasting charm to Hanoi's streets.

His work covers the ancient ironworks of balconies, windows and doors and the decorative facades and reliefs of Hanoi's grand former French buildings and old villas. The craftsmen were Vietnamese workers who had to very quickly learn western iron working techniques. The result – a panorama of building facades displaying French aesthetics and elegance.

He looks at the ornamental motifs on Hanoi's beautiful wrought iron work and building facades crafted in the early 20th century. Rather than focusing on the minutia of every architectural detail, Thế's presentation is from the point of view of the anthropology and humanity of the structures. He looks at their lives of the buildings, what their styles tell us about the changing society and history at the time, who the owners were and what the current lives of the buildings are now. He will also share in some detail about his Phuc Tan wall of fame contribution (he is on the of the 16 artists).

Thế will speak in Vietnamese, artist Nguyễn Thế Sơn will translate into English

RSVP to Stella – stella@fvheritage.org
_________________________________________________________________________________________________
EXHIBITION
Hanoi-Where is There – There is Here
Opening: Sep 18, 6:30 pm,
Exhibition: 19 Sep – 18 Oct, 10am-8pm
Vincom Center for Contemporary Art (VCCA)
B1 – R3, Vincom Mega Mall Royal City, 72A Nguyen Trai Street
A rumination of these questions, ĐÓ LÀ Ở ĐÂU–ĐÓ LÀ Ở ĐÂY (abbv DLOD–DLOD; roughly translated as WHERE IS THERE–THERE IS HERE) presents the works of Đàn Đó and Nguyễn Đức Phương, an interdisciplinary collective working with elements of indigenous cultures.
HCMC-Virtual painting exhibition raises funds to build houses for the poor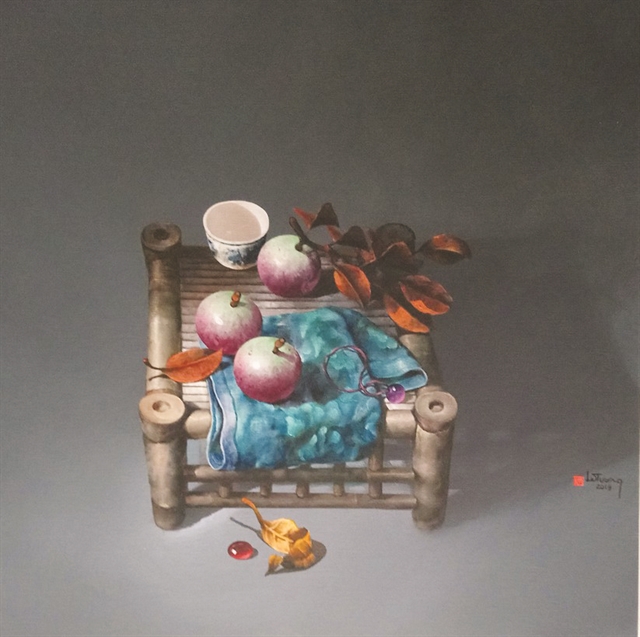 Until Sep 30,

An exhibition showcasing paintings by 101 leading Vietnamese artists is being held to raise funds to build houses for the poor in the central province of Quang Nam.

The exhibition "Xuôi Dòng Sông Thu" (Downstream of the Thu Bồn River) is curated by arts researchers Ngo Kim Khoi and Ly Doi, and artist Ngo Tran Vu.

Introducing 164 paintings in different materials such as oil, acrylic, pencil and wax crayon, and in surrealist, abstract, semi-abstract and impressionistic styles.

The paintings feature a wide range of topics, including the beauty of the country, lifestyles, portraits and still life.

The exhibition can be viewed at https://www.facebook.com/ngotranvublog.

Hanoi-Exhibition: "Extended Realities"


Until Sep 25, 10:00 am – 07:00 pm
Manzi Exhibition Space, No. 2 Ngo Hang Bun, Ba Dinh District.

From Manzi:

Manzi Art Space and the Goethe Institut are pleased to present "Extended Realities" – a group exhibition featuring works from five contemporary artists of Vietnam: Võ Trân Châu, Nguyễn Huy An, Phan Thảo Nguyên, Nguyễn Trinh Thi and Trương Công Tùng.

Through a minimalist installation, a video art piece, an ephemeral installation and a series of 10 multimedia paintings, "Extended Realities" examines how the artists are working with ideas of time, memory and history.

Hanoi-Exhibition featuring popular Japanese ehon characters


Until Sept 30, 9am-6pm

27 Quang Trung Street
The World of Ehon – Meet the Famous Twin Voles Guri and Gura exhibition co-held by the centre and the Mogu Ehon project.

The series is about a twin voles called Guri and Gura created by sisters Rieko Nakagawa and Yuriko Omura (Yamawaki).

Featuring nine printed paintings taken from the first series and drawings of Guri and Gura.

Free entrance.

_________________________________________________________________________________

CINEMA

Germany Film Festival 2020


Sep 8 –Oct 10, 8 pm
National Cinema Centre, 87 Lang Ha Street

From Goethe Institut:

10th German Film Festival in Hanoi with six excellent films of various genres to be screened.

Language: German, with Vietnamese and English subtitles
Tickets: 35,000 VND

Follow updates on event's page: https://www.facebook.com/events/2537149046546048.