What's on December 14-20 (Daily updated)
EXHIBITION

Hanoi-Exhibition "The Yuendumu Doors"

Opening: Dec 8, 4 pm
Exhibition: Dec 8, 2020 – Jan 20, 2021
Trong Dong Building, Vietnam Museum of Ethnology, Nguyen Van Huyen Street

From the organizer:

The Yuendumu Doors exhibition introduces one of the most important cultural and artistic collections in Australia. Following the Canning Stock Route and the Evolution: Torres Strait Masks displays in 2016 and 2018, this exhibition will continue to bring Australia's unique Indigenous culture to a Vietnamese audience and deepen the people-to-people links between the two countries. Featuring 15 out of 30 doors painted at the Yuendumu community school in 1984, the exhibition tells the story of how an Aboriginal community preserved and adapted their culture to historical changes to their land.


Australia is home to one of the world's oldest living cultures, with Aboriginal communities established nearly 60,000 years before European settlement. One of many Indigenous art collections, the Yuendumu doors were painted by the Warlpiri people, one of the largest Aboriginal communities living for many thousands of years in Central Australia. This community project was an attempt by the Warlpiri elders to pass down their ancestors' stories and traditional values to younger generations to promote cultural understanding in the face of modern education. This collection also marked one of the very first times Aboriginal arts were presented with western art mediums and introduced to the public.
Danang- Exhibition celebrates Fine Arts Day
Dec 17,
Danang Fine Arts Museum, 78 Le Duan Street
Featuring of 54 wood sculptures, lacquer, oil and canvas, silk and watercolour paintings by 44 local artists through 2020, reflecting the beauty of landscapes, people, daily life activities and culture of the coastal central region.
Free admission
Online exhibition featuring shared culture of Vietnam, Australia


Until March 12, 2021


An online exhibition, the "Skilled Hands, Shared Culture" featuring 20 contemporary Vietnamese and Australian designers, artists and artisans whose work contributes to supporting vibrant and sustainable communities.

The Vietnamese artists joining the exhibition comprise Le Giang, Nguyen Tan Phat, Nguyen Thi Dung, Nguyen Van Loi, Pham Thi Ngoc Tram, Vu Kim Thu and Van Ngo Trong, while their Australian counterparts consist of Claire Tracey, Grace Lilian Lee, Lindy de Wijn, Michelle Hamer, Muhubo Salieman, Slow Art Collective, Vermin, Vicki Couzens, Vipoo Srivilasa, Yu Fang Chi and Kieren Karritpul.


The exhibition runs until March 12, 2021, at https://rmitgallery.com/exhibitions/skilled-hands-shared-cultures.
Binh Phuoc-Exhibition to showcase photos and films of ASEAN Community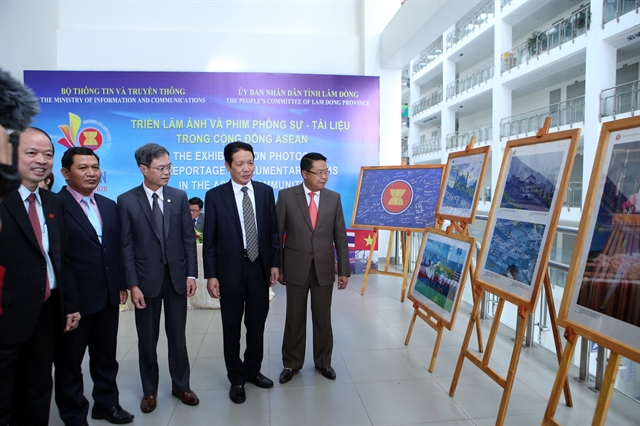 Dec 15-17

The Cultural Centre of the southern province of Binh Phuoc Province

Featuring about 300 photos and nearly 60 films by ASEAN artists, most of which were admitted to the finals or even awarded in the Festival of Photos - Reportages and Documentary Films organised by the Ministry of Information and Communications in recent years.
Hanoi-Dreaming about Landscapes
Opening: Dec 19, 4 pm
Exhibition: Dec 19-23, 10 am - 7 pm (except Monday)
Mơ Art SpaceB3, Apricot Hotel136, Hang Trong Street
From the organizer:
Introducing 27 artworks of 22 Vietnamese and Foreigner artists. The artworks are made in different times and spaces, with various perspectives and stories, providing a panoramic view of landscape painting, which has a long history in Western and Eastern art.