What's on December 26-31/2022
EXHIBITION


HCMC-Kia non non, nuoc nuoc, may may: Solo exhibition by Ha Manh Thang

Dec 22, 2022 – Feb 4, 2023, 10 am – 07 pm Tues-Sat
Holiday hours: closing at 03 pm on 24 Dec; closed 25 & 26 Dec and 31 Dec 2022 – 2 Jan 2023
29 – 31 Ton That Thiep Street, D.1


From the organizer:


A solo exhibition by Ha Manh Thang featuring 16 experimental works that illustrate the artist's continued fascination with materiality, time, and the excavation of history and cultural heritage.


The exhibition title borrows from 'Hương Sơn Phong Canh Ca' (Huong Son Landscape Song) by the renowned Nguyen Dynasty intellectual Chu Mạnh Trinh. The poem encapsulates well the complexity of emotions when one is confronted by the magnificence of nature. The same sentiment can also be observed in Thắng's artistic practice. Over the years he has focused on exploring the polysemic nature of landscape, and the evolution of viewing landscape in art from ancient times up to the present.

Hanoi-Every Bilious Honeymoon

Dec 30, 2022 – Jan 15, 2023
Tues – Fri: 02 pm – 06 pm (closed on Mondays and on the date of Jan 1st, 2023)
Sat – Sun: 10 am – 06 pm
Á Space, Alley 59 Ngo Gia Tu Street, Long Bien District.

From the organizer:

'Every Bilious Honeymoon' closely ties in with what was said above. Like the first-stroke sense of cubism, it resembles a post-confession state in which one begins to toil over collecting and gathering bits and pieces, in less of an unintentional manner and more of a hopeful state hinging upon the possibilities of something that is to be soon born out through means of restoration. Such acts of restoration would work at times and would not at others, or only serve as an admission of a broken fact right off the nose. Most realistically, one should prepare at least for a known-to-be-magic 502 glue bottle, and hope that it would be of use? When unscrewing the lid's can, what we see most often is "Good luck next time", and that next time actually exists.

HCM City-"Looking Beyond" showcases amazing Earth artworks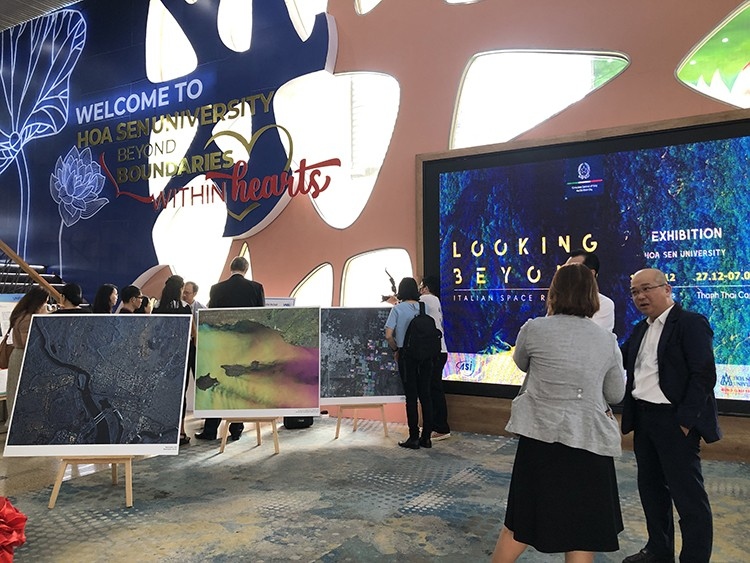 Until Jan 7, 2023, 9am-9pm

Hoa Sen Universtiy's main campus and Thanh Thai Campus.

"Looking Beyond" exhibition showcases artworks of the Earth captured by COSMO-SkyMed constelation

The highlight of the exhibition are two remarkable photos of Hanoi and the Mekong Delta provided by the VNSC that illustrate the applications of satellite images in remote sensing and disaster prevention in the country.

HCM City-Exhibition "25 Days in Saigon"


Until Dec 31, 09 am – 06 pm
11:11 Espace, Floor 1, 30 Nguyen Duy Hieu Street, Thu Duc City

From the organizer:

Continuing with a series of introducing global artists with a unique artistic vision, 11:11 d'Artistes returns with the solo exhibition of Charles Husser – a French visual artist and plasticien who specializes in painting on wood and creating wooden sculptures inspired by daily life in Saigon.

Charles's vision of art is to never focus on complex subjects that serve only as an excuse to paint or sculpt; instead, he looks for things that are visually accessible from everyday life.

Charles was inspired by his observations during his 25-day stay in Saigon, where he got to travel from corner to corner of the city, went to the village to acknowledge the life of locals, and even attempted to experience local activities from early morning until late at night, such as eating and sleeping on a traditional Vietnamese wooden bed, buying street food, and lying on a hammock.

Hanoi-Exhibition "Story of Vu"


Until Feb 25, 2023

Ánh Dương Art Space, Long Bien Golf Club Building, 918 Regiment, Phuc Dong, Long Bien District

Hanoi Studio Gallery, 23-25 Mac Dinh Chi Street, Ba Dinh District

From the orgnaizer:

Story of Vu.

A short and simple name to be an open introduction to the Vietnamese art lovers in this solo exhibition of artist Tran Trong Vu.

Within the series "Road to Sunshine"- a project towards "Sunshine Art Museum", we are delighted to present the exhibition "Story of Vu" – An artistic portrait of Tran Trong Vu.

Hanoi-Don't Call It Art


19 Nov – 31 Dec 2022
Mơ Art Space
B3 Floor, no. 136 Hang Trong Street, Hoan Kiem District

From the organizer:

"I could not imagine then that some of these photos would become the only documentation, for example, of the first stirrings of a performance art scene in Vietnam. Now, 25 years later in Germany – as an observer or a temporary visitor at best, who gleans news about Vietnam's well-connected international art scene from daily social network chats with friends there – all these works and photos appear to me in quite a different light. They are no longer just gifts, pictures forgotten or discarded as worthless, but rather artworks that have written contemporary history. They had once been a provocative force in their time and place. Here today, this force may seem spent. But to me, now more than ever, it seems as if the artists presented in this book, with their radical stances, were far ahead of their time. Perhaps that is precisely why they fell by the wayside. They became legends before their work could become a permanent and officially recognized part of Vietnam's art."

Artists: Nguyễn Minh Thành, Nguyễn Quang Huy, Trương Tân
Featuring artwork from Veroninka Radulovic's archive
The exhibited pieces were created during the 1990s – a period of significance

Follow updates on event's page.

HCMC-Exhibition: Illuminated Curiosities



Until Dec 2022
EMASI Nam Long
147 Street No.8, Nam Long Residential area, District 7,
EMASI Van Phuc
2 Street No.5, Van Phuc Residential City, Thu Duc District,

From the organizer:

Nguyen Art Foundation (NAF) proudly invites you to the opening of 'Illuminated Curiosities', a group exhibition with 26 artists featuring 46 artworks from within and outside NAF's Collection. Curated by art researcher Ace Le, with the curatorial assistance from Duong Manh Hung and Tam Nguyen, the exhibition will take place simultaneously across the campuses of EMASI Nam Long and EMASI Van Phuc, over the course of six months from May to December of 2022. 'Illuminated Curiosities' is a collaborative effort between NAF and Lan Tinh Foundation.
_________________________________________________________________

CINEMA

International science film festival



Oct 8 - Dec 31

Hanoi, Thai Nguyen, Danang, and Ho Chi Minh City

The 12th international science film festival featuring a range of scientific topics which are both accessible and entertaining to a broad audience and demonstrates that science can be fun and educational.

Some 16 science films across different categories will be screened during the festival.