What's on January 2-8/2023
EXHIBITION

Hanoi-Exhibition features image of cat
Until Jan 10,
Vietnam Fine Arts Museum
An exhibition featuring paintings and installations on the image of the cat, the zodiac animal for the upcoming Lunar New Year by various famous painters and artists who have made great contributions to Vietnamese fine arts.

The exhibits, which were created using diverse materials including lacquers, oil paints, acrylics and coloured wood carvings, highlighted interesting and unique perspectives about this animal which is very close to humans.


HCMC- Exhibition: "Living"
Until Feb 21
Dong's Art Space, 27/20, 27 Street, Hiep Binh Chanh ward, Thu Duc City

From the organizer:

Lockdown covid 19 is a very special period when people have to struggle every day between life,death and existence… Someone once said you have to turn the non-conforming condition into a match. Optimal lives are designed, not discovered. Artist transforms the sorrows and hardships of that situation into architectural works, sculptures and digital prints. Source inspiration: Potential interaction between man and machine; Breaking the line between the visible and the imaginary; Emphasizing the Human-Nature-Technology. These new works are presented at Phan Phuong Dong's art space.
Hanoi-Exhibition "Arca Noa"
Until Feb 5, 11 am – 07 pm
Manzi Exhibition Space, No.2 Ngo Hang Bun Lane, Ba Dinh District,

From Manzi:

A series of new works by Phi Phi Oanh – one of the leading lacquer artists of Vietnamese contemporary art.

Coming back to manzi after six years (since her solo exhibition 'Scry' in December 2016), Phi Phi Oanh displays new results of her ongoing exploration in expanding the abilities and unfolding possibilities of the Vietnamese lacquer medium. 'Arca Noa', features a series of 10 small and medium sized paintings from different series and two Lacquerscopes.
Hanoi-Exhibition "Liminality"



Until Jan 15
The Muse Artspace, 47 Trang Tien Street

From the organizer:

* Exhibition space will be rearranged every couple of weekends

An annual series of exhibitions organized by The Muse Art Space, taking place during the period of transition. The artworks selected include a wide range of schools and styles from various artists that have accompanied us for a long while. During these special moments, rather than exhibiting by topic or individual, we wish to bring a diverse and vibrant atmosphere from multiple artists. This is also an opportunity for us to share more of the artworks we have, and the stories behind their creations, as well as to reach beyond many boundaries of emotions, and provide a more intimate, instinctive, and primitive view of art.
Hanoi-Showcase of Makét 02


Until Jan 31, 07 am – 07 pm
Matca Space for Photography, 48 Ngoc Ha Street, Ba Dinh District

From the organizer:

This showcase brings together images from four bodies of work: "Wildlife" by Binh Dang, "Suddenly, it hurts a little" by Nguyen Duy Tuan, "No land man" by Nguyen Dinh Phong, and "Ở Thụy Sĩ" by Thi My Lien Nguyen, all featured in the book Makét 02: From Here On Out. This is the second volume of Makét, a periodical publication by Matca that aims to document the transforming photography scene in Vietnam.
HCMC-Kia non non, nuoc nuoc, may may: Solo exhibition by Ha Manh Thang

Until Feb 4, 10 am – 07 pm Tues-Sat
Holiday hours: closing at 03 pm on 24 Dec; closed 25 & 26 Dec and 31 Dec 2022 – 2 Jan 2023
29 – 31 Ton That Thiep Street, D.1

From the organizer:

A solo exhibition by Ha Manh Thang featuring 16 experimental works that illustrate the artist's continued fascination with materiality, time, and the excavation of history and cultural heritage.

The exhibition title borrows from 'Hương Sơn Phong Canh Ca' (Huong Son Landscape Song) by the renowned Nguyen Dynasty intellectual Chu Mạnh Trinh. The poem encapsulates well the complexity of emotions when one is confronted by the magnificence of nature. The same sentiment can also be observed in Thắng's artistic practice. Over the years he has focused on exploring the polysemic nature of landscape, and the evolution of viewing landscape in art from ancient times up to the present.

Hanoi-Every Bilious Honeymoon



Dec 30, 2022 – Jan 15, 2023
Tues – Fri: 02 pm – 06 pm (closed on Mondays and on the date of Jan 1st, 2023)
Sat – Sun: 10 am – 06 pm
Á Space, Alley 59 Ngo Gia Tu Street, Long Bien District.

From the organizer:

'Every Bilious Honeymoon' closely ties in with what was said above. Like the first-stroke sense of cubism, it resembles a post-confession state in which one begins to toil over collecting and gathering bits and pieces, in less of an unintentional manner and more of a hopeful state hinging upon the possibilities of something that is to be soon born out through means of restoration. Such acts of restoration would work at times and would not at others, or only serve as an admission of a broken fact right off the nose. Most realistically, one should prepare at least for a known-to-be-magic 502 glue bottle, and hope that it would be of use? When unscrewing the lid's can, what we see most often is "Good luck next time", and that next time actually exists.

HCM City-"Looking Beyond" showcases amazing Earth artworks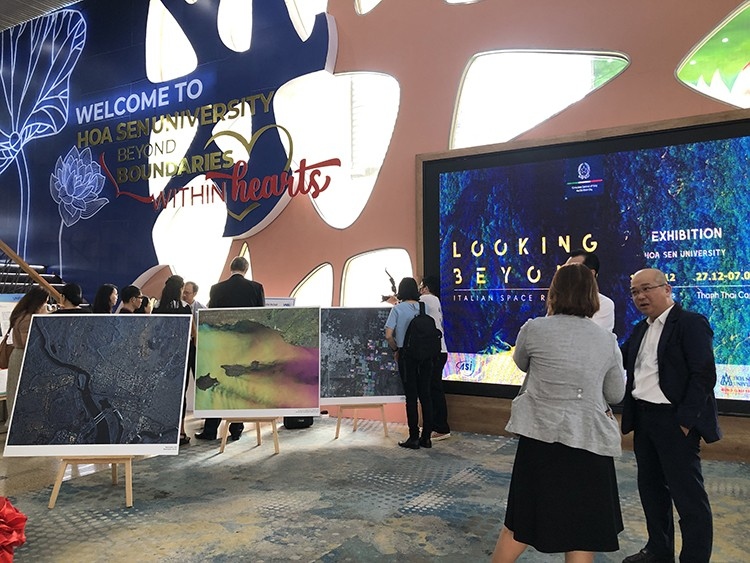 Until Jan 7, 2023, 9am-9pm

Hoa Sen Universtiy's main campus and Thanh Thai Campus.

"Looking Beyond" exhibition showcases artworks of the Earth captured by COSMO-SkyMed constelation

The highlight of the exhibition are two remarkable photos of Hanoi and the Mekong Delta provided by the VNSC that illustrate the applications of satellite images in remote sensing and disaster prevention in the country.

Hanoi-Exhibition "Story of Vu"



Until Feb 25, 2023

Ánh Dương Art Space, Long Bien Golf Club Building, 918 Regiment, Phuc Dong, Long Bien District

Hanoi Studio Gallery, 23-25 Mac Dinh Chi Street, Ba Dinh District

From the orgnaizer:

Story of Vu.

A short and simple name to be an open introduction to the Vietnamese art lovers in this solo exhibition of artist Tran Trong Vu.

Within the series "Road to Sunshine"- a project towards "Sunshine Art Museum", we are delighted to present the exhibition "Story of Vu" – An artistic portrait of Tran Trong Vu.