What's on November 28-December 4 /2022
MUSIC & PERFORMANCES

Hanoi-Christmas Charity Flea Market 2022 at Diamond Westlake Suites


Dec 4, 10 am – 05 pm
Diamond Westlake Suites, 96 To Ngoc Van Street, Tay Ho District

From the organizer:

Diamond Westlake Suites Christmas Charity Flea Market is back to the Playground to celebrate the festive season and to support this year the Hanoi Center for Nurturing Disabled Children

For the 15th edition, we are proud to organize this annual Charity event which all the profits will be distributed to the Center.

On 04 Dec 2022, from 10 am to 05 pm, cross our main gate to attend our event and discover many stalls and activities such as,
– Food and Drinks Courts
– Clothes and Handmade stuff stalls
– GAMES for children and families
– Dancing and singing performance during the event
– Lucky Draw (2 times at 12:05 pm and 14:30 pm)
– Silent Auction

*Entrance Price:
+ 50,000 VND/adult (including lucky draw voucher – value: 20,000 vnd/voucher)
+ 30,000 VND/child (including 02 game coupons – value: 10,000 vnd/game coupon)

All sponsors, individuals or companies who are interested in renting stalls at the Christmas fair or make a donation, please contact to Mr. Tung – 0934.402.911

All profit from tickets/stalls/vouchers selling in our event will be used to donate charity for the Hanoi Center for Nurturing Disabled Children.
______________________________________________________________________
EXHIBITION
Hanoi-Exhibition "The Art of Indigenous Weaving"


Opening (for guest only): Dec 3, 05 pm – 07 pm
Exhibition: Dec 3, 07 pm – 09 pm & Dec 4, 09 am – 06 pm
Goethe Institut, 56-58-60 Nguyen Thai Hoc Street

From Goethe Institut:
Featuring the beautiful weaving culture in Vietnam through the weaving art of three different ethnic minority groups from the North, the Middle part and the South of Vietnam. Six artisans from Hmong group (located in Ha Giang Province), Thai group (located in Nghe An Province) and Chau Ma group (located in Lam Dong Province) will be invited to the exhibition to present their weaving culture through their unique weaving demonstration.
Hue City-Exhibitions featuring Hue's national heritage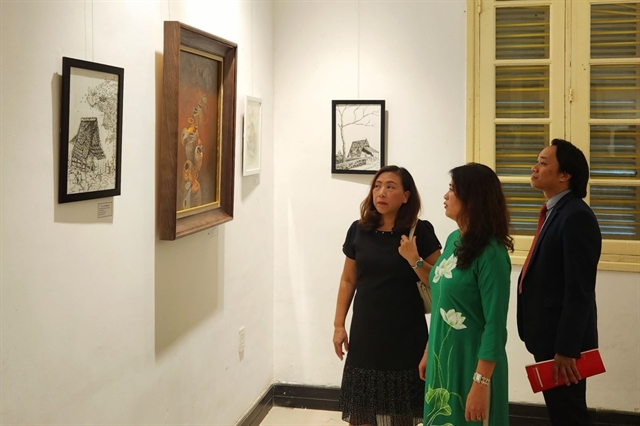 Until Dec 23,

Diem Phung Thi Art Centre, 17 Le Loi Street,
An art exhibition showcasing the charming beauty of Phuoc Tich ancient village in Hue.

The exhibition displays 38 artworks by lecturers and students of the College of Fine Arts and the College of Science, both under Hue University. Paintings created by school students of Phong Dien District, home to Phuoc Tich Village, also are on display.

All the paintings are the result of field trips to the village in October.

Hanoi-Don't Call It Art

19 Nov – 31 Dec 2022
Mơ Art Space
B3 Floor, no. 136 Hang Trong Street, Hoan Kiem District

From the organizer:

"I could not imagine then that some of these photos would become the only documentation, for example, of the first stirrings of a performance art scene in Vietnam. Now, 25 years later in Germany – as an observer or a temporary visitor at best, who gleans news about Vietnam's well-connected international art scene from daily social network chats with friends there – all these works and photos appear to me in quite a different light. They are no longer just gifts, pictures forgotten or discarded as worthless, but rather artworks that have written contemporary history. They had once been a provocative force in their time and place. Here today, this force may seem spent. But to me, now more than ever, it seems as if the artists presented in this book, with their radical stances, were far ahead of their time. Perhaps that is precisely why they fell by the wayside. They became legends before their work could become a permanent and officially recognized part of Vietnam's art."

Artists: Nguyễn Minh Thành, Nguyễn Quang Huy, Trương Tân
Featuring artwork from Veroninka Radulovic's archive
The exhibited pieces were created during the 1990s – a period of significance

Follow updates on event's page.

Hanoi-Documentary Exhibition: Repurposing Industrial Heritage




Opening: Nov 18, 03 pm
Exhibition: Nov 18 – Dec 11
282 Workshop, 156 Phu Vien, Bo De, Long Bien District

From the organizer:

Following the series of events "Repurposing Industrial Heritage 2022 – Innovation & Sustainability", as part of the EUNIC project "Repurposing Industrial Heritage", the "Repurposing Industrial Heritage" exhibition seeks to provide perspectives on the possibilities of transforming industrial facilities by presenting examples of industrial heritage transformation in countries such as France, Germany, the Netherlands, and the United Kingdom that are at the forefront of transformation trends in Europe. As a result, it raises the question of "what future is there for industrial production facilities in Hanoi in light of the city's official decision to relocate 09 old industrial facilities with significant cultural and historical values".

Through this exhibition, we hope the community will gain an objective understanding of industrial heritage value, as well as practical and theoretical evidence for urban reconstruction based on successful transformations of industrial heritage throughout the world.

Hanoi-Piece, You, I

Until Dec 4, 10 am – 08 pm
NGÃ Art Space, TÁCH SPACES, 20 Hai Ba Trung Street

From the organizer:

TACH would be honored to present "Piece, I, You" – a solo exhibition by artist Luong Van Viet, curated by Do Tuong Linh, at Nga Art Space this November.

"Piece, I, You" was born from the artist's concerns through his day-by-day observations. As the artist once confided, "A piece is a disjoint part. You and I, each of us is a piece of family, time, friend or money, but we are also most importantly each a piece of our inner selves, wherein lies our spirituality."

Hanoi- Month of Arts Practice 2022





Until Dec 15,
From the organizer:

Month of Arts Practice (MAP) abbreviated as MAP, is an annual art project of Heritage Space. MAP was initiated and operated since 2015 with a view to creating a space for composing and developing contemporary art on the basis of cooperation and interaction among Vietnamese and international artists. Each year, MAP sets out a specific theme, inviting the participation of international acclaimed artists and curators come to Hanoi (Vietnam) to practice and exchange with talented young Vietnamese artists..

Month of Arts Practice 2022 – the 8th season of MAP continues with the WAR theme. Through discussion and art practice during their residency in Vietnam from October to December, artists together reflect, exchange, and present their premonitions about the wars from the past to present time by different perspectives and minor histories, about unknown entanglements, unnamed truths, and uncertain future in a volatile world. The work results will be presented to the public through Artist's talk, especially during the Final Exhibition 2022 at the end of November in Hanoi.

There are 10 artists from Germany, Japan, Korea, and Vietnam participating in this project: Oscar Lebeck, Miho Shimizu, Bae Byung Wook, Ryusuke Ito, Sodam Lim, Nguyễn Minh Hoàng, Mi Fa, Jo Ngô & Lê Minh Châu and Lê Tú Anh. The project also has contributions and mentoring through lectures and exchanges from experts: curator Haruka Iharada (居原田遥), Dr. Pamela Nguyen Corey, curator Gahee Park, Prof. Dr. Nora Annesley Taylor, and guest artist Lê Nguyễn Duy Phương.

Month of Arts Practice 2022 is organized by Heritage Space in close cooperation with Japan Foundation Center for Cultural Exchange in Vietnam, Korea Foundation, and with the support of the Vietnam Institutes for Cultural and Art Studies (VICAS), Á Space, Matca, APD Center for Art Patronage and Development, Nha San Collective, the Goethe-Institut, TÁCH Space, A sông, Hanoi Grapevine, Artplas and Art Republik Vietnam.

Programme:

30 Oct: The 1st Artist's talk – What do I say when I talk about the war?
05 Nov: The 2nd Artist's talk – What do I say when I talk about the war?
12 Nov: The 3rd Artist's talk – What do I say when I talk about the war?
19 Nov: The 4th Artist's talk – What do I say when I talk about the war?
27 Nov – 17 Dec (10 am – 07 pm everyday): WAITING ROOM, the MAP 2022 exhibition.
03 Dec – 17 Dec (10:30 am – 12 pm every weekend): WAITING ROOM Exhibition tour.


HCMC-Exhibition: Illuminated Curiosities



Until Dec 2022
EMASI Nam Long
147 Street No.8, Nam Long Residential area, District 7,
EMASI Van Phuc
2 Street No.5, Van Phuc Residential City, Thu Duc District,

From the organizer:

Nguyen Art Foundation (NAF) proudly invites you to the opening of 'Illuminated Curiosities', a group exhibition with 26 artists featuring 46 artworks from within and outside NAF's Collection. Curated by art researcher Ace Le, with the curatorial assistance from Duong Manh Hung and Tam Nguyen, the exhibition will take place simultaneously across the campuses of EMASI Nam Long and EMASI Van Phuc, over the course of six months from May to December of 2022. 'Illuminated Curiosities' is a collaborative effort between NAF and Lan Tinh Foundation.
_________________________________________________________________

CINEMA


HCM City - Hungarian Film Week
Nov 25-29, 7pm
Cinestar, 135 Hai Ba Trung Street, District 1.
Five Hungarian movies and animated films will be screened during Hungarian Film Week.
Audiences can send an email to eventhungary.hcm@mfa.gov.hu to receive free tickets or collect them at the cinema.

International science film festival

Oct 8 - Dec 31

Hanoi, Thai Nguyen, Danang, and Ho Chi Minh City

The 12th international science film festival featuring a range of scientific topics which are both accessible and entertaining to a broad audience and demonstrates that science can be fun and educational.

Some 16 science films across different categories will be screened during the festival.