Teacher honoured for great efforts in remote areas
A teacher in the remote mountainous province of Lai Chau has just been honoured for her efforts and contributions to a remote school in the area.

Khoang Ha Po is teaching at a class opened for children aged between 3-5 at the remote village of Huoi Linh in Nam Nhun District in the northern mountainous province of Lai Chau, 500 kilometres from Hanoi. The village has just 18 Mong ethnic group households and is surrounded by rivers and high mountains.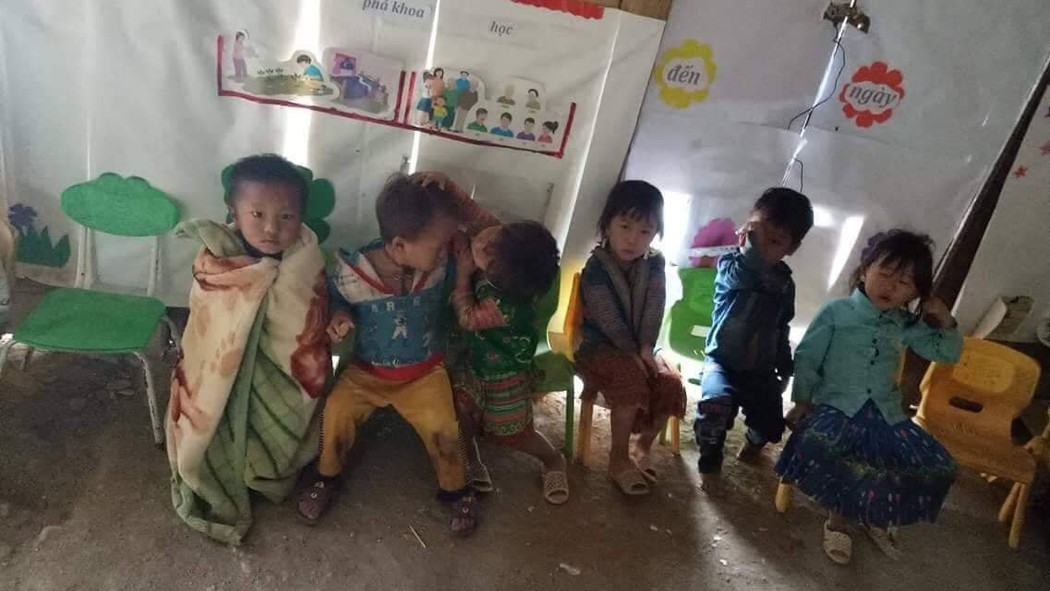 Children at the kindergarten class in Huoi Linh Village. Photo by Giaoduc.net
The teacher, who is in her twenties, said that she came to teach at this class in 2015. As her house lies nearly 300 kilometres away in Muong Te District, she stays at this boarding class with the pupils and one other female teacher.

"Life here is very hard due to difficult terrain," Po said. "The village is just some five kilometres from the commune's centre but it takes us nearly one hour by motorbike to travel to get food and necessities every week. On rainy days we can only walk"

The young teacher said that many times she had intended to leave due to difficulties but then the parents sent letters begging her to stay with their children.

"The most difficult time was when my maternity leave ended," she recalled. "My child was only six months old and I had to return to work. Luckily I had my parents and husband to help take care of my baby. Due to the distance and difficult roads, I can only return home two or three times a year on special festivals or holidays. Now my child is nearly two years old but I've only seen her a few times."

But the teacher said that she did not have much time to miss her family as she was too busy with her poor students.

"We have only two teachers here and as our students are too small, we have to take care of them after class as well," she said.

"We usually go to the commune centre twice a week to buy goods which are mostly dried and canned foods and other necessities for ourselves and the children. But when it rains, we'll go to the forest and find mushrooms and bamboo shoots for vegetables."

The children take a nap in a deteriorating room at the boarding class.
The two teachers only feel lonely at weekends when parents take their children home.

"We can only cry at that time," Po said. "We have no telephone coverage here so can't call home."

But that's not the only challenge for them. Another big difficulty is the poor living conditions.

The class is built out of bamboo sticks and plastic roofs. The teachers have to set up fires to keep warm during winter.

According to teacher Po, the children are given VND120,000 (USD5) a month each by the government for meals. It is not enough so parents have to contribute some more. But as local people are poor, they usually bring just some rice.


With her efforts and contributions, Khoang Ha Po has just been honoured by the Ministry of Education and Training at a recent ceremony held on the occasion of the Vietnamese Teachers' Day, November 20.
Teacher Khoang Ha Po is presented a certificate of merit by the Ministry of Education and Training

Sharing at the ceremony, Po said that she was very happy with a certificate of merit from the ministry.

"But what makes me even happier is that we are going to have a new, better classroom built with concrete," the teacher shared. "After the story of our class was published, people have supported us to build a new facility. And we won't have to worry about rain and cold wind anymore."