Woman suffering from horrific facial burns has life-transforming operation
The Vietnam National Institute of Burns has successfully done skin transplant surgery for a poor woman who has been living with a deformed face and burn marks for nearly five decades.

Nguyen Thi Sau smiles after being given the skin transplant surgery
The surgery was performed by doctor Vu Quang Vinh, director of the Department of Plastic and Reconstructive Surgery.

Doctor Vinh said that the surgery was carried out on August 27 and lasted five hours and they successfully repaired the skin area at her lips, chin, and neck which has various scars left from the serious burns 50 years ago.


"By this time we can say the first surgery was a success," doctor Vinh said. "Sau has had a totally new face. She now can close her mouth and turn her head around."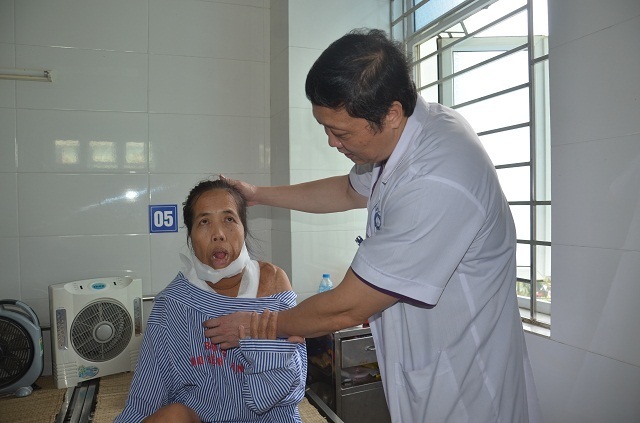 Doctor Vu Quang Vinh visits Sau after the surgery
The doctor said that after this surgery, Sau will have her under jaw fixed and teeth implants.

Sau is provided with free skin transplant surgery and jaw fixing surgery by the Vietnam National Institute of Burns while doctor Vinh said that her teeth implant cost of about VND150 million (USD6,521) will be supported by the Viet Duc International Dental Centre.


On September 13, Dantri/Dtinews Online Newspaper also transferred over VND144 million (USD6,263) which readers sent to support Sau in the first, second and third week of August to doctors at the Vietnam National Institute of Burns who then directly gave to Sau the same day.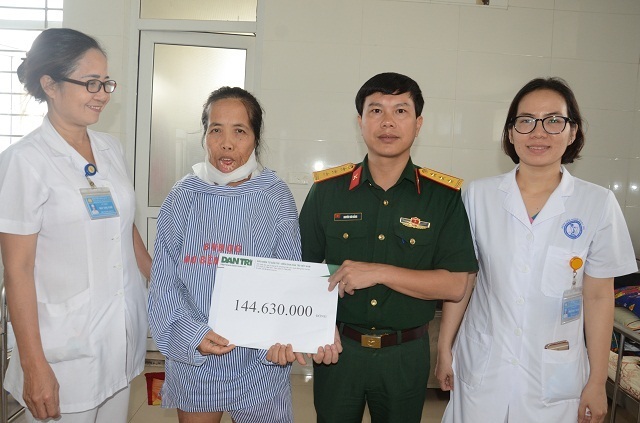 Doctors at the Vietnam National Institute of Burns gives money donated by readers of Dantri/Dtinews Newspaper to Sau
Sau was moved when receiving the money.

"It was like a dream for me," the 54-year-old woman, who rarely went out of her house due to feeling ashamed of her appearance in the past five decades, said. "The doctors here are so kind to give me free treatment and bring me a new face. Now I am given the biggest sum of money I've had in my life by people who I don't know."


Nguyen Thi Sau in the northern province of Phu Tho fell into a cooker when she was six years old. She survived but her tendons and skin shrunk so she couldn't turn her head around. Her face was also deformed, with the teeth on the lower jaw pointing out of her mouth. She could hardly speak afterwards.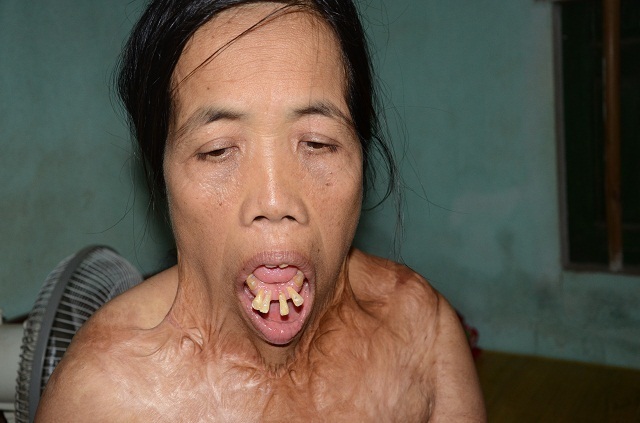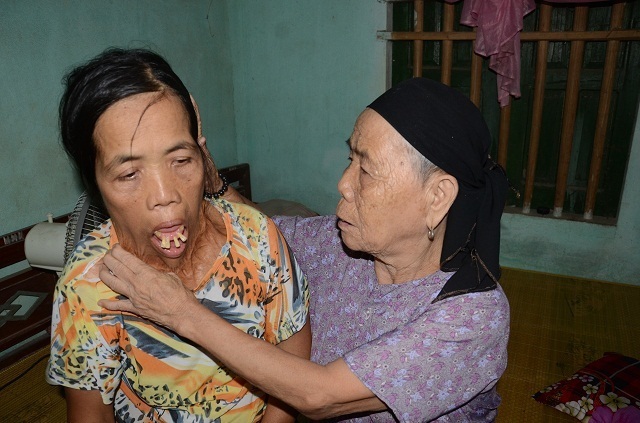 Nguyen Thi Sau and her elderly mother before the surgery
Since then, Sau has depended on her 90-year-old mother for everything. Feeling ashamed of her appearance, she has rarely left the house in nearly 50 years.

Recently, the burn marks have worsened. However, they only have enough money to buy herbal medicines.

After a story of poor Sau was published on Dantri/Dtinews Online Newspaper, the Vietnam National Institute of Burns has offered Sau free treatment.