Small children in need of help after losing father
Two children in Nam Dinh Province are calling for financial support after their father died and mother fell ill.

Nguyen Lan Anh and Nguyen Minh Yen


"You said you would only reap the rest of the fields for them then you would go to see mother, yet you left us," said Nguyen Lan Anh at the sudden death of her father.

Bui Thi Nga, head of Hai Thanh Commune Primary School, said they were all shocked at the death of the parent of Nguyen Lan Anh, a fourth-grader, and Nguyen Minh Yen, a third-grader.

"When their father died, another family member picked them up at school and tried to hide the truth. When they realised that their father had died upon arriving home, they ran inside screaming and pulled at their father's clothes. It's heartbreaking," she said.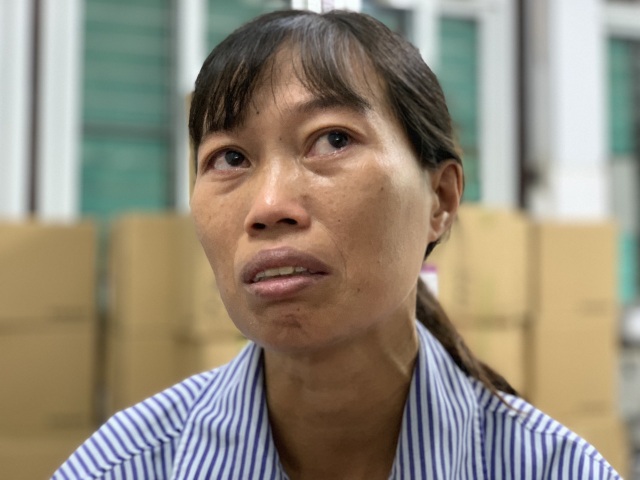 Nguyen Thi Nu suffers from kidney failure


Tong Thi Nat, Lan Anh's grandfather, said their mother was in the last stage of kidney failure. On October 16, the family had to bring her to hospital as her body suddenly swelled up.

"My son wanted to finish his work to earn some money before going to the hospital. Who would have thought that after my daughter-in-law was admitted in the morning, he would die at 1 pm," she said.

The family also hid the truth from Lan Anh's mother, Nguyen Thi Nu, so that the treatment could go smoothly. 10 days later, Nu felt really worried and was determined to go home. That was when she knew the truth. Nu said she now worried about their children.

"I may take blood dialysis this week only then I'll go home to my children," she said.

If you can help please donate through:

1. Code 3566: Nguyen Thi Nu from Cluster 19, Ha Trung Village, Hai Nam Commune, Hai Hau District, Nam Dinh Province.

Tel: 0976203804

2. Dantri/DTiNews

No. 2/48 Giang Vo Str., Dong Da Dist., Hanoi

Tel: 024. 3. 7366.491/ Fax: 024. 3. 7366.490
Email: nhanai@dantri.com.vn

* Vietnam Dong Account information at Vietcombank:

Account holder: Bao Dien tu Dan tri
Account number: 451000476889
With Bank: THE BANK FOR FOREIGN TRADE OF VIETNAM – Thanh Cong Branch

* US Dollar Account information at Vietcombank:

Account holder: Bao Dien tu Dan tri
Account number: 0451370477371
SWIFT Code: BFTV VNVX 045
With Bank: THE BANK FOR FOREIGN TRADE OF VIETNAM

* Vietnam Dong Account information at Vietinbank:

Account holder: Bao Dien tu Dan tri
Account number: 129 0000 61096
With Bank: Vietnam Joint Stock Commercial Bank for Industry and Trade – Hoan Kiem Branch

* Vietnam Dong Account information at BIDV
Account holder: Bao Dien tu Dan tri
Account number: 2611 000 3366 882
At: Bank for Investment and Development of Vietnam, Trang An Branch
Address: No. 11, Cua Bac Street, Ba Dinh District, Hanoi; Tel: 0436869656.

* USD Account information at BIDV
Account Name : Bao Dien tu Dan tri
Account Number : 2611 037 3366 886
Swift Code : BIDVVNVX261
Bank Name : Bank for Investment and Development of Vietnam JSC,Trang An Branch
Address : No 11 Cua Bac Str.,Ba Dinh Dist.,Hanoi, Vietnam; Tel: (84-4)3686 9656.

* Vietnam Dong Account information at MB Bank:
Account holder: Bao Dien tu Dan tri
Account number: 0721101010006
With Bank: MILITARY COMMERCIAL JOINT STOCK BANK - Thai Thinh Branch, Hanoi

* US Dollar Account information at MB Bank:
Account holder: Bao Dien tu Dan tri
Account number: 0721101011002
SWIFT Code: MSCBVNVX
With Bank: MILITARY COMMERCIAL JOINT STOCK BANK - MCSB (No.3, Lieu Giai str., Ba Dinh Dist., Hanoi, Vietnam)

* Vietnam Dong Account information at Agribank:
- Account holder: Bao Dien tu Dan tri
- Account number: 1400206034036
- At Agribank, Lang Ha Branch, Hanoi
3. Dantri/DTiNews' representative offices

Ha Tinh office: 46 Nguyen Cong Tru, Tan Giang Ward, Ha Tinh City, Tel: 0239.3.857.122
Da Nang office: 25 Nguyen Tri Phuong, Thanh Khe District, Da Nang City, Tel: 0236. 3653 725
HCM City: No. 294 - 296, Truong Sa Street, Ward 2, Phu Nhuan DIistrict, HCM City; Tel: 028. 3517 6331 (during working hours) or hotline 0974567567
Can Tho office: 53/13 Ly Tu Trong, Ninh Kieu District, Can Tho City, Tel: 0292.3.733.269