Terminally-ill mother wishes to continue taking care of her daughter
A single mother in Ha Tinh Province is calling for financial support to help treat breast cancer.

Vo Thi Tinh and her daughter


Vo Thi Tinh said she felt a chest pain two months ago so she went to have a check-up and found out that she has breast cancer. Tinh's 9-year-old daughter, Hoai An, has lived in fear after knowing her mother's illness. She tried to stay close to her mother as much as possible.

"She cried and kept telling me not to die. She has suffered a lot since birth," Tinh said. "Sometimes she had to eat alone because I was in pain and couldn't eat and her grandmother was too weak."

Tinh has to travel to Hue Central Hospital for treatment once every two weeks. According to the doctors, the tumour has spread to her lungs so Tinh needs chemotherapy. If the tumour stops growing, she will undergo surgery to remove the tumour. However, the cost of travelling, accommodation and hospital fees for each trip is too much.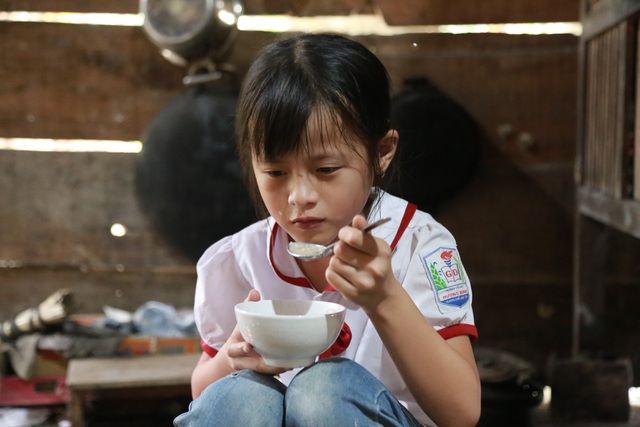 Sometimes Hoai An has to eat alone


Tinh can't do hard work because of cerebral circulation disorders. She has to ask relatives and neighbours to help take care of the fields and borrowed VND80m (USD3,400) to go to the hospital but the money quickly ran out. Tinh said she would continue trying to survive for her daughter. Her only wish is to be able to look after her daughter as long as she can.

An is a hard-working student at school. She is also Tinh's only hope.

Le Dang Loi, chairman of Huong Binh Commune, said, "They are one of the difficult cases. Tinh is the pillar of the family yet she has been struck by cancer and her daughter is still too small. They don't have a house, they are having to live with Tinh's brother family. Tinh's mother is over 80 years old and disabled."

He went on to say that the relatives and neighbours helped build a small house for Tinh years ago but it has deteriorated very badly.

"I hope they will get help from the community," Loi said.

If you can help please donate through:

1. Code 3728: Vo Ti Tinh from Binh Ha Village, Huong Binh Commune, Huong Khe District, Ha Tinh Province.

Tel: 0385.115.004

2. Dantri/DTiNews

No. 2/48 Giang Vo Str., Dong Da Dist., Hanoi

Tel: 024. 3. 7366.491/ Fax: 024. 3. 7366.490
Email: nhanai@dantri.com.vn

* Vietnam Dong Account information at Vietcombank:

Account holder: Bao Dien tu Dan tri
Account number: 451000476889
With Bank: THE BANK FOR FOREIGN TRADE OF VIETNAM – Thanh Cong Branch

* US Dollar Account information at Vietcombank:

Account holder: Bao Dien tu Dan tri
Account number: 0451370477371
SWIFT Code: BFTV VNVX 045
With Bank: THE BANK FOR FOREIGN TRADE OF VIETNAM

* Vietnam Dong Account information at Vietinbank:

Account holder: Bao Dien tu Dan tri
Account number: 129 0000 61096
With Bank: Vietnam Joint Stock Commercial Bank for Industry and Trade – Hoan Kiem Branch

* Vietnam Dong Account information at BIDV
Account holder: Bao Dien tu Dan tri
Account number: 2611 000 3366 882
At: Bank for Investment and Development of Vietnam, Trang An Branch
Address: No. 11, Cua Bac Street, Ba Dinh District, Hanoi; Tel: 0436869656.

* USD Account information at BIDV
Account Name : Bao Dien tu Dan tri
Account Number : 2611 037 3366 886
Swift Code : BIDVVNVX261
Bank Name : Bank for Investment and Development of Vietnam JSC,Trang An Branch
Address : No 11 Cua Bac Str.,Ba Dinh Dist.,Hanoi, Vietnam; Tel: (84-4)3686 9656.

* Vietnam Dong Account information at MB Bank:
Account holder: Bao Dien tu Dan tri
Account number: 0721101010006
With Bank: MILITARY COMMERCIAL JOINT STOCK BANK - Thai Thinh Branch, Hanoi

* US Dollar Account information at MB Bank:
Account holder: Bao Dien tu Dan tri
Account number: 0721101011002
SWIFT Code: MSCBVNVX
With Bank: MILITARY COMMERCIAL JOINT STOCK BANK - MCSB (No.3, Lieu Giai str., Ba Dinh Dist., Hanoi, Vietnam)

* Vietnam Dong Account information at Agribank:
- Account holder: Bao Dien tu Dan tri
- Account number: 1400206034036
- At Agribank, Lang Ha Branch, Hanoi
3. Dantri/DTiNews' representative offices

Ha Tinh office: 46 Nguyen Cong Tru, Tan Giang Ward, Ha Tinh City, Tel: 0239.3.857.122
Da Nang office: 25 Nguyen Tri Phuong, Thanh Khe District, Da Nang City, Tel: 0236. 3653 725
HCM City: No. 294 - 296, Truong Sa Street, Ward 2, Phu Nhuan DIistrict, HCM City; Tel: 028. 3517 6331 (during working hours) or hotline 0974567567
Can Tho office: 53/13 Ly Tu Trong, Ninh Kieu District, Can Tho City, Tel: 0292.3.733.269