Terminally-ill mother calls for help for son
A woman who is facing breast cancer is calling for financial support to help cover medical treatment for her 23-year-old son who was seriously injured in a traffic accident.

Ho Viet Huynh
Phan Thi Ty was diagnosed with breast cancer in 2012. At first, she followed the treatment so her condition improved. But after her husband died suddenly and left behind two children in 2016, she can't go to the therapy sessions as often as before due to financial problems. The tumour has spread to her bones now and causes her much pain.

Ty is a retired primary school teacher. Her small income can hardly support daily meals for the family. After graduating high school, her eldest son, Ho Viet Huynh, borrowed money from the bank to work as a contracted driver.

"On the first day of Tet Holiday, he still worked because he wanted to earn as much as possible for my treatment. Perhaps he was too tired, he had an accident," Ty said. "When I got to the hospital, I saw that his left arm was almost severed. We still owe the bank over VND200m."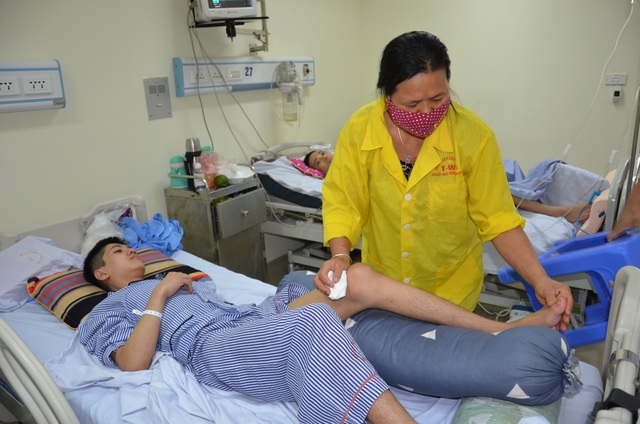 Ho Viet Huynh and his mother Phan Thi Ty

Ty had to borrow VND200m (USD8,600) more from relatives and other people. She said she felt so tired but since her second child is still small, she had to protect them.

Nguyen Ngoc Canh from Central Acupuncture Hospital said Huynh had traumatic brain injuries and paralysed from the waist down. His left arm has been cut off. After two months, he regained consciousness and can talk again.

"He needs long-term and expensive treatment because of many medicines that are not covered by health insurance. Her mother still needs to pay travel costs and meals. His condition is getting better now but his family has run out of money. It's such a shame," he said.

Seeing his mother struggling with the pain to take care of him, Huynh keeps saying that he is already better and can go home.

Truong To Quyen, vice head of the hospital's social work office, said, "There was time Ty was exhausted and fainted in Huynh's room. We are all worried about them and hope that they will get help."

If you can help please donate through:

1. Code 3770: Phan Thi Ty from Bai So Village, Tam Quang Commune, Tuong Duong District, Nghe An Province.

Tel: 0963067339

2. Dantri/DTiNews

No. 2/48 Giang Vo Str., Dong Da Dist., Hanoi

Tel: 024. 3. 7366.491/ Fax: 024. 3. 7366.490
Email: nhanai@dantri.com.vn

* Vietnam Dong Account information at Vietcombank:

Account holder: Bao Dien tu Dan tri
Account number: 451000476889
With Bank: THE BANK FOR FOREIGN TRADE OF VIETNAM – Thanh Cong Branch

* US Dollar Account information at Vietcombank:

Account holder: Bao Dien tu Dan tri
Account number: 0451370477371
SWIFT Code: BFTV VNVX 045
With Bank: THE BANK FOR FOREIGN TRADE OF VIETNAM

* Vietnam Dong Account information at Vietinbank:

Account holder: Bao Dien tu Dan tri
Account number: 129 0000 61096
With Bank: Vietnam Joint Stock Commercial Bank for Industry and Trade – Hoan Kiem Branch

* Vietnam Dong Account information at BIDV
Account holder: Bao Dien tu Dan tri
Account number: 2611 000 3366 882
At: Bank for Investment and Development of Vietnam, Trang An Branch
Address: No. 11, Cua Bac Street, Ba Dinh District, Hanoi; Tel: 0436869656.

* USD Account information at BIDV
Account Name : Bao Dien tu Dan tri
Account Number : 2611 037 3366 886
Swift Code : BIDVVNVX261
Bank Name : Bank for Investment and Development of Vietnam JSC,Trang An Branch
Address : No 11 Cua Bac Str.,Ba Dinh Dist.,Hanoi, Vietnam; Tel: (84-4)3686 9656.

* Vietnam Dong Account information at MB Bank:
Account holder: Bao Dien tu Dan tri
Account number: 0721101010006
With Bank: MILITARY COMMERCIAL JOINT STOCK BANK - Thai Thinh Branch, Hanoi

* US Dollar Account information at MB Bank:
Account holder: Bao Dien tu Dan tri
Account number: 0721101011002
SWIFT Code: MSCBVNVX
With Bank: MILITARY COMMERCIAL JOINT STOCK BANK - MCSB (No.3, Lieu Giai str., Ba Dinh Dist., Hanoi, Vietnam)

* Vietnam Dong Account information at Agribank:
- Account holder: Bao Dien tu Dan tri
- Account number: 1400206034036
- At Agribank, Lang Ha Branch, Hanoi
3. Dantri/DTiNews' representative offices

Ha Tinh office: 46 Nguyen Cong Tru, Tan Giang Ward, Ha Tinh City, Tel: 0239.3.857.122
Da Nang office: 25 Nguyen Tri Phuong, Thanh Khe District, Da Nang City, Tel: 0236. 3653 725
HCM City: No. 294 - 296, Truong Sa Street, Ward 2, Phu Nhuan DIistrict, HCM City; Tel: 028. 3517 6331 (during working hours) or hotline 0974567567
Can Tho office: 53/13 Ly Tu Trong, Ninh Kieu District, Can Tho City, Tel: 0292.3.733.269