Woman desperately calls for help after being infected with staphylococcus aureus
A woman from Lao Cai Province is in need of help as the staphylococcus aureus infection is destroying her body and spreading to her brain.

Pham Thi Van Anh at the hospital

Pham Thi Van Anh is being treated at Bach Mai Hospital in Hanoi and is in the intensive care unit. Dr Pham The Thach said Anh was being closely monitored because of her serious condition.

"When being transferred from Lao Cai Hospital to Bach Mai Hospital, the patient already had respiratory failure and was diagnosed with infection, heart failure, lupus and all four limbs are paralysed," he said. "The treatment is very difficult because of staphylococcus aureus infection. She had high fevers for over 10 days."

Anh needs blood dialysis, antibiotic and therapeutic plasma exchange. Her condition has got better but still suffers from kidney failure. Moreover, the infection is spreading to her brain and has damaged her heart valves. The heart operation alone costs about VND150m (USD642). As of now, her family has only paid VND23m hospital charges.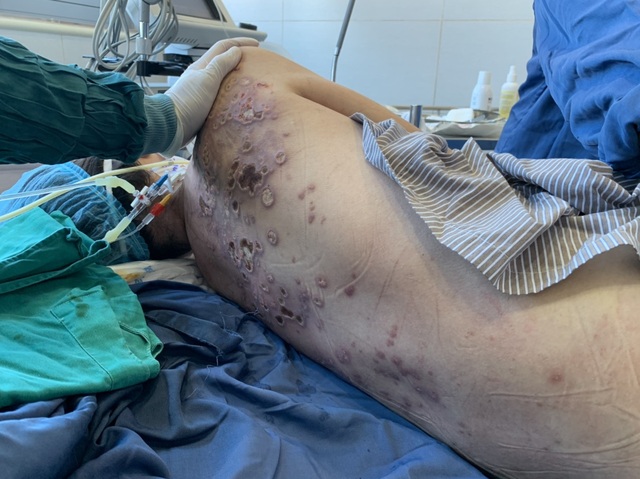 Anh is infected with staphylococcus aureus

Their whole family depends on the rice fields and do not have any extra income. Vu Thi Hoa, Anh's mother, said, "Her husband has tried to borrow money from everywhere he could think of. If anything is to happen to my daughter, then my two grandchildren will lose their mother."

The doctors have to treat the blisters and abscesses on Anh's back constantly. "There is less pus today. Her skin was really bad a few days ago," said nurse Mai Hoa. "We are racing against time to save her."

If you can help please donate through:

1. Code 3776: Pham Thi Van Anh from Coc Sam 5 Village, Phong Nien Commune, Bao Thang District, Lao Cai Province.


Mobile phone number of Vu Thi Hoa: 0392109647
2. Dantri/DTiNews

No. 2/48 Giang Vo Str., Dong Da Dist., Hanoi

Tel: 024. 3. 7366.491/ Fax: 024. 3. 7366.490
Email: nhanai@dantri.com.vn

* Vietnam Dong Account information at Vietcombank:

Account holder: Bao Dien tu Dan tri
Account number: 451000476889
With Bank: THE BANK FOR FOREIGN TRADE OF VIETNAM – Thanh Cong Branch

* US Dollar Account information at Vietcombank:

Account holder: Bao Dien tu Dan tri
Account number: 0451370477371
SWIFT Code: BFTV VNVX 045
With Bank: THE BANK FOR FOREIGN TRADE OF VIETNAM

* Vietnam Dong Account information at Vietinbank:

Account holder: Bao Dien tu Dan tri
Account number: 129 0000 61096
With Bank: Vietnam Joint Stock Commercial Bank for Industry and Trade – Hoan Kiem Branch

* Vietnam Dong Account information at BIDV
Account holder: Bao Dien tu Dan tri
Account number: 2611 000 3366 882
At: Bank for Investment and Development of Vietnam, Trang An Branch
Address: No. 11, Cua Bac Street, Ba Dinh District, Hanoi; Tel: 0436869656.

* USD Account information at BIDV
Account Name : Bao Dien tu Dan tri
Account Number : 2611 037 3366 886
Swift Code : BIDVVNVX261
Bank Name : Bank for Investment and Development of Vietnam JSC,Trang An Branch
Address : No 11 Cua Bac Str.,Ba Dinh Dist.,Hanoi, Vietnam; Tel: (84-4)3686 9656.

* Vietnam Dong Account information at MB Bank:
Account holder: Bao Dien tu Dan tri
Account number: 0721101010006
With Bank: MILITARY COMMERCIAL JOINT STOCK BANK - Thai Thinh Branch, Hanoi

* US Dollar Account information at MB Bank:
Account holder: Bao Dien tu Dan tri
Account number: 0721101011002
SWIFT Code: MSCBVNVX
With Bank: MILITARY COMMERCIAL JOINT STOCK BANK - MCSB (No.3, Lieu Giai str., Ba Dinh Dist., Hanoi, Vietnam)

* Vietnam Dong Account information at Agribank:
- Account holder: Bao Dien tu Dan tri
- Account number: 1400206034036
- At Agribank, Lang Ha Branch, Hanoi
3. Dantri/DTiNews' representative offices

Ha Tinh office: 46 Nguyen Cong Tru, Tan Giang Ward, Ha Tinh City, Tel: 0239.3.857.122
Da Nang office: 25 Nguyen Tri Phuong, Thanh Khe District, Da Nang City, Tel: 0236. 3653 725
HCM City: No. 294 - 296, Truong Sa Street, Ward 2, Phu Nhuan DIistrict, HCM City; Tel: 028. 3517 6331 (during working hours) or hotline 0974567567
Can Tho office: 53/13 Ly Tu Trong, Ninh Kieu District, Can Tho City, Tel: 0292.3.733.269