Heart disease patient calls for help for a chance to survive
A man in Thanh Hoa Province is calling for financial support from the community to help save his life from heart disease.

Nguyen Quang Thanh
Nguyen Quang Thanh is being treated at Vietnam-Germany Hospital in Hanoi. The 33-year-old man's health has deteriorated so quickly that it's a huge effort to walk around and talk normally. Thanh did odd jobs to support his family. His wife, Nguyen Thi Nhu, stayed at home to take care of six children. However, in 2016, Thanh suddenly had a heart attack.

"I had coughs for several weeks and felt very tired when I had to use the stairs. I usually had to sit down after walking for 40-50 metres," Thanh said.

His health turned for the worse a while later and he was brought to Thanh Hoa General Hospital. Doctors said he had dilated cardiomyopathy which led to heart failure. Since then, Thanh can't do hard work and his wife has to shoulder everything. Most of the money has been used to treat Thanh.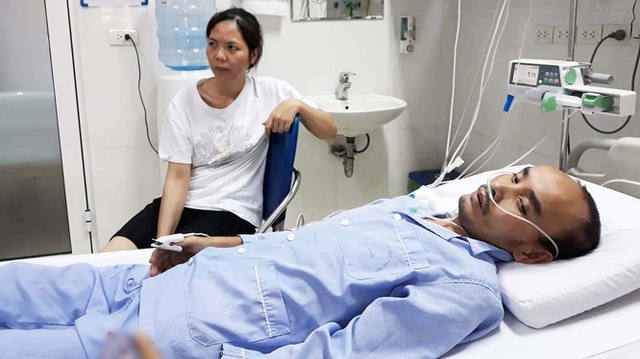 Nguyen Quang Thanh at the hospital


In 2019, his condition worsened again and he was transferred to Hanoi Medical University.

Dr Tran Tien Anh said, "On June 3, his heart stopped and all staff on shift that night were called to help revive him. If we didn't act in time, he might have died that night."

He has responded well to the medicine but his heart is still weak. He is living with a 22% heart function. His only hope is a heart transplant which cost over VND1bn (USD43,000) while the family's income has never passed VND5m a month. Moreover, they still have to pay old debts.

They have borrowed everywhere for VND500m and are waiting for a compatible heart. However, Thanh's wife said she didn't know how to borrow the rest of the money.

If you can help please donate through:

1. Code 3787: Nguyen Quang Thanh from Cluster 8, Hoang Duc Commune, Hoang Hoa District, Thanh Hoa Province.

Mobile number of Nguyen Thi Nhu: 0365422871

2. Dantri/DTiNews

No. 2/48 Giang Vo Str., Dong Da Dist., Hanoi

Tel: 024. 3. 7366.491/ Fax: 024. 3. 7366.490
Email: nhanai@dantri.com.vn

* Vietnam Dong Account information at Vietcombank:

Account holder: Bao Dien tu Dan tri
Account number: 451000476889
With Bank: THE BANK FOR FOREIGN TRADE OF VIETNAM – Thanh Cong Branch

* US Dollar Account information at Vietcombank:

Account holder: Bao Dien tu Dan tri
Account number: 0451370477371
SWIFT Code: BFTV VNVX 045
With Bank: THE BANK FOR FOREIGN TRADE OF VIETNAM

* Vietnam Dong Account information at Vietinbank:

Account holder: Bao Dien tu Dan tri
Account number: 129 0000 61096
With Bank: Vietnam Joint Stock Commercial Bank for Industry and Trade – Hoan Kiem Branch

* Vietnam Dong Account information at BIDV
Account holder: Bao Dien tu Dan tri
Account number: 2611 000 3366 882
At: Bank for Investment and Development of Vietnam, Trang An Branch
Address: No. 11, Cua Bac Street, Ba Dinh District, Hanoi; Tel: 0436869656.

* USD Account information at BIDV
Account Name : Bao Dien tu Dan tri
Account Number : 2611 037 3366 886
Swift Code : BIDVVNVX261
Bank Name : Bank for Investment and Development of Vietnam JSC,Trang An Branch
Address : No 11 Cua Bac Str.,Ba Dinh Dist.,Hanoi, Vietnam; Tel: (84-4)3686 9656.

* Vietnam Dong Account information at MB Bank:
Account holder: Bao Dien tu Dan tri
Account number: 0721101010006
With Bank: MILITARY COMMERCIAL JOINT STOCK BANK - Thai Thinh Branch, Hanoi

* US Dollar Account information at MB Bank:
Account holder: Bao Dien tu Dan tri
Account number: 0721101011002
SWIFT Code: MSCBVNVX
With Bank: MILITARY COMMERCIAL JOINT STOCK BANK - MCSB (No.3, Lieu Giai str., Ba Dinh Dist., Hanoi, Vietnam)

* Vietnam Dong Account information at Agribank:
- Account holder: Bao Dien tu Dan tri
- Account number: 1400206034036
- At Agribank, Lang Ha Branch, Hanoi
3. Dantri/DTiNews' representative offices

Ha Tinh office: 46 Nguyen Cong Tru, Tan Giang Ward, Ha Tinh City, Tel: 0239.3.857.122
Da Nang office: 25 Nguyen Tri Phuong, Thanh Khe District, Da Nang City, Tel: 0236. 3653 725
HCM City: No. 294 - 296, Truong Sa Street, Ward 2, Phu Nhuan DIistrict, HCM City; Tel: 028. 3517 6331 (during working hours) or hotline 0974567567
Can Tho office: 53/13 Ly Tu Trong, Ninh Kieu District, Can Tho City, Tel: 0292.3.733.269