Single mother and ill son struggles to live
A family in Thai Nguyen Province is in need of financial support to cover medical treatment for their 16-year-old grandson.

Nguyen Thi Giao and her grandson
Nguyen Quang Chuyen, head of Ban Cai Village, said Ngat's family has been one of the village's poor households for years. She has a 16-year-old son, Nguyen Quoc Huan, but no one knows who the father is so their lives depend on Ngat's 70-year-old parents.

Her son has suffered from epilepsy since birth. Sometimes, the neighbours have to help bring him home after seeing him having a seizure on the street. Ngat's mind is stunted and she can't do much.

"Ngat's parents actually want to send their grandson to social protection centre," Chuyen said.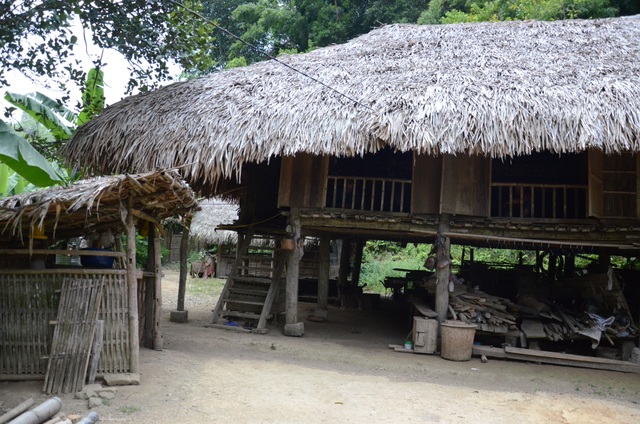 The dilapidated house

Nguyen Thi Giao, Ngat's mother, said, "After being born, my grandson already had to be incubated because of breathing difficulties. Then he was discharged but returned to the hospital again because of pneumonia then diarrhoea. I thought he would die then but he survived and continues suffering."

At one year old, Huan kept falling down and foamed at the mouth. He was later diagnosed with epilepsy.

Whenever Huan was not at home, everyone would felt worried and search for him immediately. One time, Huan had a seizure and fell into a stream. Luckily, he was saved by a villager.

As Ngat's health worsened to the point that she couldn't work anymore, she had to go to the doctors and was diagnosed with goitre.

Giao said, "We are getting old and Ngat's mind is stunted. I just hope that they will get help."

If you can help please donate through:

1. Code 3812: Nguyen Thi Ngat from Ban Cai Village, Phu Luong District, Thai Nguyen Province.

Mobile phone number of Ngat's father: 0976394365

2. Dantri/DTiNews

No. 2/48 Giang Vo Str., Dong Da Dist., Hanoi

Tel: 024. 3. 7366.491/ Fax: 024. 3. 7366.490
Email: nhanai@dantri.com.vn

* Vietnam Dong Account information at Vietcombank:

Account holder: Bao Dien tu Dan tri
Account number: 451000476889
With Bank: THE BANK FOR FOREIGN TRADE OF VIETNAM – Thanh Cong Branch

* US Dollar Account information at Vietcombank:

Account holder: Bao Dien tu Dan tri
Account number: 0451370477371
SWIFT Code: BFTV VNVX 045
With Bank: THE BANK FOR FOREIGN TRADE OF VIETNAM

* Vietnam Dong Account information at Vietinbank:

Account holder: Bao Dien tu Dan tri
Account number: 129 0000 61096
With Bank: Vietnam Joint Stock Commercial Bank for Industry and Trade – Hoan Kiem Branch

* Vietnam Dong Account information at BIDV
Account holder: Bao Dien tu Dan tri
Account number: 2611 000 3366 882
At: Bank for Investment and Development of Vietnam, Trang An Branch
Address: No. 11, Cua Bac Street, Ba Dinh District, Hanoi; Tel: 0436869656.

* USD Account information at BIDV
Account Name : Bao Dien tu Dan tri
Account Number : 2611 037 3366 886
Swift Code : BIDVVNVX261
Bank Name : Bank for Investment and Development of Vietnam JSC,Trang An Branch
Address : No 11 Cua Bac Str.,Ba Dinh Dist.,Hanoi, Vietnam; Tel: (84-4)3686 9656.

* Vietnam Dong Account information at MB Bank:
Account holder: Bao Dien tu Dan tri
Account number: 0721101010006
With Bank: MILITARY COMMERCIAL JOINT STOCK BANK - Thai Thinh Branch, Hanoi

* US Dollar Account information at MB Bank:
Account holder: Bao Dien tu Dan tri
Account number: 0721101011002
SWIFT Code: MSCBVNVX
With Bank: MILITARY COMMERCIAL JOINT STOCK BANK - MCSB (No.3, Lieu Giai str., Ba Dinh Dist., Hanoi, Vietnam)

* Vietnam Dong Account information at Agribank:
- Account holder: Bao Dien tu Dan tri
- Account number: 1400206034036
- At Agribank, Lang Ha Branch, Hanoi
3. Dantri/DTiNews' representative offices

Ha Tinh office: 46 Nguyen Cong Tru, Tan Giang Ward, Ha Tinh City, Tel: 0239.3.857.122
Da Nang office: 25 Nguyen Tri Phuong, Thanh Khe District, Da Nang City, Tel: 0236. 3653 725
HCM City: No. 294 - 296, Truong Sa Street, Ward 2, Phu Nhuan DIistrict, HCM City; Tel: 028. 3517 6331 (during working hours) or hotline 0974567567
Can Tho office: 53/13 Ly Tu Trong, Ninh Kieu District, Can Tho City, Tel: 0292.3.733.269