Binh Phuoc boy receives donations to treat cancer
A poor small boy who is struggling with cancer in Binh Phuoc Province has just received lots of support from the community to cover the costs of hospital treatment after his story was shared on Dantri/Dtinews Online.


Dantri/Dtinews transfers donations of VND116,014,500 (USD5,043) which readers sent to support Ngo Gia Bao on June 2.

Dantri/Dtinews on June 2 transferred donations of VND116,014,500 (USD5,043) which readers sent to support Ngo Gia Bao.

Receiving the money, the boy's father Ngo Dac Nang sent his sincere thanks to all kind donors who have extended their help to save his son.

"Thanks to this support, we've been able to continue treatment for my son and he is improving," the father said. "I hope that he will overcome the disease and return to a healthy life soon."

According to the father, his nine-year-old son was diagnosed with the fourth stage of leukaemia in 2020. With modest income as a construction worker and a housewife, Nang and his wife had to borrow money from friends and relatives to cover chemotherapy fees for their son. The boy completed six cycles of chemotherapy in June 2021. As his health was stable and HCM City was applying social distancing regulations for Covid-19 prevention at that time, the family could not bring the boy for regular re-checks.

Ngo Dac Nang and his son Ngo Gia Bao at home

After the social distancing regulations were removed, Nang borrowed some more money to take his son to hospital to be informed that his condition had worsened and he needed to retake the six-cycle chemotherapy.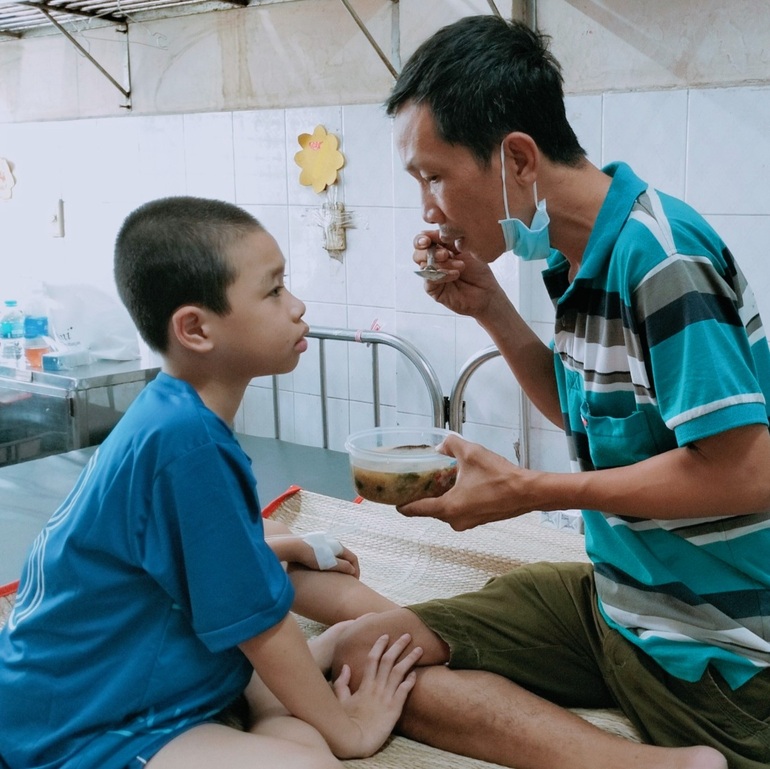 Bao is continuing treatment at hospital

"He had completed two cycles by April this year when we ran out of money," the father said. "We didn't know where to borrow more and we had taken him home before receiving the donations. It was like my son had a second chance at life. Thank you so much."