Land compensation outrage suspected as motive for recent shooting
>> One dead, four injured in shooting spree
>> Former Tien Lang officials get final sentences
>> Tien Lang farmers jailed for five years
A man in the northern province of Thai Binh shot five local land officials on September 11, killing one of them, then killed himself several hours later. The argument, which precipitated the shootings, may be due to his disagreement with the authorities over site clearance.
The site of the shooting

Previously, local authorities revoked Tran Ky-Ky Ba's resettlement area project covering 9ha, including the land plot of Dang Ngoc Viet's family. Before the revocation, the authorities held a meeting to see how the household would respond, but at that time Viet did not appear upset, said Vice Chairman of Ky Ba Ward People's Committee Pham Van Anh.

Viet's family was compensated with a resettlement land plot, but Viet refused and wanted to receive the cash compensation instead. Then later, he changed his mind again and decided he did want the land plot. But, when he saw the plot, he said it was not facing the right direction for him and therefore was not suitable; so finally he decided to take the cash. In March this year, Viet got VND504 million (USD23,800) in compensation and went to HCM City.
Since then, there had been no significant disagreement between the city's Land Fund Development Centre and Viet's family, and his family had not voiced any complaints about the issue. Viet did not have any personal problems with the centre officials, the authorities said.
Then, Viet returned from Ho Chi Minh City, where he had a job, about a week before the sudden shooting, which killed Vo Ngoc Dung, deputy director of the centre and injured four of the centre's officials.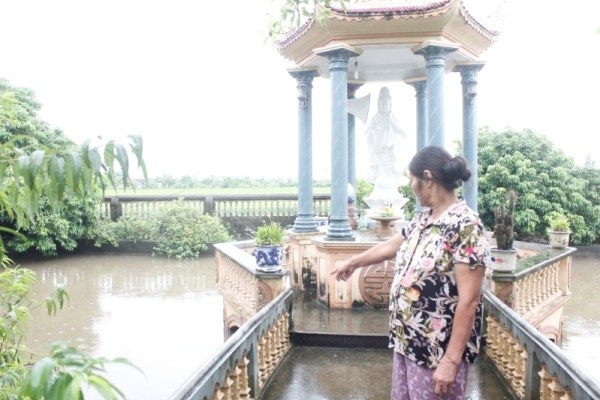 Dong Son Pagoda where Viet killed himself

After the shooting, Viet fled to his hometown of Tra Giang, Kien Xuong District and hid in Dong Son Pagoda where he often played with other children when he was small.
Before going to the pagoda, he met his father and said "I must go now" and then left without saying anything more.
At 6:30 p.m on the same day, after arriving at the pagoda, he shot himself in the chest.
Local authorities are investigating to see whether the case is related to the land compensation deal or, if not what exactly caused him to turn violent.
Land dispute, a thorny problem in Vietnam
According to the report on Vietnam Provincial Governance and Public Administration Performance Index (PAPI) 2012, in Vietnam, the most serious disputes between people and local authorities are related to land issues. The report went on to say that part of the problem is due to a lack of transparency in land use planning and compensation. It also named the two cases in Haiphong City's Tien Lang District and Hung Yen Province's Van Giang District, as typical examples.
Regarding the Haiphong case, Doan Van Vuon and one of his brothers were sentenced to five years in prison because they used guns to fight the authorities in order to keep their land from being revoked. That incident injured seven soldiers and policemen, but no one was killed. The four others, who are also members of Vuon family, were also punished. Two went to jail and the other two got suspended sentences.
The 5.8-hectare land revocation affecting 160 households in Hung Yen Province's Van Giang District in April has also caused public concern. The local authorities' reason for withdrawal was to provide land for the second phase of a project involving urban area development and a tourism Ecopark. However, households did not agree with the compensation of VND36 million per 360 square metres, saying it was too little. Clearly the local people were very upset because two reporters from The Voice of Vietnam who were assigned to come to the locality to report on the situation were attacked by local policemen. To date, the land dispute has not been settled.