Quang Nam residents risk lives in daily river crossings
Students and local residents in Nam Tra My District in Quang Nam Province face danger every day having to cross a river to school and work.
Tak Roi Village.
The Tak Roi Village, Hamlet 3 in Tra Tap Commune is nicknamed the "island village in a forest" because the villagers have to cross streams and the Tranh River to leave, especially during the rainy season. Most of the villagers are poor and lack even the most basic necessities. In order to cross the Tranh River, the villagers often use a small boat and make-shift rafts made from plastic barrels and wooden planks. The raft was made after Le Huy Phuong, director of Tra Tap Ethnic Boarding School, called for help to help transport more people across the river.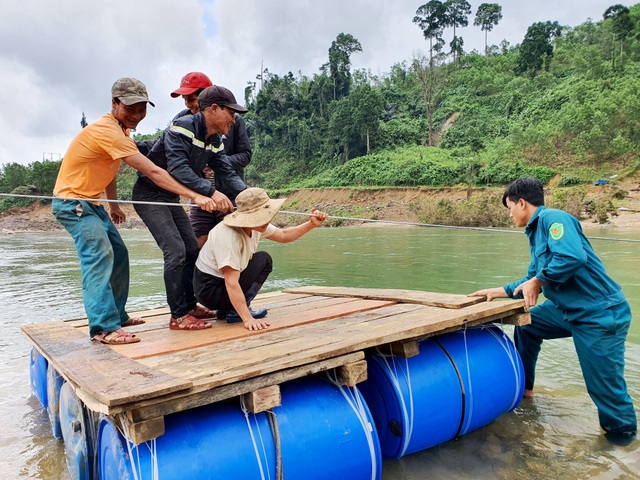 Crossing river on a make-shift raft.
37-year-old Ho Van Thinh said because of the terrain, there is no bridge near the village. As a result, he has seen many accidents on the river. It is easier to go to the other bank during the dry season but it's extremely dangerous when it rains or when it's windy. Sometimes, the village is nearly isolated.
The students had to stay home for a long time when Quang Nam faced severe flooding in September and October 2020. Sick people also couldn't go to hospital either. Anyone who attempted to cross the river was swept away. Despite the danger, the students and other villagers still have to cross Tranh River every day to go to school and for work.
"Our biggest dream is to have a bridge to cross this river in safety," Thinh said.
In order to support the students, kind people raised funds to build a school site under Tra Tap Ethnic Boarding School in 2019. The school site includes a nursery class and primary class for 30 students with two teachers. However, it was flooded to the roof and badly damaged in 2020. Teacher Le Van Bon said the road to the school had become more and more dangerous as the water level in Tranh River rose. Luckily, the school was quickly repaired for students.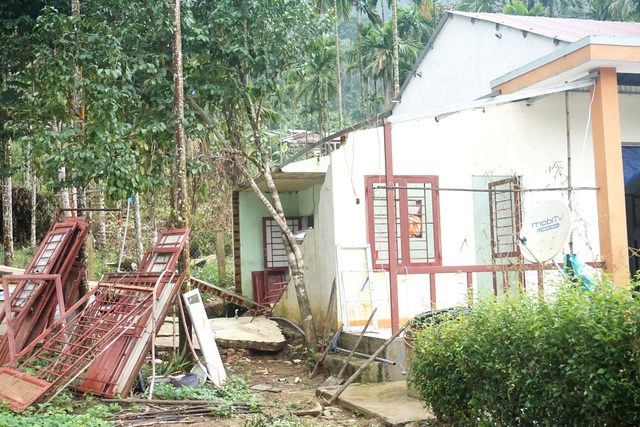 The school badly damaged after a severe flooding in 2020.
"I'd been to this village over ten years and it was the first time I saw the water level rise so high. The school is completely ruined," he said. "School supplies for both teachers and students were damaged or swept away. The toilet and kitchen collapsed."
Tran Van Man, vice chairman of Nam Tra My District, said, "Tak Roi has 46 households with 212 people. There are 100 students at all grades. Many of them go to boarding schools and return home once a week. We've proposed to build a bridge there several times to the Department of Transport and make it a part of the Local Bridge Construction and Road Asset Management Project. However, there's been no decision yet."
He went on to say that even though the district budget is limited, they would still build the bridge there isn't any call for investment by 2025. It is estimated to cost VND2.5bn to build a suspension bridge.