Families install safety nets after Hanoi child apartment fall
Many families living at apartment buildings in Hanoi and HCM City have installed balcony safety nets after a baby girl in Hanoi fell from the 12th floor of an apartment building.
Safety net installed on the balcony
A resident from Hanoi's Nam Tu Liem District, Hai Lan said, "We have just moved to this area so many things are still incomplete. But after hearing that a baby girl fell from the 12th floor, I had the balcony safety net installed immediately. I felt so careless for not installing the net sooner."
Lan said she had two small children and chose a net that cost VND180,000 (USD8) per square metre.
Another resident in Hanoi, Trung Nghia, said he had not only installed the net on the balcony, but also along the staircase.
Hai, a service provider in Hanoi, said he used to have only two or three customers a day. But recently, he received up to 60 orders a day. He said that the net was very durable and would not be much damaged by the weather.
Tran Van Toan from HCM City's District 12 said he lives on the 8th floor with two children. One of his children is five years old and the other is only 18 months old.
"After watching the clip, I felt so worried about my children. My wife and I decided to install the safety net immediately since both my children are very active and don't know how to protect themselves yet. We don't want to regret it later," he said.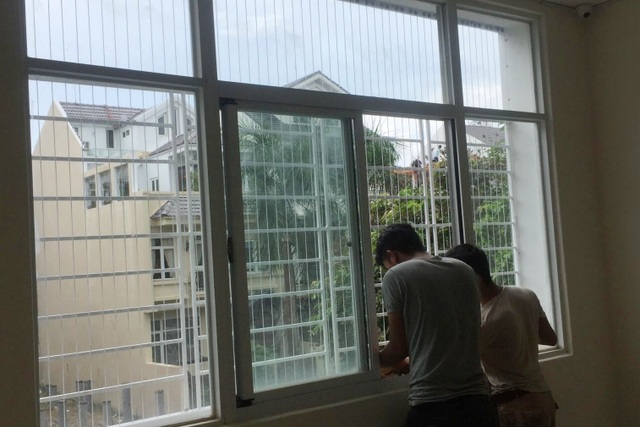 Many families rush to install the safety nets
He later installed 10 square metres of safety net for VND1.9m (USD82). According to Toan, many of his neighbours are also planning to install safety nets.
Even families who are not live in apartment buildings also feel worried. Nguyen Thuy Van from District 3 said she already installed the safety net for the second and third-floor of her house. "My child always plays near the balcony so we want to be more careful. It costs us about VND2.2m (USD95)," she said.
Dinh Van Sau from Go Vap District said he had received 60 calls from customers who wanted to learn more about safety nets. 20 people have ordered one for their home in the past three days. A safety net will not affect the apartment's aesthetic or become too stuffy while protecting the children. The cost of the net ranges from VND150,000 (USD6.5) to VND210,000 per square metre.
Other service providers in Tan Binh District also reported having received more orders in the past few days and their revenues had boomed five to six times.