What's on February 26-March 4 (Daily updated)
MUSIC & PERFORMANCES
Bac Ninh Province- Love duet singing festival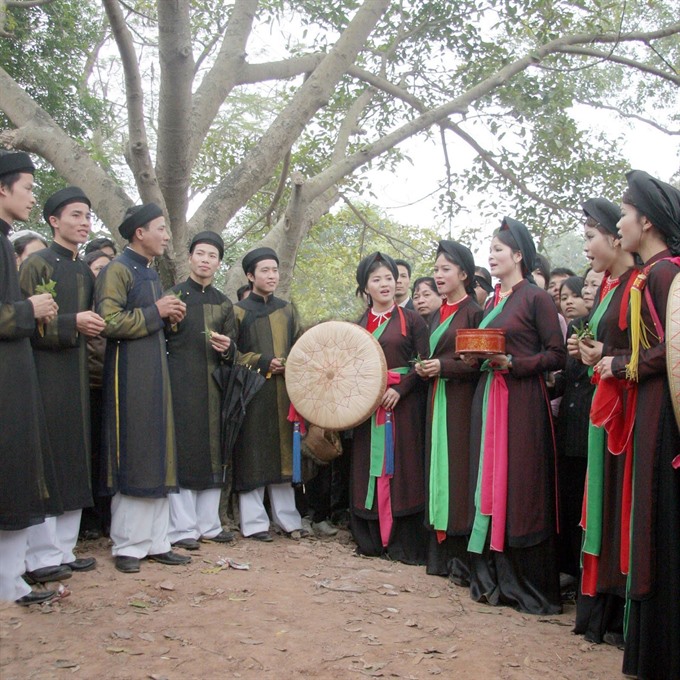 Feb 27-28
Lim Town, Nội Duệ and Liên Bão Commune, Tiên Du District in the northern province of Bắc Ninh.

Featuring dozens of local amateur and professional love duet (quan họ) singers.

The artists will perform on six stages on Lim Mountain, floating boats in nearby lake and at veteran singers' houses.

Folk games such as traditional swinging, wrestling, hide and seek and card games will be organised.
Hanoi-Gala New Year Opening Concert
Mar 2, 8 pm,
Hanoi Opera House, No.1, Trang Tien Street
Featuring performances by Conductor Honna Tetsuji, Soprano: Dao To Loan, Baritone: Manh Dung, Tenor: Park Sung Min and the Vietnam National Symphony Orchestra.
Ticket prices: VND 200,000 – VND 350,000 – VND 500,000
Hanoi-Music Concerts with Le Cat Trong Ly

Mar 3 and 4, 8 pm

L'Espace, 24 Trang Tien Street

Two special music nights by Vietnamese singer Le Cat Trong Ly introducing her latest songs that were written in Denmark and Sweden in the summer of 2017. These songs will be recorded in France by music producer Nguyen Thanh Tu with the collaboration of pianist Cao Thanh Lan, clarinetist Nguyen Minh Hoang and a string quartet.

Tickets

Type A: 500 000 VND
Type B: 400 000 VND
For L'Espace members & students: 300 000 VND (applicable until 02 March 2018)

Hanoi-Punk Rock Charity Concert "ẤM"

Hanoi-Punk Rock Charity Concert "ẤM"
Mar 3, 7.30 pm,
Sidewalk Hanoi, 231 Au Co, Street
A charity concert featuring special performances by the Ugoslabier band from Bangkok – Thailand. This is their second time performing in Hanoi. Hanoian bands Shade Tree, Gai, MXM and W A A H will be joining the show.
Hanoi-Beyond Sound of 2018
Mar 2, 8.30 – 10.30 pm

Heritage Space, 1st Floor, Dolphin Plaza
6 Nguyen Hoang (for car) | 28 Tran Binh (for bike), My Dinh 2,

Live music performances by the Japanese saxophonist/video artist Katsura Yamauchi; amazing new work by the Austrian-Vietnamese duo Siedl Cao entitled "Parallel Asteroid": a real-time musical sculpture; and a series of improvise musical performances by emerging Vietnamese experimental musicians: Thuỳ Dung/đàn tranh (plucked zither), Hương Nguyễn/objects, Thanh Tâm/objects, Nguyễn Việt/saxophone, Nguyễn Đỗ Minh Quân/electronics.

Tickets:

– Special: 100,000 VND (including one free drink)
– Standard: 80,000 VND
– Member: 50,000 VND (for members & students – kindly show your student's card when checking in).

For more details, contact:
Email: hello@heritagespace.com.vn
Hotline: 090 282 67 69 (9 AM – 5 PM)
Website: heritagespace.com
Facebook: fb.co/HeritageSpace

HCMC-Ho Chi Minh City Street Show
20:00 - 21:00, every weekend
Nguyen Hue walking street, Ben Nghe ward, district 1
Featuring a myriad of art forms such as magic performances, romantic duet singing, and southern folk music.
__________________________________________________________________________
EXHIBITION
Danang City- Exhibition on Ao dai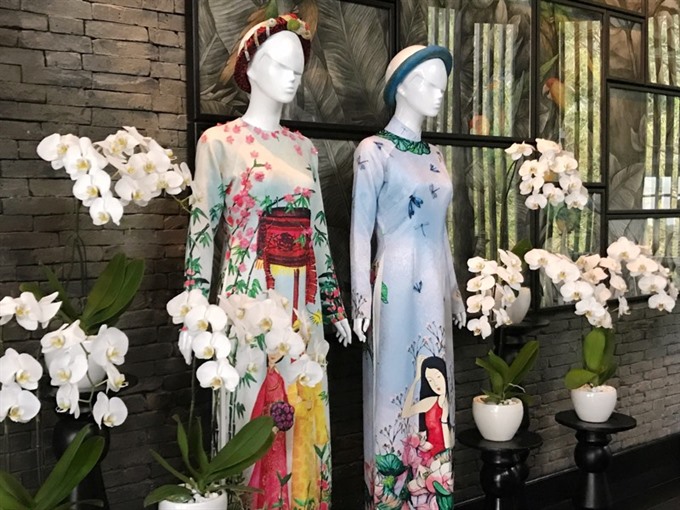 Feb 28
InterContinental Danang Sun Peninsula

A week-long event displays áo dài collections of two famous Vietnamese designers, Adrian Anh Tuấn and Thủy Nguyễn.

Using silk, satin, chiffon and brocade, each áo dài creation in the collection Secret Garden of the HCM City-based designer Tuấn has been compared by the designer to "a splendid spring garden".


Hanoi-Exhibition "The Ancestor Altar during Tet"
Until Mar 3, 8 am – 12 pm and 2 – 5 pm,
Kim Ngan Temple, 42 Hang Bac Street
The exhibition helps visitors to better understand the arrangement of objects on the altars of Vietnamese families during Tet, which not only shows their gratitude and respect towards their ancestors and guardian gods, but also expresses the hope for prosperity and peace in the new year.
Hanoi-"City and Memory" – Solo Exhibition by Artist Nguyen The Son

Until Mar 31, 9 am – 7 pm

AGOhub, 12 Hoa Ma Street

Featuring the rapid metamorphosis of the landscape of Vietnam and how this drastic change is affecting the lifestyles of the society.

Hanoi-Exhibition "Spring Blossoms of Hanoi"
Ho Guom Cultural Information Centre, 2 Le Thai To Street, Hoan Kiem district
Featuring 80 oil and watercolor flower paintings by 13 Hanoian artists.
Works on display feature the spirit of spring in the air and convey the artists' hopes and dreams for a new year – during the season of blossoming flowers and sprouting greens.
Hanoi-Exhibition "Colors of Love"
Lotte Observation Deck, Lotte Center, 54 Lieu Giai Street, Ba Dinh district
Introducing beautiful artworks by Vietnamese and international painters and photographers to colour the celebration of the Vietnamese traditional Tet (Lunar New Year) festival.
Participating artists include Josh Roxas (Philippines), Maida Gayle (Canada), Claire Allured (England), Cat O'Brien (England), Ho Nguyen (Vietnam), Claudia Garcia (Peru), Lois Davis (Canada), and Vu Quang Hung (Vietnam).
HMC-Exhibition "Guerilla Tactics" by Nguyen Quoc Chanh
Saigon Domaine, Ground Floor, 1057 Bình Quoi Street, Ward 28, Binh Thanh District
The first solo exhibition of ceramics by Nguyen Quoc Chanh, an acclaimed poet, admired by his peers and audiences both in Vietnam and overseas.
HCMC-Group Exhibition "Alluvium"
Galerie Quynh, 118 Nguyen Van Thu Street, Dakao, District 1.

Featuring works by 11 Vietnam based artists: Nadege David, Do Thanh Lang, Ha Manh Thang, Hoang Duong Cam, Hoang Nam Viet, Le Hoang Bich Phuong, Sandrine Llouquet, Nguyen Huy An, Nguyen Manh Hung, Nguyen Quang Huy, and Trong Gia Nguyen.
The geological term 'alluvium' – embodying a sense of movement – refers to the sedimentary matter washed ashore by flowing bodies of water.