What's on March 4-10 (Daily updated)
MUSIC & PERFORMANCES

Hanoi-Piano Duet with Duo Mây
Mar 9, 8pm
Institut Français de Hanoi – L'Espace, 24 Trang Tien Street,

Known as one of the most talented chamber music groups in Vietnam, the piano duets by Duo Mây are always anticipated and warmly welcomed by classical music lovers. The two performers of the group – Pham Quynh Trang and Tran Thi Tam Ngoc – will grace the stage of L'Espace with a repertoire of music pieces for four hands or two pianos, a type of classical music performance that was very popular in Europe from the second half of the 18th century.

Ticket price: VND 210 000
Ticket price for members: VND 130 000

Ticket price for students: VND 100 000
HCMC – Concert "From the New World"
Mar 9, 8 pm
HCMC Opera House, No. 7 Lam Son Square, D.1

Featuring the ever-popular symphony "From the New World" by Antonin Dvorak and Leroy Anderson's Piano Concerto in C.

Dvorak's "New World" symphony is far and away his best-loved symphony, and indeed one of the best-loved symphonies by any composer. The HBSO orchestra has played this symphony several times, and its intense beauty will be augmented as usual by the splendor of the HCMC Opera House.

The Piano Concerto in C by Leroy Anderson (1908 to 1975) was premiered in 1954, but Anderson withdrew it following mixed reviews. The score was eventually published by his family in 1988.

The concerto will be performed by pianist Nguyen Thuy Yen. Yen graduated from the Saigon Conservatory with top honors, both at bachelor and master's levels. She has since then become a prominent and popular pianist on Vietnam's classical music scene.
Tickets

Admissions: from 300,000 VND to 650,000 VND – 80,000VNĐ (for students, limited offer, student cards required when purchasing tickets)
Booking and delivery: 028 38237419, Ms. Ngoc: 0903604539
At HCMC Opera House, 7 Lam Son Square
Online Booking: www.ticketbox.vn
HCMC-Teh Dar: Vietnamese Tribal Culture

March 4, 5, 6, 7, 8 and 10, 6pm

Ho Chi Minh City Opera House, 7 Cong Truong Lam Son, Ben Nghe Ward, District 1

'Teh Dar: Vietnamese Tribal Culture' features a vibrant display of circus arts, aerial acrobatics, and tribal music within an hour-long performance.

The show highlights the lives of tribal families from the southwest highlands of Vietnam, using UNESCO-listed percussion instruments, such as Vietnamese gongs and buffalo horns, as well as vibrant costumes, and a stunning bamboo cirque depicting various landscapes and creatures from tribal folklores.

Price range: VND700,000 - VND1,600,000
_________________________________________________________________________________________________________
EXHIBITION

Hanoi-Exhibition "LE BON" by Nguyen Manh Quynh
Mar 5 - 9, 8.30 am – 5 pm
Vietnam Fine Arts Museum, 66 Nguyen Thai Hoc St., Ba Dinh Dist.


"LE BON", the first solo exhibition by Nguyen Manh Quynh will be opened at Vietnam Fine Arts Museum (66 Nguyen Thai Học, Ba Dinh, Hanoi) at 5 pm on 5 Mar 2019.


Nguyen Manh Quynh chooses art as a mean of expression for his thoughts as well as his deepest, unconscious instincts about the human realm. The mysterious attraction of abstract arts, the charm of expressive artistic language with various colors have become the link between the real life and the creative life of Nguyen Manh Quynh. He himself said: "I realize my painting is a version of my own personal life and, a indispensable friend to my life."

Hanoi- Exhibition "Em chao cac bac" by Doan Xuan Tung and Nguyen Nghia Cuong
VICAS Art Studio, 32 Hao Nam Street, Dong Da District

Two dimensions (City and Countryside) will be featured in this exhibition by two contemporary artists Doan Xuan Tung and Nguyen Nghia Cuong.

Two artists, two different artistic styles, will make viewers face questions about modern life in big cities.

Hanoi-Exhibition "Daily Conversation"

Institut Français de Hanoi – L'Espace

24 Trang Tien Street,

An exhibition by Le Kim My & Vu Kim Thu.

"Daily Conversation" is a mix between silk paintings by Le Kim My and original installations by Vu Kim Thu. Two artists with distinct art practices holding an exhibition together for the first time at L'Espace.

Free entry

HCMC-Exhibition "Visions of Nature" by Karine Guillermin & Elena Osuna

The Hummingbird Cafe

5H Ton Duc Thang, Ben Nghe, District 1,

Featuring artists Karine Guillermin and Elena Osuna.

Often dedicated and colourful, Guillermin's meticulous paintings and Osuna's playful collages suggest the human vision of nature to be one of romanticism.

HCMC-Exhibition "Chapter 4: Days and Nights of Revolving Joy" by Sandrine Llouquet

Galerie Quynh, 118 Nguyen Van Thu, Dakao, Dist 1,

An exhibition of new work by Sandrine Llouquet titled "Chapter 4: Days and Nights of Revolving Joy". This will be the artist's fifth solo show at the gallery.

HCMC-Exhibition "Machine is Nature"

The Factory Contemporary Arts Centre

15 Nguyen U Di, Thao Dien, District 2, HCMC

An exhibition featuring 15 artists from Vietnam, Thailand, Bangladesh, China and the UK; curated by The Factory and Inlen Photo Gallery.


This exhibition seeks to engage the behavior and consequence of thinking that machines have become the 'Nature' we study and prioritise. It examines the current times in which we live, sharing the work of artists who are both in awe, and critical, of the patterns, substance, psychological relations and historical fictions between assumptions of Nature and the Machine.
____________________________________________________________________________
CUISINE HIGHLIGHTS
Hanoi-All women off 50% lunch buffet
March 8,
La Cheminée restaurant – Pullman Hanoi 1st floor 40 Cat Linh street, Dong Da District
A special treat for ALL WOMEN: OFF 50% on lunch buffet featuring international cuisine (including food and beverage)

Price from: VND 300,000 net/person. Price is inclusive of a 5% service charge and 10% VAT. Reservation contact Tel: +84 24 3733 0688 | E: h7579-fb3@accor.com

Hanoi-Women's Day Sweet Treats
March 7 and 8
Pan Pacific Hanoi, 1 Thanh Nien Road

An extravagant buffet featuring lavish seafood, premium beef, and impressive live cooking station. Enjoy exclusive savings for group guests from 5 and 10 persons. "Come 5 pay 4, come 10 pay 7".
01 complimentary Tapas delight is offered to every table reserved for women on Women's Day 8th March 2019. Tapas featuring spicy wagyu beef tempura, Thai chicken satay, nutty stuffed mushroom, empanadas with mozzarella and more.


Specially crafted menu and 01 complimentary drink at the Summit Bar, 20th floor. Enjoy a night full of romance with your sweetheart in a quintessential date night in the romantic interior of our exotic bar.


For more information, contact Hotline: 090 177 8318 | e-Mail: fnbmarketing.pphan@panpacific.com


Ha Long Bay-New Halong Bay Cruise unveils menu by celebrity chef
A menu crafted by British Michelin-starred chef John Burton-Race has been introduced on Halong Bay's President Cruises.

Burton-Race, who has starred in a host of popular television shows including French Leave, Return of the Chef, I'm a Celebrity, Get Me Out of Here and the BBC's Great British Menu and Kitchen Criminals, helped create the a la carte lunch and dinner menu here.

Hanoi-Vinoteca night – Wine and Chocolate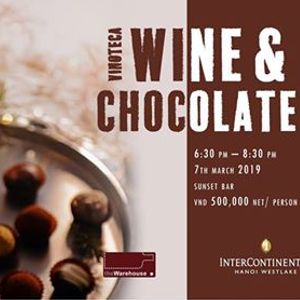 Mar 7, 6.30pm – 8.30pm

Sunset Bar, InterContinental Hanoi Westlake, 5 Tu Hoa, Tay Ho District

A wine tasting event featuring a selection of 6 finest wines from famous regions around the world.

Wine experts will lead visitors through a sophisticated range of wines, pairing with delectable chocolate canapes.

Price : VND 500,000 NET/ adult for 6 kinds of wine and 6 kinds of canapes

Hanoi-Special Buffet for International Women's Day
Mar 8, 6pm-9.30pm

Café du Lac restaurant, InterContinental Hanoi Westlake, 5 Tu Hoa, Tay Ho District

Featuring a selection of contemporary international and regional delicacies in a buffet set up for a journey of culinary creations from around the world. is an ideal venue for sharing the special day with your beloved ladies.

Price: VND 1,500,000 net/ pax including free flow of wine, beer and soft drink

Hanoi- Special gift for women
Hanoi Hotel, D8 Giang Vo Street, Ba Dinh District