What's on December 23-29 (Daily updated)
MUSIC & PERFORMANCES

Hanoi- Khoi Minh – Night of Love Songs
Dec 27, 8.15pm

Ca Phe Thu Bay, 45 – 47 Tran Xuan Soan street, Hai Ba Trung district

On the last day of the year in a very Hanoian space, come together and immerse yourselves in romantic songs by acclaimed musicians including Van Phung, Lam Phuong, Ngo Thuy Mien, Pham Duy and Duong Thu

Guest artists: Minh Quyan, Minh Duc.

Entrance fee: VND250,000 (drink included)

HCMC-Rock Symphony Concert
Dec 27 and 28, 8pm

HCMC Opera House, No. 7 Lam Son Square, District 1

Featuring a collection of songs including Freddie Mercury's Bohemian Rhapsody together with his (and Queen's) Barcelona and Who wants to live forever.

A Boney M Selection follows, plus a selection from Elvis Presley. Soon after it won't be long before "Hotel California" fills your ears and hearts, closely followed by the Scorpions' "Still Loving You". Guns 'N' Roses' 1987 hit "Knockin' on Heaven's Door" comes next.

The performers will be the Ho Chi Minh City Symphony Orchestra and Chorus, plus special soloists: Pham Khanh Ngoc, Dao Mac, Nguyen Huu Trung Kiet, and Pham Thanh Hoai

HCMC-A O Show by Lune Production

Dec 24, 25 and 26, 6pm

Ho Chi Minh City Opera House, 7 Cong Truong Lam Son, Ben Nghe Ward, District 1

Featuring optical illusions and impressive acrobatics, paired with traditional music performances by a troupe of talented local artists.

Known as the Cirque du Soleil of Vietnam (minus the flashy outfits), this live show depicts the transition of rural Vietnam into today's modern landscape, using props such as giant woven baskets, scaffolding, bamboo canes, and ropes.

Price range: VND630,000 - VND1,470,000
________________________________________________________________________
EXHIBITION
Hanoi-Russian ceramics on display in Hanoi

Until Feb 2020,
Vietnam National Museum of History,
An exhibition featuring the collection of Russian porcelain and ceramics of the Hermitage Museum.

With diverse genres and styles, and unique materials, the exhibition space is designed to be appealing with modern lighting and sound techniques.

Also on display are royal treasures of the Nguyen Dynasty, the unique works of Bat Trang and Chu Dau ceramics.

Along with the exhibition, there are interesting activities like presentations on Russian art and culture, and a contest on creating sketches to paint on porcelain.
Hanoi-Exhibition "The Foliage 3"

Dec 20, 2019 – Feb 23, 2020 (Tuesday – Sunday), 10 am – 8 pm

Vincom Center for Contemporary Art (VCCA), B1 – R3, Vincom Mega Mall Royal City, 72A Nguyen Trai, Thanh Xuan District

Featuring young and talented Vietnamese and international artists: Quynh Lam, Phan Ah, Nguyen Van Du, Nguyen Dinh Phuong, Luong Trinh and Tristan Jalleh (Australia), the duo Caleb Stein & Andrea Orejarena (Colombia).

Continuing to support diverse creative activities, "Foliage 3" introduces the public to more than 50 artworks of various art languages including: painting, photography, sculpture, video, installation and concept, a daring experiment in medium and expressions of promising artists.

Hanoi- Exhibition "Light" by Nguyen Tan Cuong
Dec 20, 2019 – Jan 20, 2020

Cuci Art Studio, Level 2, 25 Hang Bun street, Ba Dinh district

The first solo exhibition by Ho Chi Minh City-based artist Nguyen Tan Cuong, who is a veteran painting working in abstract art in Vietnam.

The artist's new collection shows us a complete metamorphosis proving what a period of silence can change in a man.

HCMC-Exhibition "Singing to the Choir?" & "Silent Intimacy"

The Factory Contemporary Arts Centre, 15 Nguyen U Di street, Thao Dien ward, District 2

Two new exhibitions: 'Singing to the Choir?', a group exhibition by Phan Anh, Tran Minh Duc, and Ngoc Nau; along with 'Silent Intimacy', a solo exhibition by Dang Thuy Anh.

Works on display at the 'Singing to the choir?' exhibition present the artists' reflections on humanity's demonstrated attachment of purpose to an intangible realm justifying the meaning of life.

Meanwhile, 'Silent Intimacy' is Dang Thuy Anh's first solo exhibition in her ambitious artistic endeavor with apple snails, contemplatively dubbed with the impact of urbanization on human life.

Tickets:

For adults: VND 50,000

For students: VND 40,000 (with appropriate student ID)


For children under 12: free (with appropriate ID)
__________________________________________________________________________________________
CUISINE HIGHLIGHTS
Hanoi-Year-end party by Pullman Hanoi
Until 28 February 2020
Pullman Hanoi Hotel, 40 Cat Linh Street, Dong Da District

Strategically nestled at the city centre, Pullman Hanoi provides an elegant venue of nearly 600sqm – Van Mieu Grand Ballroom which can be divided into three smaller rooms depending on requirement. Additionally, La Cheminée restaurant can host events from less than ten people and up to 300 guests.
3 choices of exclusive menu with a range of delectable dishes are meticulously designed by the talented chefs:
• International buffet (Lunch/Dinner): VND 888,000 net/ person
• Authentic Northern Vietnamese 9-course set menu (Lunch/Dinner): VND 928,000 net/ person
• Chef's Signature 4-course Western style set menu (Lunch/Dinner): VND 988,000 net/ person
* Price is inclusive of 10% VAT and 5% service charge.
* 20% off public room rate for event guests who book their stay during event time, subject to room availability.
Contact: T: +84 24 3733 0688 ext 41507 & 41503, E: h7579-sl16@accor.com & h7579-sl2@accor.com
Hanoi-Year end party at Metropole Hanoi Hotel

Until Jan 24, 2020

Metropole Hotel Hanoi, 15 Ngo Quyen Street, Hoan Kiem District

– Special festive menus from VND 1,000,000++/person

– Additional 15% reduction on all free-flow drink packages and à la carte beverage menus

– Additional benefits for events of VND 90,000,000++ and above:

A backdrop up to 12 square meters in size
A handcrafted Metropole cake with company logo

– Additional benefits for event of VND 150,000,000++ or above

A complimentary trio band for 2 hours
Uniquely personalized welcome cocktails upon arrival

For further information and reservation, contact Ms. Dzung Do – Legendary Event Planner at: +84 24 38266919 (ext. 8524) or email: Dzung.Do@sofitel.com.

Hanoi-La Fiesta NYE Gala Dinner at Pan Pacific Hanoi
Dec 31, 7.30 pm
Pacific Ball Room, Level 2, Pan Pacific Hanoi
1 Thanh Nien Road, Ba Dinh District

From Pan Pacific Hanoi:

Raise a toast to the New Year with a tantalizing feast at Pacific Ballroom when counting down from 7:30 pm until the arrival of 2020. Nothing is more exquisite than savouring a dinner buffet spread of live cooking stations, fresh seafood and a delectable range of international and local specialties. Especially, the all-night-long entertainment from alluring live music bands to exciting games and attractive lucky draw promises to create an ultimate festive wonderland for you and your beloved ones as you wrap up the year in style.

From VND 2,280,000++ per pax for food and drinks
***15% savings for booking by 25 December

Booking hotline: (+84) 901 778 318
E-mail: fnbmarketing.pphan@panpacific.com
Hanoi-Countdown Party at Pan Pacific Hanoi

Dec 31, 9 pm
The Summit Bar, Level 20, Pan Pacific Hanoi
1 Thanh Nien Road, Ba Dinh,

From Pan Pacific Hanoi:

Perched high above the bustling city lights and West Lake, on this New Year's Eve of memorable 2019, The Summit Bar would like to take you into a joyful count down party with our fabulous DJ that is the perfect way to raise a toast to 2020.

9:00pm – 1:00am | 31 December 2019 | The Summit Bar, Level 20, Pan Pacific Hanoi
From VND 980,000 ++ per pax including 03 canapes and 03 drinks

Ticket purchase hotline: (+84) 901 778 318
E-mail: fnbmarketing.pphan@panpacific.com

Hanoi-New Year's Eve Buffet
Dec 31, 6pm-9.30pm

Café du lac Restaurant, Intercontinental Hanoi Westlake, 5 Tu Hoa Cong Chua, Tay Ho District,

Featuring exquisite Vietnamese traditional style backdrop of our Cafe Du Lac restaurant, your celebrations will be filled with joy and relaxation as our team of guest artists start to perform live music.

VND 1,500,000++/pax excluding beverage
HCMC-US restaurant chain Chili's opens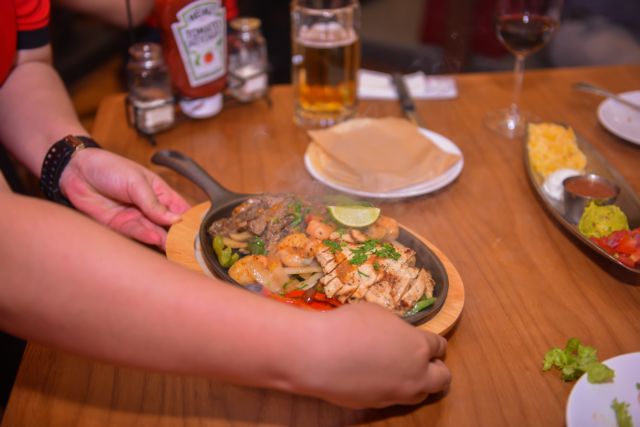 The American chain of restaurants Chili's American Grill & Bar opened its first Chili's in Vietnam at SC VivoCity mall in HCM City's District 7.

The Golden Gate Red Hots Joint-Stock Company and Brinker International Inc worked together to bring Chili's American Grill & Bar to the country.

The restaurant serves Tex-Mex style meals with steaks, burgers, ribs and fajitas and drinks such as margaritas.
Hanoi-New gastronomic option for tourists in Hanoi's outskirts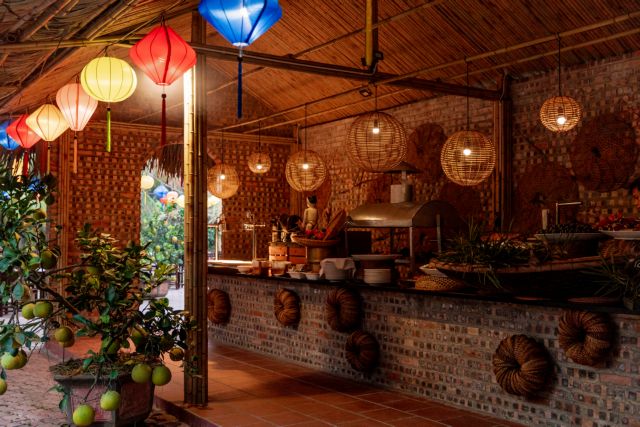 Ngon Village, Sai Son Commune, Quoc Oai District

Featuring Vietnam's northern cuisine, as well as some regional art forms.

Some famous dishes such as nem rán (deep-fried spring rolls), bún chả (grilled pork with fresh vermicelli), phở (Vietnamese noodle soup), chả cá Hanoi (Hanoian style charcoal-grilled fish).

While the Market Corner showcases humble treats such as bánh đúc (rice-flour cake with peanut served with soya sauce), bánh khúc (a ball of glutinous rice mixed with cudweed and filled with mung bean and seasoned pork), boiled casava and corn, the Village Corner presents food created with ingredients caught from the rice field such as bún riêu (field crab noodle), bún ốc (escargot noodle), and ốc om chuối đậu (braised escargot with green banana and tofu).