What's on October 17-23/2022
MUSIC AND PERFORMANCES
HCMC-Ballet Giselle


Oct 21 & 22, 08:00 pm
Saigon Opera House, 7 Cong Truong Lam Son, D1

From the organizer:

Music: ADOLPHE ADAM
Staging: CHLOÉ GLEMOT, YUKI HIROSHIGE
Assistant staging: NSƯT | Mer. A. TRẦN HOÀNG YẾN

Giselle: Đỗ Hoàng Khang Ninh
Albert: Mer. A. Hồ Phi Điệp
Myrtha: Mer. A. Trần Hoàng Yến
Hilarion: Mer. A. Đàm Đức Nhuận
Giselle's mother: Đỗ Thị Anh Nguyên

Giselle is one of the most extraordinary ballets ever written. It will be revived by HBSO for two performances on Friday October 21 and Saturday October 22 in the HCMC Opera House.

The first reason Giselle is extraordinary is that it is in two strongly contrasting acts. The first is a village in southern Germany in the Middle Ages, at harvest time. Giselle is a shy, innocent girl who is likely to be chosen as Harvest Queen. The second act, however, in set in an afterlife. following Giselle's death. Almost devoid of scenery, it is instead a visual world of drifting mists and menacing ghosts anxious to recruit Giselle into their company.
______________________________________________________________________________________________

EXHIBITION
HCMC-Exhibition 'Notes on Paper'



Until Oct 27, 10 am – 07 pm (last entry is at 06:30pm), Tues – Sat,
Galerie Quỳnh, 118 Nguyen Van Thu, D1

From the organizer:

A vernacular material both in everyday life and art, paper has never ceased to inspire artists for its ubiquity, versatility, and incredible socio-historical weight – paper is synonymous with knowledge transmission and archiving. From a site where ideas could delve, paper is also a medium that evolves together with ideas as its varying sizes, textures, and thickness allow for surface and structural manipulation. Bringing together works by François Andes, Ha Manh Thang, Nguyen Huy An, Trong Gia Nguyen, Nguyen Manh Hung and Nguyen Tran Nam, 'Notes on Paper' highlights the kaleidoscopic nature of this unassuming material, at the same surveying the gestures that come along with it such as mark-making, painting, writing, and erasing.

Hanoi and HCM City-Art photos featuring contemporary life

Nov 4-13, HCM City Fine Arts Museum,HCM City

Titled 'Vietnam Art Photo Exhibition', the exhibition features 250 works by 187 photographers.

Introducing Vietnamese people, culture, and landscapes, and thinking of artists on issues of contemporary life.

Hanoi-'The Four Subjects'


Until Nov 5, Tues – Sun, 11 am – 07 pm
Manzi Exhibition Space, 2 Ngo Hang Bun

From Manzi:

Manzi is proud to present 'The Four Subjects' – a new series of installations by visual artist Nguyễn Huy An, one of the most important figures of Vietnamese contemporary art.

For this comeback after three years (since his third solo show in Saigon), Huy An assembles an exclusive space for singular objects/relationships which would provoke an odd encounter of disparate subjects (they are essentially alien to each other and, at first sight, seemingly unfamiliar to the keen followers of Huy An's art practices as well).

Hanoi-"Agnes's New Planets"



27 Sep – 30 Oct
Mơ Art Space, B3 Floor, Apricot Hotel, 136 Hang Trong street, Hoan Kiem district

From the organizer:

Mo Art Space cordially invites art lovers to 'Agnes's New Planets' – a solo showcase by artist Duong Thuy Duong. Where do we come from? How do we define ourselves? Are we the product that we created? These are the questions which Duong Thuy Duong wants, together with the viewers,to try to reflect in this exhibition.

HCMC-Exhibition: Illuminated Curiosities



Until Dec 2022
EMASI Nam Long
147 Street No.8, Nam Long Residential area, District 7,
EMASI Van Phuc
2 Street No.5, Van Phuc Residential City, Thu Duc District,

From the organizer:

Nguyen Art Foundation (NAF) proudly invites you to the opening of 'Illuminated Curiosities', a group exhibition with 26 artists featuring 46 artworks from within and outside NAF's Collection. Curated by art researcher Ace Le, with the curatorial assistance from Duong Manh Hung and Tam Nguyen, the exhibition will take place simultaneously across the campuses of EMASI Nam Long and EMASI Van Phuc, over the course of six months from May to December of 2022. 'Illuminated Curiosities' is a collaborative effort between NAF and Lan Tinh Foundation.

An Giang Province-Exhibition featuring Óc Eo culture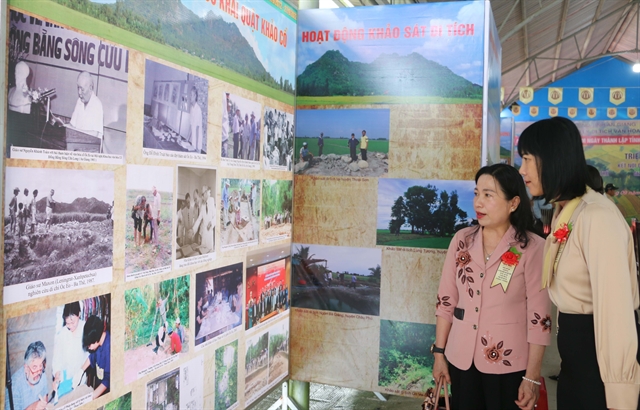 Until Oct 27,

Óc Eo - Ba Thê archaeological site

An exhibition featuring more than 200 photos and documents, offering an overview of history and development of Óc Eo culture as well as the preservation work of the Óc Eo - Ba Thê archaeological site.

The event features results from national and international research on the Óc Eo culture, and international cooperation on restoration with experts from South Korea, France and India.

It also honours the people's contribution to the preservation and development of Óc Eo culture in the province by gifting ancient Óc Eo artefacts to local authorities.
_________________________________________________________________

CINEMA


International science film festival

Oct 8 - Dec 31

Hanoi, Thai Nguyen, Da Nang, and Ho Chi Minh City

The 12th international science film festival featuring a range of scientific topics which are both accessible and entertaining to a broad audience and demonstrates that science can be fun and educational.

Some 16 science films across different categories will be screened during the festival.