Nearly 40% of Mekong Delta may be underwater by 2100
The climate change scenario reported by the Ministry of Natural Resources and Environment (MoNRE) warned that 39% of the Mekong Delta and 10% of the Red River Delta may be submerged by 2100.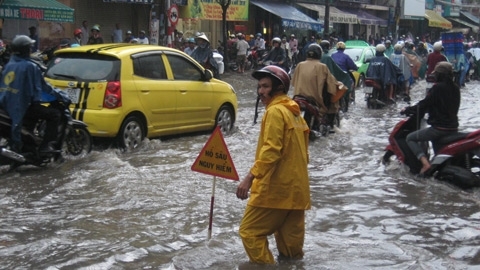 20% HCM City to see flooding with a 1m sea level rise
If carbon emissions are not decreased in the coming years, coastal areas will be at risk of seeing sea levels rise by between 78-95 cm by 2100. Even if emissions remain lower than expected the prediction is that there will be a rise in sea level of 49-64cm, which could have severe impacts on the coastal lands of Vietnam.
The report also stated that a one metre rise in sea level would affect 20% of HCM City and 2.5% of the coastal provinces in the centre of the country, which would cause significant damage to large portions of the transport system.
In the scenario put forward in the report climate temperatures in Vietnam would rise by anywhere between 1.6 and 3.7 degrees, and those in the north would rise at a higher rate. Rainfall would also increase.
Because Vietnam is one of the countries expected to be most affected by climate change, urban planners have been attempting take these issues into account for long-term development.
The MoNRE plans to continue its research and update their findings in 2015.