PM orders Hanoi administration handle Rạng Đông fire's environment issues
Prime Minister Nguyễn Xuân Phúc on Monday ordered chairman of the People's Committee of Hanoi Nguyễn Đức Chung to closely work with the Ministry of Natural Resources and Environment to urgently handle environmental issues after the fire at Rạng Đông Light Sources and Vacuum Flask JSC occurred late last month.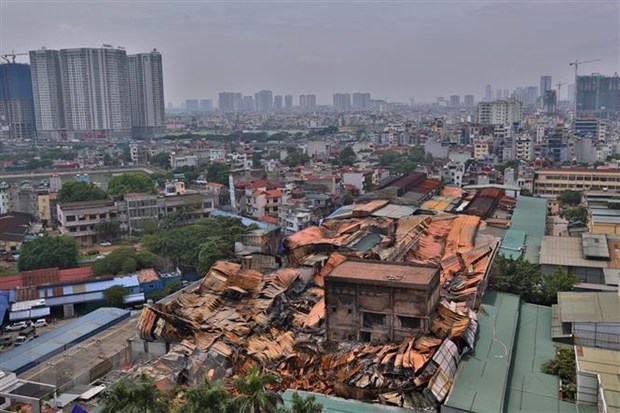 The damaged warehouse of Rạng Đông Light Sources and Vacuum Flask JSC after the blaze.


Phúc told all relevant agencies to immediately take measures to ensure safety for people living in the affected areas, caused by the blaze, as well as supervise the implementation of measures to remedy the environment issues.
On August 28, a fire broke out at a light bulb warehouse owned by the company in Thanh Xuân District's Hạ Đình Ward.
Although firefighters rushed to the scene to extinguish the fire, a third of the 6,000sq.m warehouse, with more than four million light bulbs, was destroyed. Losses were estimated at about VNĐ150 billion (US$6.4 million).
The fire has raised public concern over exposure to mercury, a toxic metal that is used in fluorescent lights, triggered by the fire.
The PM has tasked authorised agencies to investigate and find out the cause of the fire then deal with the violators according to the provisions of law.
The committee had to continue carrying out the relocation of polluting and potential-polluting producers out of urban and densely populated areas under the approved plan (that scheduled to relocate polluting producers by 2020), he said.
On September 4, Deputy Minister of Natural Resources and Environment Võ Tuấn Nhân told to local media that 15.1-27.2kg of mercury could be leaked into the surrounding areas after the fire.
At a press conference on the same day, the Vietnam Environment Administration under the Ministry of Natural Resources and Environment released that the level of mercury found in the vicinity of the destroyed light bulb factory had been deemed safe to human health.
The administration said only two out of 12 surface water and eight wastewater samples from a number of lakes and rivers that might carry contaminated water from the site, and one out of six outdoor air samples collected within the factory's site, were found to have contained a higher amount of mercury (Hg) than standards, but still lower than health ministry's regulations on labour safety standards.
Twelve sediment samples out of 13 collected contained a higher level of heavy metal than accepted standards, but whether or not this is directly attributed to the fire incident at the factory remains to be seen.
The administration still urged caution over possible adverse effects on the health of people living within a radius of 500m from the fences of the burnt warehouse.